Thomas Chen, Chairman | Jan 25, 2013 12:50PM EST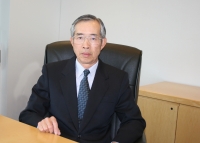 While we wish there were only two challenges ahead, we prefer to separate the challenges in three silos: capacity supply side, cargo demand and operating cost. These will be our industry's primary concerns. On the capacity supply side, overtonnaging remains a huge challenge for the container shipping industry. This problem dates back to 2005-2006 when many carriers ordered too many big ships. The policy of many carriers has been to build big just for the sake of owning, at lower slot cost for building and operating, huge oceangoing vessels. There are few sensible reasons to order new vessels.
Those are:
Adjusting fleet needs based on customer demand.
New ship replacement, where new tonnage replaces obsolete ships.
Where the new ships incorporate environmental upgrades that keep our air and seas clean.
Incorporating features that reduce fuel consumption and other technologies that make a measurable difference.
Otherwise, continuing to order new vessels is not only irresponsible but negatively impacts the return on investment of all carriers and affects the pricing and servicing of the vital customer base. Frankly, all carriers should adjust fleet deployment according to market demand.
On the cargo demand side, the staggering economic conditions in Europe, Japan and the U.S. will continue to negatively impact the recovery of the container shipping market. We will, however, keep our fingers crossed and hope things will get better for the U.S. and for other parts of the globe.
On the operating cost side, the fluctuation of fuel costs continues to cause a heavy burden on the carriers. Regional conflicts such as the recent Middle East military operations may cause oil prices to surge and increase prices — an unstable situation.
All of this will impact any major jump in U.S. exporting and possibly the market for imports. Certainly, the wrath of Mother Nature such as Hurricane Sandy will create an incredible need for replacement of goods lost by millions of people and yet the inability to afford to purchase much — an enigma, at best.