Joseph Bonney, Senior Editor | Jun 19, 2015 1:14PM EDT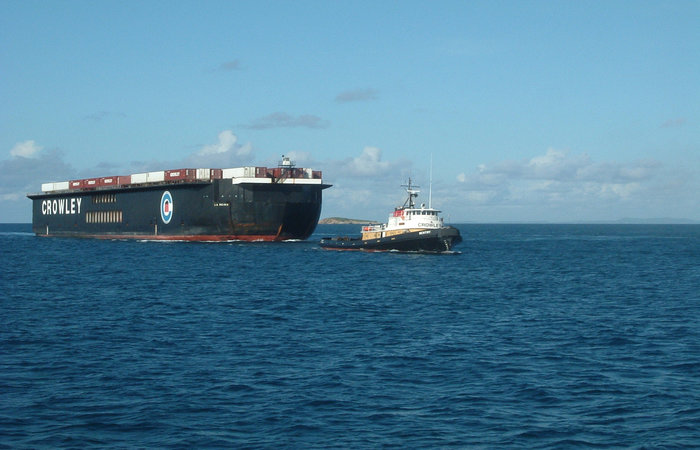 Crowley Maritime will add a roundtrip monthly sailing between the Philadelphia area and San Juan, Puerto Rico, to meet demand in a tight southbound market.
The added sailing by a triple-deck roll-on, roll-off barge capable of carrying 345 loads is the latest in a series of service expansions that Crowley and Sea Star Line have implemented since Horizon Lines exited the market at the end of 2014.
Crowley has accelerated its transit times to maximize capacity. The carrier determined it could fit in an additional monthly sailing between Pennsauken, New Jersey, and San Juan, using the same vessel that makes four monthly San Juan-Jacksonville voyages.
"We've been working diligently since last December to add capacity and tweak our vessel rotations and operations to accommodate as much cargo as possible." said John Hourihan, Crowley senior vice president and general manager, Puerto Rico services. "This enhancement will surely benefit our customers in the Northeast who have been adjusting to capacity issues caused by the departure of Horizon Lines from the market."
Horizon's exit set off a scramble for market share among Crowley, Sea Star and Trailer Bridge. Horizon discontinued its Puerto Rico service before its sale to Matson, which took over Horizon's Alaska services. Horizon's Hawaii service was sold to Pasha Group.
Crowley and Sea Star have added capacity to provide a quick increase in service. Meanwhile, both lines are building ships that will be fueled by liquefied natural gas to meet environmental regulations governing emission control areas off the North American coast.
Sea Star has launched the first of two ships built to carry up to 3,100 twenty-foot-equivalent units while operating on LNG. Crowley is building two combination container/ro-ro ships that will carry up to 2,400 TEUs and 400 vehicles.
The added Pennsauken service by Crowley will provide one additional southbound and one northbound sailing per month. Crowley already has one weekly sailing between San Juan and Pennsauken, and four weekly San Juan sailings to and from Jacksonville.
Contact Joseph Bonney at joseph.bonney@ihs.com and follow him on Twitter: @JosephBonney.