JOC Staff Report | Jan 05, 2017 9:00AM EST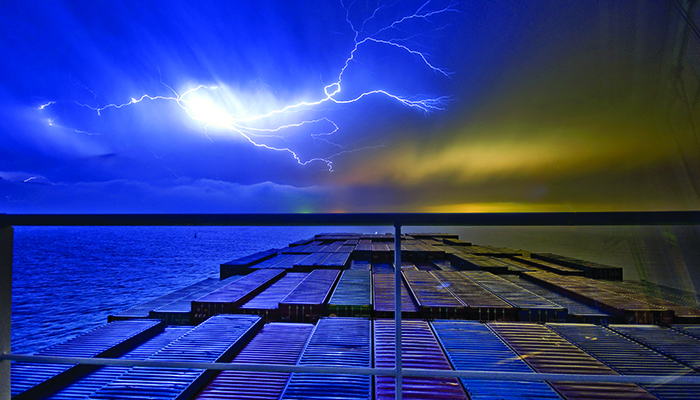 From consolidation and alliances to a new president and regulatory environment, 2017 will introduce new challenges and opportunities. Three shippers discuss their biggest concerns in the year ahead.
New shipping alliances, ocean carrier consolidation and threats of US protectionism just as trans-Pacific contract bidding heats up could make this year just as volatile as last for US shippers — and maybe more so if we get another collapse on the scale of Hanjin Shipping. In an early December roundtable discussion with JOC editors Chris Brooks and Mark Szakonyi, three shippers shared how they're approaching the erratic trans-Pacific waters, what they expect for the US economy, their view of the incoming Trump administration, and transportation regulation. There is, in short, plenty to keep them awake at night.
SHIPPERS:
Jeffrey Brady
Director of Transportation
Harry & David
Jeffrey Brady has spent more than 25 years working in logistics across several business sectors. He currently is director of transportation and logistics for Harry & David, a premium gourmet food and gift omnichannel retailer and direct marketer owned by 1-800 Flowers, where he oversees all domestic and international logistics functions. He has spent time in distribution center organizations, as well as in senior transportation leadership roles in high-profile retail companies such as Petco, Jack in the Box, and Restoration Hardware. Brady is a recognized speaking expert on topics ranging from intermodal conversion, dedicated fleets, transportation network optimization, small parcel, and partnership/leadership development.
Steven Hughes
Vice President of Supplier Development, Governmental Affairs and Logistics
Centric Parts
Steven Hughes has been in the automotive aftermarket industry since 1973. He joined Centric Parts, one of the leading manufacturers and suppliers of replacement brake components for import and domestic vehicles in North America, in 2006, and currently serves as vice president in charge of supplier development, governmental affairs and logistics. He has organized and led several industry coalitions to provide input on anti-dumping investigations, and provided testimony before the International Trade Commission. In 2015, he was appointed to the Department of Commerce and US Trade Representative Industry Trade Advisory Committee for the automotive industry. He also is a member of the Pacific Council on International Policy. In 2014-2015 Hughes was instrumental in assisting the automotive industry with monitoring labor negotiations and the port disruptions at West Coast ports, and helping collect key data on the negative impact of those slowdowns on the industry. He also led the industry in meeting with the Federal Maritime Commission to describe the industry's experience, concerns, the unfair application of demurrage/detention, and the negative financial impact caused by the disruptions and unfair practices to our industry and BCOs in general. He led another delegation in 2016 to discuss concerns regarding the unfairness of PierPass, the extended gates program at the ports of Los Angeles and Long Beach. He subsequently was selected as one of 35 representatives from major companies to participate in the FMC Supply Chain Innovations Initiative, a task force of supply chain leaders challenged to help identify and develop actionable supply chain process innovations and improvements that would lead to greater national supply chain reliability and effectiveness at the nation's ports.
Michael Symonanis
Director, North American Logistics
Louis Dreyfus Commodities
Michael Symonanis has worked for more than 11 years at Louis Dreyfus, a privately held global commodity trading and merchandising company. He is based in Memphis. Prior to joining Louis Dreyfus, Symonanis worked with NOL-APL for 14 years in sales and operations roles. He is engaged with industry organizations and stakeholders on US cotton shipper issues, including the American Cotton Shippers, Texas Cotton Association, Agriculture & Commodities Transportation Coalition, and the Trade Stabilization Agreement Shipper Advisory Board. He completed his undergraduate degree at Iowa State University, has earned graduate degrees in supply chain management at Penn State University and in organizational leadership at Gonzaga University, and practices continued learning within other academic programs.
JOC: 2016 began with a bang. US imports surged in the first quarter — more than 7 percent — and then, bam, fell off sharply. Ocean carriers are bleeding red ink, the UK created a new word in Brexit, and the US elected Donald Trump president. So, when you look at 2016, do you see it as a washout or a stepping stone to better days?
Steve Hughes: Well, there's certainly a lot of change roiling through the world, given Brexit and our own election. We also have elections coming in Italy and France, whose outcome, I think, will make a statement as to where the world is going politically.
Economically, the automotive half of our parts industry did quite well in 2016, and I think our industry will continue to thrive in whatever political climate we see. That said, I'm worried about the anti-trade rhetoric we're hearing, the threats about renegotiating NAFTA, the loss of the Trans-Pacific Partnership. Contrary to what was said during the campaign, TPP would have been a very positive move for our country and job creation. I say this because I sit on one of the 16 committees that review trade agreements for the Department of Commerce, and 15 of the 16 recommended to Congress that we approve the TPP. But, take it or leave it, we're fully involved in a global economy, and it's always been a net-sum gain to our economy. So I think it would be a big mistake for our country to pull back from this and become an isolationist economy.
But to answer your question, there are still way too many moving pieces to say whether 2016 will be a washout or the beginning of brighter things to come. 
Mike Symonanis: From the cotton merchant perspective, 2016 really was a stepping stone to a new reality, but whether it's bright or dim for US cotton remains to be seen. There's a lot of talk out there, including on the trade agreements, but whether it turns into action, well, we'll see. The dynamics are definitely changing.
Jeff Brady: I view 2016 as a natural series of events, the flushing out of things, if you will. The thinning of the herd in ocean partners will cause, or should, the normalization of ocean freight pricing. I see rates increasing for shippers in 2017.
I will personally view 2016 as a stepping stone to better days, but the runway to get there could be long and somewhat dark with some bumps in the road.
JOC:The historic rush of consolidation we saw in 2016 will obviously resonate through 2017 and beyond. With restructured ocean carrier alliances set to sail in the spring, what are your expectations and concerns? 
Hughes: I'm not sure what's going to happen on pricing, but I find the consolidation very worrying for risk mitigation. We're now going to have one less alliance to spread our cargo onto. The consequences of that mean we're going to have a higher concentration of cargo on any given ship. And we're all going to have to review our blanket marine insurance policies and increase our policy limits. 
Even so, if the unthinkable were to happen and, God forbid, a ship went down or had a problem, the losses — and not just associated with what was on board, but also with sales and profits because you would have no goods to sell — would put us at great risk.
But from a pricing perspective, I think it's too early to say the alliances are going to give us more or less negotiating power.
Symonanis: As merchants, we compete in the global marketplace against other producing nations. We sell landed fixed price to our customers. Ultimately, from the point of sale until delivery, we're bearing all the risks. So each year, US cotton shippers state our expectations with the carriers individually, and collectively through the American Cotton Shippers Association. It's about providing sufficient capacity across the physical elements of the chain — minimizing service disruptions, shipment splits and rolls, timely document processing, complete and accurate freight invoices and strong customer service throughout. At the same time, many BCOs are working with fewer resources to manage our businesses. So, if you look at the impact of alliance changes on service capacity and frequency toward key demand markets, it's all about countries and ports. A lot of the service design — maybe the majority of it — is going to focus on US imports, on the revenue-generator leg, so there can be implications for access to key markets for US cotton. Each merchant has to review whether they're overexposed on a specific alliance. We have fewer options. Even if we potentially have more frequency, we're still contracting on a particular carrier, and insurance limits is an important consideration that many people may not be thinking about.
JOC: So, in terms of a shipper's insurance limits, the new alliances put you at more risk?
Symonanis: Look at it this way: You have insurance caps on specific vessels. If you have a bale value that exceeds a certain amount — like a few years ago, when cotton prices ran up — you could mitigate that risk because you had multiple alliance options, with different carriers on different strings. Now, with the new alliances and fewer lines, you might not be able to book as much cargo if you're trying to manage under your caps.
So, what do you do? Do you need relationships with all alliances and independents? And even if you do, you still may face that issue, depending on the time of the year and the volume moving, because most agriculture moves under carriers' winter deployment. It's a consideration that really needs to be thought about among importers and exporters.
JOC: I imagine it will be difficult to gauge service quality and on-time performance until you actually see what these restructured alliances look like, since some of them have been pretty general in terms of service networks.
Symonanis: True. Yeah, we're going to need a lot more details, especially on the export side. And again, do we have sufficient capacity coverage to some of the key destinations. China's still a large sourcing point for US importers, but it's the third-largest market for US cotton. So, while the prospects for China look better in this 2016-2017 crop than they did last year, we still have a lot of demand to other parts of the world where the existing vessel networks don't necessarily match up the way the merchant community would like them to. Further consolidation just magnifies that concern.
JOC: With all this in mind, how are you adjusting your supply chains? And is your relationship with your carriers changing?
Hughes: From my perspective, things are way too fluid at this point. We don't know, for example, how this is going to lay out. I know my carrier relationships are definitely going to change. Two of my carriers are in the CKYHE Alliance, one is in the O3 and another one was in the G6. All of a sudden because of the alliance changes I'm going to have these four of my primary carriers under one alliance. I have to look to choose carriers in other alliances. So, I definitely have to reassess.
Symonanis: We, and the other American cotton shippers, are facing the same situation. There are carriers that have been historically stronger in this commodity, and many of them will be part of the Ocean alliance, so it's going require merchants to look at this issue of weighting — and/or overweighting — with ocean carriers within an alliance and between alliances. Most merchants have direct relationships with the ocean carriers, so there are good working relationships with many that go season-to-season. We've had a strategic shift so we really need to be looking at the nature of those relationships. Will shippers' prevailing attitude — "This is who we're using as long as they're cost-competitive" — continue?  Are we going to have the right capacity in the right parts of the country (growing areas) to the right markets as we go forward with fewer alliances?  
Clearly, there are carriers that have not been strong participants in cotton that have expressed interest to grow their cotton business, so I believe there will be options across all of the alliances. It's just a matter individual merchants putting the pieces together based on need.  
JOC: We didn't see too much friction on the longshore labor front in 2016, and the ILWU on the West Coast and ILA in the East and Gulf are talking about contract extensions. How confident are you that ports and terminals will avoid labor disruption this year?
Hughes: I hate to be a fatalist, but unless we see an extended contract, I think we'll have the same issue we did in 2014-2015. A new labor environment is impossible unless there's a change in attitude throughout the ILWU, and that has to start at the top. Have we seen a change in attitude of senior management? I sure haven't seen that in statements from (ILWU President) Robert McEllrath. Quite frankly, I would hope they are taking the contract extension discussions seriously and not just doing this temporarily to raise the hopes of the BCOs and placate the media. But I'm hoping things are better than they seem from the outside.
Symonanis: The parties just have to get it done. Coming out of the environment we just experienced (in the last negotiation) where the indication was it would all get worked out and it didn't, and then the protracted impact it had on BCOs in both directions and the broader economy, well, we can't go down that road again. It's also unclear how important labor stability and port productivity will be to the incoming administration and the Republican Congress. If they see them as one of their priorities to move the parties to reach an agreement and maintain the flow of goods in and out of the country, then that may change the calculus within the negotiations. But until the deal is done, BCOs need to be wary about the public pronouncements.
JOC: Do you think the ocean carriers will be able to sustain the relative rate strength they've had since the Hanjin collapse?
Hughes: No. Everything I'm reading says there's too much capacity, and when comparing the order book to the current level of scrapping, I don't see a change on the horizon. Nothing's going to change anytime soon unless they end up mothballing a big portion of the current fleet. 
Symonanis: The data's been out there for quite a while that the oversupply will stretch beyond 2017. Whether it's reconstituted in different alliances, networks, or affiliations, the fundamental fact is the vessels are still out there.
JOC: What about on the trans-Pacific? Do you get the sense that carriers are coming in with more pricing power than last year? Less? 
Hughes: We were very easy on our carriers last year. We had one carrier offer us a ridiculous rate, and I just turned the monitor around to each one of the other carriers we ended up signing with and said, "Here, get close to this and we're happy. We're not going to push it any lower."
We weren't going to drive it to the bottom. We all know the current rates are unsustainable. This is really ridiculous. But it's hard to walk away from them as a supply chain VP to say, "Well, they've offered a rate that's $200 or $500 — whatever the number is — below a sustainable rate. We shouldn't take this." If I took that back to my board or the owners, they'd be saying, "Why not? Take advantage of it while you can."
So we're in this situation where I'd like to actually see the rates go up to sustainable levels, because we've got to support the carriers. We're going to have more of these Hanjin situations if we don't. Having said that, given the excess capacity, I don't see the carriers having more pricing power.
Symonanis: On the export side, the environment has been challenging for a number of years for the carriers. For cotton specifically, the 2015-2016 crop was down significantly, to around 10 million bales. There really wasn't any impetus in our environment or with competing export commodities to be able to substantiate rate increases. And prices came down for a lot of key markets over the course of 2016. Looking at 2016-2017, there's still not great demand, even though the crop is up, maybe to around 12.2 million bales, according to the USDA's "Cotton and Wool Outlook" December estimates. 
The merchant community lacks forward demand visibility because our customers are watching their upstream chain closely and adjusting accordingly. Therefore, forward visibility isn't strong, and it hasn't been for some time. Although the crop looks good from a supply standpoint, there's no indication that there's going to be significant pull out of the US in a specific time period. For ocean carriers to sit there and communicate to the broader community that cotton's going to be at capacity, so therefore they need to pay up to get that capacity, well, that's just not right. So, like Steve, I believe the rates have fallen to unsustainable levels in the long term and set unrealistic expectations.
That said, we're competing in a global marketplace. I know from conversations with colleagues, carriers and other market information that there is even more abnormal and irrational pricing going on outside the US. As much as cotton merchants are competing against each from the US, we're competing against our own organizations, if you will, and others from other producing nations. So rates are still an extremely important factor to compete globally. What goes on in the US has to be looked at in the broader context of what's going on in these other key producing areas around the world to those same demand points. And there are still commodities moving below where cotton is, so in some cases, there's still room to go down. At the same time, we need to be able to get on the ships. The merchants are trying to strike the balance between this competitive dynamic and not leaving money on the table in a given crop year.
JOC: One of the sentiments we've heard from some shippers is that they left money on the table because they knew the carriers were in trouble. They don't want the lowest rate. And then peak season comes and they're not getting those volume commitments, so they're saying, "Maybe I'm going to drop that carrier for another because I've tried to help them out, and promises were made and nothing was committed to." Does that resonate with you?
Symonanis: We're obviously not in the eastbound negotiations, but looking at the relationships over a longer period of time, I think the challenge remains on both sides. The word I would use would be "opportunism." It's been in place for decades. Exporters may say we're going to do "A" with specific partners, and then perceived or actual market conditions drive us to do something else with them or others. And it may not be purely, "Hey, we intend to do this …" But if the rates are trending downward, the rates are trending downward, right? And it may not be exporters driving that conversation. On the other hand, you may have talked to a carrier two weeks before and said, "Can you give me a projection for the next quarter?" And they can't give it to you. A week later, there's a GRI announcement without any fundamental background or rationale where the number came from.
How this continues to play out between the shipper and carrier remains a challenging dynamic, and more so for cotton merchants who sell fixed landed costs in forward delivery periods.
Hughes: Yeah, we see a lot of game playing by the carriers. Although we've got fixed contracts and we have fixed volumes per week with a given carrier, we've seen a lot of rolling. Until recently, we've had almost daily conversations on cargo being held up for one reason or another. We've had the carriers come to us and say, "We'd like some more money. If you give us a higher rate, we'll make sure you get your cargo on the ship," which is basically a soft blackmail, if you will.
We consistently remind them that we have a contract, but their contracts seem to be very much one-way. I don't see a lot of consistency in honoring contracts these days with the carriers.
We've seen a lot of less-than-favorable actions by carriers, and a lot of demands for more money. It's not uncommon at all, from what I'm hearing. It's particularly offputting when you consider we really didn't negotiate the contracts this year. And our comment to our carriers has always been: you live with us during the good times and the bad. Don't try to turn the tables against us during the bad times, because the good times will return.
JOC: Are you looking to contract with more or fewer carriers this year?
Hughes: We have contracts with five carriers and a hybrid contract with an NVOCC that basically helped us manage our spot rate. But going forward, I honestly don't know. I haven't made that determination yet. It's a brave new world, and I haven't figured out how we're going to manage it at this point.
Symonanis: I think within cotton and more generally for exporters, there's no clear answer, either. Current crop-year relationships are going to bridge the existing alliances and where things are moving to. We need to figure out where, if any, gaps are to meet our customer commitments and manage that risk. At the same time, we need to highlight that there have been some really good carriers that have made what I would characterize as organizational commitments to cotton. If you look at some of the trade data, you'll see that those carriers that are that strong year-over-year in cotton are those that have made those organizational commitments. So, if you look at that in the context of the alliance changes and a second tier of carriers that are looking at cotton as a growth area, that creates opportunities for merchants. It's really going to come down to each merchant. 
But it's also a matter of what capabilities the carriers have to handle this commodity, because although we're agriculture, we're not easy. We have specific needs, and some idiosyncratic practices specific to cotton. It's just the way we do business, so people need to understand that to be able to work with us. 
JOC: One of the big stories has been the level of inventories and high inventories-to-sales ratios. Do you see this as a new normal? Is this a reflection of retailers not being able to control or really understand their e-commerce demand? What's going on here, and do you expect it to continue through 2017? 
Hughes: We're one of the fastest-growing companies in our segment of the industry. That said, it's hard to draw down our inventory and still satisfy demands from our new customers. All in all, our industry traditionally has tried to pull inventory levels down, and increase the number of turns. It's hard to do that and properly service all of your customers. 
Symonanis: From that same December report, the USDA says global stocks will end the current crop marketing year down around 8 percent, which is a positive thing because there's been a lot of global inventory, especially in China. It's taken quite a while for global stocks to come down. Now it looks more favorable. The question is the nature of demand and when is it going to be realized?
JOC: What's your outlook for exports as a whole, including cotton, for 2017?
Symonanis: Beyond cotton, I don't want to prognosticate. For US cotton, the USDA estimates about a one-third year-over-year increase. That will give US cotton around a 34 to 35 percent share of global cotton trade for the current crop marketing year. So, I think that looks favorable. But again, the customers we're supplying to, the mills, the spinners, don't have a lot of certainty about what their upstream demand is. Nearly 83 percent of respondents in a recent Agriculture & Commodities Transportation Coalition survey said they have less than one month's visibility on demand from the point they're going to put it in the container. There's not a lot of long-term certainty, so while it looks favorable — and I hope it gets realized — you don't know how it's going to play out. The Top 10 countries for cotton aren't changing year-to-year. Some countries will tick up somewhat, but does that play out as estimated? 
For the other commodities, we're competing against (for shipping space) it will be interesting to watch as the year unfolds. Merchants do need to look at the implications of resin growth out of the Gulf and possible impacts on future Texas crops. So, there seems to be bright spots in certain commodities and uncertainty in others that US cotton will compete with for equipment and vessel space.
Hughes: I'm curious. Are you affected by the strong dollar?
Symonanis: It has its effects, for sure, especially when you're competing against markets like Brazil and some other places. That said, it's also a function of production. If other countries such as Brazil, India, or Pakistan have declining production, that's going to drive demand to other producing countries, including the US. So even with the dollar effects, there are reasons to agree with the USDA estimates. If the demand is realized globally at the levels projected, customers are going to have to come back to the US to get cotton. We are often referred to as "the supplier of last resort," but if you need cotton, you need cotton.
JOC: What are your thoughts in terms of roads, rails, and other infrastructure? Is it good enough? Is it getting worse?
Hughes: We don't seem to be having problems. But if I look at it strictly from a visual standpoint — and having traveled extensively in Asia, and particularly China, and seeing the infrastructure there compared to here — we've been ignoring it, and it needs some support.
Symonanis: US cotton is fortunate that we can utilize intermodal hubs in key producing regions, so, for example, out of Dallas-Fort Worth and Memphis-West Memphis and more recently Greer and Cordele, there's been significant private sector investments that merchants are able to take advantage of. And a lot of what we do with the carriers is on-dock, so we're staying off the roads in Southern California, and we're going near-dock to the Southeast ports. 
Within transportation infrastructure, the question is ultimately still: what's the plan? Investments have been driven by the private sector or specific state or local agency investment by municipalities and port authorities. But there's no national plan for freight. In my view, whether you're talking road, rail, or other networks, legislators and regulators are usually thinking about passenger, not freight. Freight infrastructure needs to be a national priority. One of the competitive challenges for agriculture is effectively connecting the low-population-density parts of the country to markets in the long term. 
That said, as we go into this new administration, it can't continue to be a hodgepodge. Even if they decide to spend significantly more money, we can't have another $110 million "bridge to nowhere." National infrastructure investment needs to be thought through strategically so that every dollar invested, whether it's public, private, or some kind of hybrid, is targeted toward really creating a direct and long-term impact on economic capacity and competitiveness.
Brady: The state of our US infrastructure is very poor. Roads, highways, and bridges, as well as ports and airports, all are in need of expansion and rebuilding in some many key areas. I'd like to see government think bigger and bolder. Yes, costs are out of control and environmental concerns are often critically important to consider, but without effort and a vision in this area, America will continue to fall behind.
I see the need for longer and more high-speed highway systems that can connect the coasts and the middle portions of the country. Rails need to be focused on as well. Creating rail lines specific to freight and movement of goods vs. people, should continue to get attention.
I believe the election of Donald Trump, along with the Republican House and Senate majorities, will result in some better days in terms of rebuilding America's infrastructure, which has been horribly ignored for decades. This will take time however, and result in tax increases, and I see these taxes being passed along to the average American and the freight industry at large. This will result in increased shipper fees, but it's a must for us to realize that the normalization of this and the improvement of our roads and infrastructure is critical for us all.
JOC: Speaking of Washington, the new electronic logging requirement for trucking will take effect in December. What are you planning, not only on the long-haul side, but also in drayage?
Symonanis: Well, the merchant community uses a mix of national truck lines and other midsize and even owner-operators, so my perspective is varied and also driven by the fact that the cotton industry sources from hundreds of rural warehouses in the growing areas. We're not talking often about a truck originating in a metropolitan area and ending up in a metropolitan area. I think the national carriers are well down the road on ELDs, or have them in place already, and some of the midsize do as well. It's going to be these other organizations, midsize and down, that need to figure this out. But that represents a lot of potential capacity impact. I also think it's going to play out much more specifically in particular parts of the country. So for cotton merchants, it's a matter of figuring out where the challenges will be across the various states where we operate.
Brady: Port congestion with regards to driver delays is, sadly, not going away. I see this is a union labor issue at the ports and this will take some real leadership and pressure from shippers, carriers and truckers to help work on this with the unwilling-to-negotiate and hard-to-work port unions. This isn't an easy one to work on, but yes, ELDs and other actions — although necessary — will only exacerbate the issues.
JOC: What impact is the weakening Chinese economy having on your business?
Hughes: It's not having too much of an impact for us, because everything we ship is import. We're not selling into that economy at all. And we have other nations we could probably source from — Vietnam, India, Mexico. But there's not a lot of options out there where there's good infrastructure and raw material availability. That said, we've moved a few smaller projects to Mexico.
Symonanis: For US cotton, the demand has already started to shift away from China over a number of years. They're still in the top three, but it's not like it was when the reserve was in the marketplace and buying. It really has shifted to other places. I think China remains the largest producing nation. They're no longer the largest single importer of foreign growth, but they're still up there, so it remains an important market for US cotton. Once this inventory that's still in reserve stocks comes down further, the dynamic may change. We've seen a lot of shifting to Southeast Asia and other markets, where they're spinning cotton into yarn, and that yarn is moving around in Asia. Whether China decides to draw more of that business back remains to be seen.  
JOC: What's your take on all this NAFTA rhetoric?
Symonanis: What goes on with NAFTA specific to Mexico is going to be very important for US merchants and farmers. Any changes in our existing trade regimes will have an impact. The relationship with Mexico is extremely important. Cotton goes down there. Louis Dreyfus has dairy exports as well. And it's not the case that cotton displaced from Mexico is going to just naturally find a home domestically. It'll go to some other export market, because US consumption is maybe a quarter of the total crop in a given year. So the ability to export to Mexico as we do today is important. The proximity of Texas, the largest producing state, to Mexico creates an advantage for that crop going there. We really don't want to open the door to Brazil and other producing countries in the hemisphere due to NAFTA changes.
Hughes: Absolutely. It's real simple: If we go into renegotiating NAFTA, the thought that we're going to renegotiate a point, and Mexico or Canada isn't going to bring up points that they're interested in renegotiating is naïve. This is going to open up Pandora's Box. From just the very high level, this agreement has been positive for all three of our countries. To say we're going to throw it out and start from scratch, I think is really a big mistake. We're a global economy. We've been invested in a global economy for a long time. To all of a sudden say we're going to become isolationists, that we're going to plunge back into an economic island nation and not embrace global trade is a huge mistake for us. I think you'd see prices increase. You'd see all sorts of issues pop up from becoming isolationists, so hopefully, we stick with NAFTA.
JOC: When you look at 2017, what are some of your other big concerns? What really keeps you up at night?
Hughes: Well, for me, it's the front end of the ports. It's a huge problem at Los Angeles-Long Beach, and I think it's a pretty big problem nationwide, in that outside of the gate, there is no good structure. We've got 13 terminals in LA-Long Beach, and we don't have one common access point where the BCOs and the truckers can go to manage the flow in and out of the ports effectively. 
We've got three things that will hopefully address it: the FMC Supply Chain Innovations Team, which I think has been very good; the great effort that Gene Seroka is leading out of the Port of Los Angeles with GE Transportation (to measure mega-ship productivity); and some trial runs coming forward to possibly address the backside of the complex's issue with a single-point access. 
There's a lot more attention being paid to the front end of the ports, but we really have to get that organized to effectively manage the flow of goods in and out of the terminals.
That said, the biggest thing that keeps me up at night is the possibility of another Hanjin-type bankruptcy with the carriers.
Brady: What keeps me up at night? Distractions — distraction and being enamored with the next cool thing. I think we get overly eager to solve problems that may not exist. I'm not interested in worrying about drones or self-driving trucks or the Uberization of freight. I'm not saying that these things aren't important and aren't innovative. They are. And yes, they will come and will alter the landscape of our world. But in the world of 24/7 media and social media, these big ideas get too much play and too much interest. These things then take our eye off of the planning and execution of the real business, in the real world we live in today — and still will — tomorrow.
Symonanis: Another thing that comes to mind that we didn't talk about within the alliance piece is what's going to happen to these carrier organizations. You have the decision-makers and those getting the work done, that move the volume literally one container at a time — important people. With industry consolidation, there will be a loss of organizational knowledge of what we shippers do. That's one of the things that isn't talked about as much when looking at carrier alliances and consolidation: How many ships? How many calls? What calls? What's going on behind the scenes within these carrier organizations is an important consideration for all of us. And really, in a shrinking industry, where does all that knowledge ultimately reside that isn't retained? The changes to service centers a couple of years ago didn't go well, and there were significant impacts to cotton merchants during and after these transitions. People need to know what their customers are doing and have to understand their businesses. And in this environment, a loss of knowledge is an important consideration in the industry for all BCOs. 
Second, if the incoming administration follows through on anything it's talked about in the trading regime, it will have a significantly disruptive effect to the national economy. And that's true whether you're a consumer or an exporter — whatever you are and wherever you are in the chain. My hope is that cooler heads prevail as we move past the election and what needed to be said to get elected, to governing and growing the economy in the right ways.