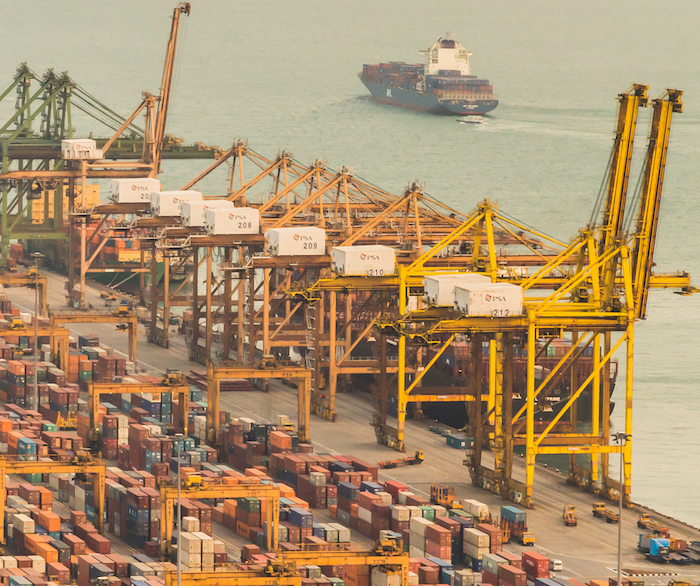 CMA CGM has agreed to form a joint venture with Singapore-based PSA to operate and lease four container terminals in the Asian city state.
PSA Singapore, one of the leading global terminal operators, will have a majority 51 percent stake in the venture with the French ocean carrier holding the remainder.
The agreement gives CMA CGM and its affiliates access to a dedicated facility with an annual handling capacity of more than 3 million 20-foot-equivalent units.
The joint venture is part of the Singapore government's bid to win back some of the container transshipment traffic lost to the rival Malaysian hubs of Port Kelang and Tanjung Pelepas, according to industry analyst Alphaliner.
PSA's share of the Southeast Asia transshipment market has slumped from 89 percent in 2000 to 62 percent in 2015.
Singapore's overall transshipment volumes declined 7.8 percent in the first four months of this year, following an 8.7 percent drop in 2015, whereas its key competitors have boosted their market shares, Alphaliner said.
News of the joint venture broke just after CMA CGM launched an all-cash offer worth around $2.4 billion for Neptune Orient Lines, the Singapore company that owns container carrier APL.
CMA CGM is currently the biggest customer at Port Kelang, accounting for more than 20 percent of terminal operator Westports' 2015 volume of some 9.1 million TEUs.
China's Cosco Container Line has also signed a deal to shift its operations from Port Kelang to a PSA facility in Singapore in 2017.
PSA's next target will be Taiwanese carrier Evergreen, which currently uses Tanjung Pelepas but will switch to the joint venture facility when it joins CMA CGM and Cosco Container Line in the Ocean Alliance, which is scheduled to launch April 2017, Alphaliner said.
Hong Kong's OOCL, the fourth member of the alliance, already uses PSA Singapore as its main "Straits" hub.
The battle for the regional transshipment traffic is critical for PSA as Southeast Asia is the largest transshipment market in the world with volume totaling 42.5 million TEUs in 2015.
"The new CMA CGM-PSA joint venture could prove to be a major coup for Singapore, as bringing CMA CGM and its new alliance partners back to PSA's fold could finally reverse a long-term structural decline," Alphaliner said.
Contact Bruce Barnard at brucebarnard47@hotmail.com.