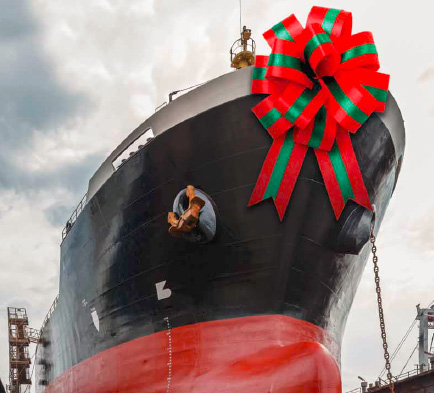 It's not going to look a lot like Christmas for ocean container lines this year, next year and even beyond that.
Although many have managed to staunch the bleeding of red ink that decimated their bottom lines earlier this year, the outlook for their financial recovery appears increasingly dubious in 2013. Instead, the cycle of ups and downs in the container trades is beginning to look even more like a yo-yo than in 2012, with rates going up and down with increasing speed.
The problem, of course, is the glut of vessel capacity hanging over the market. The overhang promises to grow next year, when the global container fleet is expected to increase 9.8 percent, following a 7.2 percent increase in 2012, according to industry analyst Alphaliner. But global demand for vessel space is estimated to grow only 4 to 6 percent in 2013, and is likely to fall again in the critical Asia-Europe trade, where it dropped 4.6 percent in 2012 because of the European recession.
The schedule of new ship deliveries begins to tail off in 2014 because carriers stopped ordering halfway through 2011, indicating that supply might come into balance with demand in 2015, unless carriers refrain from more ordering. But for many carriers, ordering new ships already is getting too irresistible to ignore.
"The temptation to order new ships is getting very strong because of the pricing and the performance," said Peter Shaerf, managing director of AMA Capital Partners.
The price of new ships has never been so attractive. A new container ship capable of carrying 13,000 20-foot-equivalent units costs about $110 million now, compared with $165 million at their peak in the mid-2000s, when they were hovering around $10,000 a slot. Even a 9,000-TEU ship costs in the low- to mid-$80 million range now and has significantly lower fuel consumption than earlier versions.
"That's why we are going to see some more orders in the next six months as more carriers come to realize the value of these new eco-ship designs," Shaerf said. The lemming effect comes into play. When one starts, they all do it."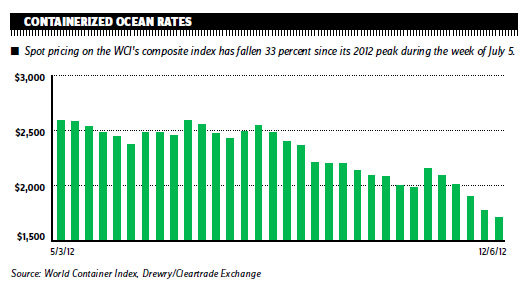 Evergreen Line was the first carrier to arrange for new ship orders this year. It will charter 10 new 13,800-TEU ships ordered this year by Enesol, another Taiwanese shipping line. Yang Ming has requested tenders for five ships of up 16,000 TEUs, with an option for another five, probably on a charter basis and likely for delivery after 2015. Chile's CCNI has ordered six 9,000-TEU ships, and Seaspan will announce its plans for new ship orders soon.
The deliveries can be delayed until 2015, when the current overcapacity has been absorbed. But unless global demand for ship space can catch up with this new spate of vessel capacity coming to market then, the new orders will prolong the glut of capacity and the up-and-down rate cycles to 2015 and beyond.
If carriers can find the financing and continue to order big, more fuel-efficient ships, existing shipowners will face another problem: The value of their older ships is likely to plunge. "The threat to the value of the older ships is very real," Shaerf said. They will be turned back to the shipowners if there are new ships to replace them. That may also promote more new buildings."
The reason is cost. If a ship that burns 70 tons of fuel a day can save 50 tons compared to an older ship of the same size that burns 120 tons a day, a ship operator saves $30,000 a day at the current bunker price of around $600 a ton. The value of that older ship will start decreasing faster.
"If a new ship is worth, say, $100 million now, and the older ship is worth $60 million, the value of that older ship is really going to start going down in another five years," Shaerf said. "No one is going to want that older ship in five years' time."
 Related: The JOC Top 40 Container Carriers Imports & Exports .
In the nearer term, how does 2013 look? "The word is volatility," said Lars Jensen, CEO of Copenhagen-based consultant SeaIntel Maritime Analysis. "If you look at next year on average, you're going to see a year that looks pretty much like this year. It's going to be characterized by a lot of enjoyment for the carriers when rates go up, and sheer terror when they come down in the very frequent cycles."
The cycle of rates in 2012 was compressed to less than a year from trough to trough in the market. "I would not be surprised if it were not even more rapid next year," Jensen said. "You might wind up seeing almost two full business cycles in the same year."
It was bad enough in 2012, which has already experienced two troughs. After a rate war in the Asia-Europe trade at the beginning of the year, carriers withdrew enough vessel capacity to support an unprecedented number of general rate increases that eventually brought them back to profitability.
By year-end, however, spot rates were heading in only one direction — down — in the Asia-Europe and the trans-Pacific trades. How bad was it on all global trade routes? By the beginning of December, the Drewry/Cleartrade composite World Container Index for all global trades had declined 33 percent to $1,706 per 40-foot container from its 2012 peak of $2,590 in early July.
Carriers were able to jack up rates in the second quarter of 2012 by combining services, slow-steaming and withdrawing some vessel capacity, but that didn't last long, and the same pattern looks likely to persist in 2013. "Once the rates reach reasonable levels, the carriers look at the portfolio of ships they are not using and will reactivate tonnage," Jensen said. "That will send rates down equally fast."
A panel of three logistics directors from big U.S. import and export shippers who made up the JOC's annual Shipper Roundtable said they had budgeted flat to lower amounts for ocean freight rates in 2013. The three shippers, whose views will be published in the JOC's Annual Review and Outlook issue on Jan. 7, said continuing overcapacity is likely to cap or erode carrier rate increases next year.
Many carriers are looking to smooth out the rate cycles by negotiating long-term contracts with shippers, rather than the annual contracts that used to be customary. "About half of our 30 carrier members have negotiated long-term contracts of four to five years," said Ken Bloom, CEO of e-commerce booking service INTTRA. More than half of INTTRA's revenue is covered by long-term contracts.
The evidence for the increasingly volatile cycle can be seen in Alphaliner's data on the amount of vessel capacity idled during 2012. By March 3, after a brutal rate war, carriers had idled 5.8 percent of the existing fleet, or 302 vessels with a capacity of 913,346 TEUs. But by June 18, after rates firmed, the idle fleet dropped to 2.7 percent of the fleet, or 207 ships with 432,397 TEUs of capacity. When rates started to decline again, carriers pulled more capacity, so that by the beginning of October, the idle fleet was back up to 3.7 percent, but that was too late to staunch the decline in rates, especially in the Asia-Europe trade.
"We are still working our way through a post-conference world," Bloom said. "Attempts to fix prices don't stick. The Nov. 1 GRI on the Asia-Europe trade made it all the way to Nov. 2. So you are seeing that show up in the rate indexes. It's going to be very hard for the carriers to beat the fundamentals."
"I don't think the outlook for next year is that promising, and it could be even more challenging than 2012 because of the orders due for delivery," said Anil Vitarana, president of United Arab Agencies, which represents United Arab Shipping Co. in the U.S. "Carriers will find a way to use the bigger ships that will be delivered in 2013 because of the efficiencies they offer."
The eurozone recession and sputtering U.S. growth promises to hold volume growth well below the amount of new capacity scheduled to be deployed next year. Although demand is holding up on some of the north-south trades, the volume isn't enough to offset the weakness in the major east-west trades.
"Some of the steam seems to have gone out of the South American market, while Africa remains quite strong," Vitarana said. "But the markets to the south are still a very small part of the liner trades. If Asia-Europe and the trans-Pacific don't hold up, anything that is positive in the secondary markets is not going to offset that."
An early test of carrier resolve will come this month when carrier members of the Transpacific Stabilization Agreement plan to implement the TSA's recommended rate increase of $400 per 40-foot-equivalent container unit to the U.S. West Coast, and $600 per FEU to all other destinations. Between mid-October and Dec. 5, Drewry's trans-Pacific rate benchmark for shipments from Hong Kong to Los Angeles fell 20 percent, to $2,711 per FEU.
A second test of carrier rate hikes will come in January when most liner companies plan to implement a GRI of up to $600 per TEU in the Asia-Europe trade.
In anticipation, carriers already are idling some capacity for the winter as post-peak demand dries up. Alphaliner estimated the top 10 container ship carriers have 50 idle ships with an aggregate capacity of 259,535 TEUs, with Maersk holding 36.3 percent of the idle capacity at 94,277 TEUs among 14 ships. The carriers in the G6 Alliance have canceled seven voyages, effective in early 2013.
"They are going to have to pull more capacity in order to get rates up to a sustainable level," Jensen said. "Depending on how quickly carriers want to move, we might even see rates rebound on the trans-Pacific and Asia-Europe lanes in the lead up to Chinese New Year on Feb. 10, but I have no illusions that they will keep that tonnage idle when rates become good."
Contact Peter T. Leach at pleach@joc.com and follow him at twitter.com/petertleach.