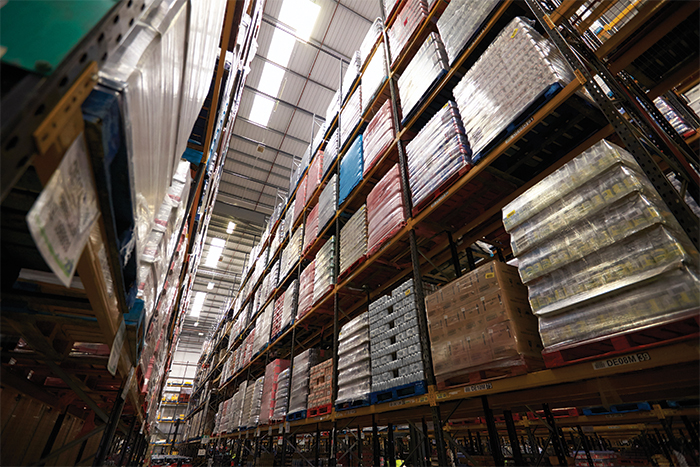 Bloated inventories, a hangover of the 2014 to 2015 West Coast port congestion that slowed Asia supply chains to a crawl, have yet to loosen their grip over retailers and other shippers, clouding the outlook for U.S. containerized imports as the market prepares for the July–October peak shipping season.
U.S. consumers didn't open their wallets or purses wide enough in the first quarter to whittle down those excess stocks, preferring instead to sock away any increases in income they received. Housing sales also slowed in the first quarter, acting as a further drag on imports of furniture and other containerized household furnishings.
Retail sales turned upward in March for the first time since last November, but not enough to eat into stocks. Inventories of clothing, for example, rose to the highest on record in March, according to the Commerce Department.
"Our product planners must have been smoking medical marijuana," said the logistics director for one large U.S. importer of consumer products, who requested anonymity. Although the company had drafted a plan for sourcing that called for carefully staged levels of imports throughout 2016, its product managers reacted to last year's inventory shortages by frontloading orders for the full year, more than warranted by demand early in the year. As a result, the company is holding far too much inventory. Demand for its products is not affected by fashion or seasonal demand, so it won't be reordering until 2017.
"They have thousands of containers coming in, and what are we going to do with them? Nothing," he said. He speculated that this pattern may be true of other retail importers.
This may explain the better-than-expected surge in first-quarter U.S. containerized import volumes, which increased 7.8 percent year-over-year at a time when real GDP growth in the advanced first-quarter reading came in at a paltry 0.5 percent. Consumer spending in the period rose just 1.9 percent, slower than the 3.1 percent average rate in 2015. "The drag from inventories was bigger than expected, subtracting 0.33 percentage point from real GDP growth, compared with a 0.22 percentage point subtraction in the fourth quarter," said Mario Moreno, senior economist for IHS Maritime & Trade, the IHS division that also includes JOC.com.
A survey of U.S. shippers by Wolfe Research during the second quarter shows their inventory levels remain above last year's levels. "We believe high inventories have been a drag on freight volumes the past few quarters, and we expect this headwind to continue for now," Wolfe analysts said in its report. One-third of the shippers responding to Wolfe's survey — more than the 31 percent of shippers in last quarter's survey — said current levels of inventories are higher than they were last spring.
Thirty-four percent of shippers said they are maintaining higher safety stocks, compared with 30 percent in the last quarter's survey. And 64 percent of respondents expect about a normal level of shipping volume this quarter in order to maintain high inventories, up significantly from 47 percent last quarter and the highest level in the past six quarters. "This suggests to us that high inventory levels could continue to depress freight volumes in the near term," the report said.
Although fear of empty shelves may account for some of the spike in first-quarter imports over last year, it also could be a statistical anomaly. "Part of that is averaging out because of the labor dispute on the West Coast, so we won't see any decent numbers until April or May," said Ben Hackett, principal of Hackett Associates, which publishes the monthly Port Tracker together with the National Retail Federation. The latest Port Tracker estimated that import volumes in April declined 0.8 percent, but at 1.5 million twenty-foot-equivalent units were still some of the highest levels ever. It expects the trend to continue right through the summer–fall peak season, forecasting a year-over-year decline in import volumes of 2.7 percent in May, 0.8 percent in June, 0.6 percent in July, 3.7 percent in August and 3.9 percent in September.
"Retailers are importing less merchandise than last year, but these are still some of the highest numbers we've ever seen," said Jonathan Gold, the NRF's vice president for supply chain and customs policy. "Carefully managing imports will balance out high inventory levels, but consumers can still expect to see a deep and broad selection of products."
Despite the surge in first-quarter imports, Hackett and Moreno disagree on the outlook for the rest of the year. Based mostly on the strong first-quarter performance, Moreno forecasts U.S. containerized imports will increase 7.0 percent for the year, an upgrade from his previous forecast of 5.3 percent growth, but he cautioned there are risks on the downside. Real consumer spending is expected to grow 2.6 percent this year, 3.1 percent in 2017, and 2.8 percent in 2018. The consumer outlook for the next couple of years remains positive because of low energy prices, modest consumer price inflation and relatively strong employment growth. Real consumer spending on non-durable goods this year looks bad, Moreno said, because the warmer winter weather meant consumers didn't need to buy winter clothing or home heating oil and because spending on food away from home is cannibalizing food-at-home spending.
Hackett is more pessimistic about imports. "For the second half, we see a real weakness on the import side," he said. For all U.S. and Canadian ports, he is forecasting imports will be flat for the year as a whole. "The inventory-to-sales ratio has been stubbornly high for the last two months and is a real concern as to where imports are potentially going to go," Hackett added.
He doesn't think consumer demand is strong enough to draw down excess stocks. "Disposable income is growing at 0.4 percent, but real consumption on the retail side is less than that, really weak, for all intents and purposes, flat."
Exports also rose by more than expected early this year — 3.8 percent in January and February compared with the first two months of 2015. Moreno had previously forecast growth of only 1.4 percent for the first quarter.
Despite this early growth, he is still forecasting a decline of 1.5 percent for the year as a whole. "Although exports are up for two consecutive quarters, it is too soon to tell whether the downward trend in U.S. exports has been reversed for good," he said.
The strength of the U.S. dollar is weighing against export growth. Moreno expects the inflation-adjusted, trade-weighted value of the dollar against an index of trading partners to peak in the third quarter, up 6.6 percent from the 2015 average. After that, he forecasts a steady decline in the decade to come, which could help boost exports.
Hackett said U.S. commodity exporters are benefiting from long-term contracts with overseas buyers. He estimated first-quarter exports grew 4.3 percent overall, with those through West Coast ports surging 9.7 percent year-over-year, while those through the East Coast ports declined 0.9 percent.
The sharp increase in West Coast volumes is skewed by the measurement against the year-earlier period when those ports were recovering from congestion caused by the contract dispute between the International Longshore and Warehouse Union and waterfront employers represented by the Pacific Maritime Association. Hackett didn't provide a forecast for total export volumes for the year as a whole.
Wolfe Research's second-quarter survey found that national retailers expect a 1.3 percent increase in same-store volumes over the next 12 months, down from expectations of a 1.6 percent in the first-quarter survey and 2.2 percent a year earlier. This is the lowest volume growth expectation since the 2008 to 2009 recession.
The Wolfe survey also found that retailers who in the past have shifted sourcing from the U.S. to China, increasingly are shifting from China to other Asian countries because of rising labor inflation in China. The gradual trend away from imports from China showed up in the first quarter when China accounted for only 2.3 percentage points of the growth in U.S. containerized imports, which accounted for less than one-third of overall first-quarter growth.
Shippers also are moving production back to the U.S. or near-sourcing to Mexico and Latin America. The survey found that 47 percent of shippers expect to increase insourcing to the U.S. or near-sourcing to Mexico, substantially more than the 20 percent of shippers who expect further outsourcing. The survey data suggest that outsourcing to China in particular will continue to slow in the years ahead.
"Based on these results, Asia-to-U.S. air and ocean shipping feels increasingly mature and thus more cyclical to us, which seems like a longer-term negative for (logistics) companies we cover with high-end exposure to this trade lane," Wolfe analysts wrote.
Contact Peter T. Leach at peter.leach@ihs.com and follow him on Twitter: @petertleach.