Alan M. Field, Special Correspondent | Sep 30, 2017 9:00AM EDT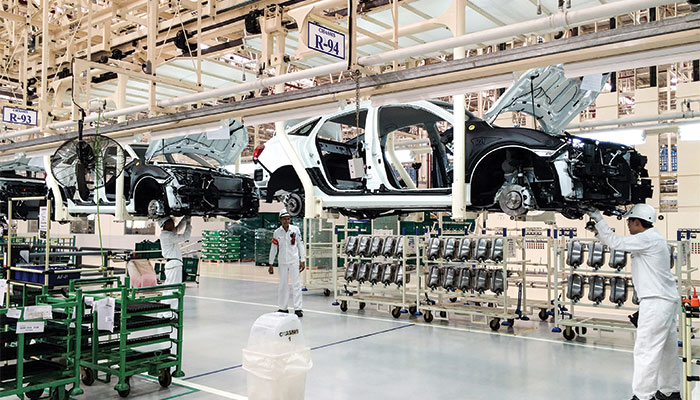 CHON BURI, Thailand — Although wild elephants still roam some nearby rain forests, the sweeping landscape of Thailand's massive Hutchison Laem Chabang Terminal is dominated by state-of-the-art, rail-mounted gantries managed from a Hutchison port control tower on computer screens by well-trained technocrats. 
Welcome to Thailand's Eastern Economic Corridor, where this forward-looking nation of 68 million is pinning much of its hopes for rejuvenating trade on the expansion of Laem Chabang, overlooking the Gulf of Thailand, 85 miles southeast of the capital of Bangkok and 12 miles north of the popular beach resort of Pattaya.
During the second quarter of 2017, Thailand's GDP expanded 3.7 percent from a year earlier, its strongest growth rate since the first quarter of 2013 — buoyed by higher exports and robust output of the food, tourism, and retail sectors. But Thailand's economic growth has been stuck in slow-growth mode, compared with that of lower-income neighbors Cambodia (6.9 percent GDP growth in 2016), Myanmar (6.5 percent), Vietnam (6.2 percent), and Indonesia (5 percent). 
"Thai labor costs are not cheap anymore; we are trapped in the middle-income sandwich," said Bonggot Anuroj, senior executive adviser at the Board of Investment of Thailand. Although Thailand has enjoyed success manufacturing and exporting automobiles, electronics, and chemicals, "we cannot compete on the basis of low wages" anymore with such countries as Indonesia, Myanmar, and the Philippines, "but neither can we compete versus such high value-added economies as South Korea and Taiwan."
Sampan Silapanad, vice president and general manager of Western Digital (Thailand), said Thailand is already competitive in such major sectors as electronics and automotive production, of which it is ranked first and 12th in terms of exports globally, respectively. "But we need to continue to promote new, advanced technology," such as products based on biotechnology and food science. 
All of Western Digital's output from its Thai plant is exported, because the company has contractual obligations not to sell those products in Thailand. But export volumes, measured in TEU, have been flat over the past five years, he said, because their dollar value has naturally declined along with dropping global prices for digital storage, even as the quality and capacity of such products steadily improves.
Enter Thailand 4.0, the government's multifaceted initiative to emerge from this conundrum by developing higher-value manufactured goods, and an advanced transportation and logistics infrastructure to process such goods effectively for exporting to Asian and other markets. Thailand 4.0 envisages a country that can compete not just in such arenas as low-wage-based light industries and investment-intensive petrochemicals, where Thailand is already strong, but in a host of advanced, high-value sectors. 
If all goes well, thanks in part to a wide range of tax breaks aimed at attracting foreign investment, by 2022 a significant percentage of Thailand's containerized trade will consist of such innovative products as advanced electronics, next-generation automobiles (including self-driving, electric vehicles), and higher-value foods (including nutraceuticals, functional foods, healthy fats and oils, and specialty foods such as Halal and Kosher foods aimed at foreign markets).
For the key Eastern Economic Corridor, southeast of Bangkok, this calls for $43 billion in infrastructure construction and upgrades over the first five years, including:
dual-track railroads that will connect Thailand's two major ports — Laem Chabang (LCP), the country's largest, and Map Ta Phut — at a cost of $1.8 billion
$300 million expansion of Map Ta Phut
Phase III of LCP, at a cost of $2.5 billion, so that it likely eclipses such ports as Hamburg and Antwerp in capacity
high-speed roadways that connect LCP and other ports to major cities ($1 billion)
advanced industrial plants, including warehousing and distribution facilities that specialize in cold storage and e-commerce goods ($14 billion)
To expedite all of this, the government has invoked a Royal Decree to facilitate the creation of "Fast-Track Public Private Partnerships."
At LCP, Phase III will mean a dramatic increase in capacity from the current annual total of 8 million TEU to 18.1 million TEU by 2023. As LCP has expanded in phases I and II, each new basin has grown in width, length, and depth. Basin II, completed in 2003, handles post-Panamax vessels. Following this pattern, in the third phase, Basin III will be 920 meters wide, 2,275 long, and 18.5 meters deep — up from 16 meters deep in Phase II. This means that LCP will accommodate post-Panamax ships of "the largest size" when it opens in 2026. To handle so much traffic quickly, officials point to conceptual designs of a rail-mounted gantry crane that would operate cargo on six tracks. 
The Port Authority of Thailand is responsible for the development of LCP's deep-water facility, but the government soon got out of the business of competing with the private sector during the early 1990s, as private terminal operators have been awarded with concessions to manage individual terminals. 
LCP now comprises 11 container terminals, with a combined 10.8 million TEU per year, as well as three general cargo terminals with 2.56 million metric tons of capacity, and three roll-on, roll-off (ro-ro) terminals accommodating 1.95 million units per year. Over the past five years, LCP's total TEU throughput has grown steadily from nearly 5.7 million in 2011 to about 7.1 million in 2016. 
The import-export balance has remained relatively even, with import TEU at 3.42 million last year, and exports totaling to 3.57 million TEU. The number of vessels has risen steadily from 10,516 in 2012 to 12,560 in 2016. 
Meanwhile, the port's ro-ro volume has also increased steadily, from 897,000 vehicles in 2011 to about 1.3 million in 2016. Last year, 98 percent of all Thai-made vehicles were exported from LCP, which is located within 150 miles of all the major exporters: Honda, Isuzu, Nissan, Toyota, Ford, Mazda, GM, Isuzu, and Mitsubishi.
Thai officials built so much extra port capacity because they insist that, in the future, trade volumes will be much more significant in each of these categories because of massive investments — fueled by multiple tax incentives — built into the multifaceted Thailand 4.0 initiative. Beyond serving distant markets in Japan, Australia, Europe, and the United States, the Thai government is also preparing to emerge as a regional hub of maritime trade, linking LCP with three nearby ports: the controversial new Dawei deep-sea port in Myanmar, Sihanoukville port in Cambodia, and Vung Tau port in Vietnam.
Port expansion is also expected to be a boon for local providers of logistics and warehousing services. Siyaphas Chantachairoj, director of corporate marketing for WHA Group, Thailand's largest developer of industrial and logistics facilities, stressed that the Eastern Economic Corridor has been designated to "become [the Association of Southeast Asian Nations'] leading economic zone for industrial, infrastructure, and urban development." 
Relying on advanced infrastructure and supporting digital networks to cut already declining logistics costs, WHA Group has more than doubled the volume of made-to-order distribution centers and warehousing space that it provides at its various locations in Thailand, from 891,286 square meters in 2013 to 2,115,792 square meters in 2016. WHA Group's Hemaraj Eastern Seaboard Industrial Estate, for example, provides 3,245 acres of space for Ford, GM, and Suzuki, as well as 32 of the world 100 top global automotive suppliers.  
Arnaud Derbaudrenghien, managing director of Katoen Natie (Thailand) — a Belgium-based provider of specialized logistics services such as pre-assembly, sub-assembly, sequencing, and just-in-time delivery for such automotive firms as BMW — added that Thailand's position as the world's largest rubber producer helps make it an ideal location for producers of temperature-sensitive steel-cord tires that need to be warehoused in temperature-controlled environments. 
"We believe that many other opportunities will come, and we're continually looking for investments in Thailand," he added. "Technologies are changing so quickly" that his firm hesitates to offer logistics management contracts that last more than five years.
Sampan said he is hopeful that the Thailand 4.0 initiative will yield significant benefits for the Thai economy, but that it is a "very big challenge" to raise the educational level of the workforce enough to compete at the highest levels of global competition. "We are working very hard, giving training programs that improve skill sets." 
Known as a forceful advocate of such educational initiatives, Sampan has been giving talks about Thailand 4.0 around the country to expand awareness of its potential. "The Thai government is helping us, and we are helping the Thai government."  
Contact Alan M. Field at alanfield0@gmail.com.