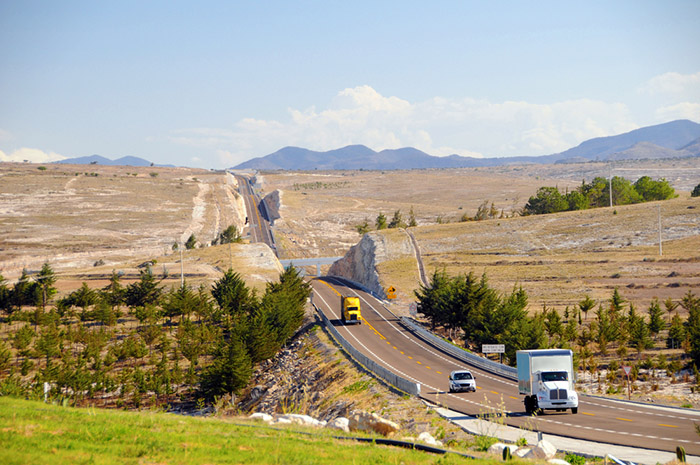 The arrival of more trans-Pacific freight at Mexican ports is contributing to a growing imbalance in truck capacity on the U.S.-Mexican border. That in turn is fueling growth in transloading at Laredo, the largest U.S.-Mexican truck border crossing, logistics executives say.
As cross-border trade grows, finding and positioning equipment is becoming a challenge for some shippers in Mexico, whether ocean containers or 53-foot trailers.
Shippers that want to move full trailerloads from Mexico direct to U.S. destinations with just an exchange of tractors at the border are going to have a harder time finding scarce U.S. equipment in Mexico and increasingly pay a premium for "throughput" service.
"Almost all shippers of large northbound volumes are being forced to pay to relocate empty equipment to Mexico to keep the supply-chain moving," Jordan Dewart, who was named president of Yusen Logistics Mexico earlier this month, said. "If you refuse to transload your cargo at the border, you will start to pay a premium of 25, 30 or 50 percent over everyone else. The difference is huge."
The pool of U.S. equipment available in Mexico for northbound shipments is "evaporating," said Troy Ryley, managing director of Transplace Mexico. That means more business for Mexican truckers, who also benefit from the strength of the U.S. dollar compared with the Mexican peso.
"In July, we expect to see a lot of pressure on capacity" at the border, Ryley said. "Obviously, those who don't have a good relationship with a carrier are going to pay a premium."
Even at the best of times, northbound shipments to the U.S. can outnumber southbound loads to Mexico by at least a two-to-one margin. Several factors are pushing that ratio higher, including the growth of manufactured Mexican exports to the U.S. and the strong value of the U.S. dollar compared with the peso, which makes U.S. goods more expensive south of the border.
Added to that mix are Mexican produce season, which generates greater northbound demand, and the expansion of direct trans-Pacific trade between Mexico and Asian suppliers, which means fewer components are shipped to Mexico through U.S. ports and hauled south by truck.
"Volumes have grown to a point where suppliers can now fill 40-foot equipment consistently from Asia into Mexico," Yusen's Dewart said. "Virtually all of our customers importing into Mexico are now using Mexican ocean ports and airports directly for their Asian and European imports." Yusen Logistics Mexico is opening facilities this year at airports in Monterrey and Guadalajara to keep up with heavy import airfreight demand, Dewart said.
The surge in containerized imports in Mexico is directly connected to strong growth in Mexican exports to the U.S., especially automotive exports of both components and finished vehicles. Collectively, container trade at Mexico's ports increased 5.1 percent year-over-year in 2015.
Manzanillo, Mexico's largest port, increased containerized imports 3.6 percent last year, handling 1,061,201 twenty-foot-equivalent unit containers. Some smaller ports increased volumes at a greater rate. Import volumes rose 9.2 percent to 493,865 TEUs at Lazaro Cardenas, and leaped 39 percent at Ensenada, just south of the U.S. border in Baja California.

Some of that spike in volume was a temporary result of the labor dispute that practically closed U.S. West Coast ports in early 2015, but more ocean trade is expected to shift south.
"Space in the eastbound ocean trade (to Mexico) has gotten tight recently and is expected to continue to be tight throughout the summer and early fall," Dewart told JOC.com. "Our ocean carrier partners tell us that this particular trade is becoming profitable for them, and as such they will continue to invest in expanding this market in years to come."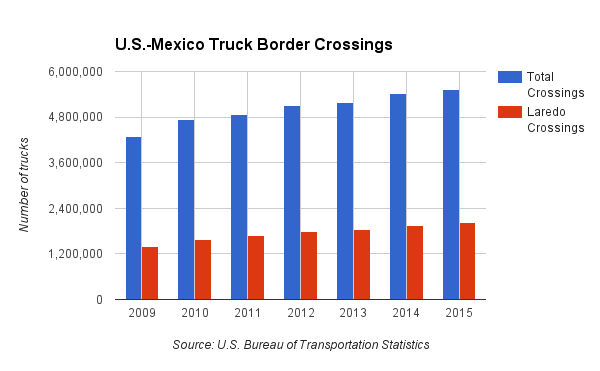 The number of trucks rolling across the U.S.-Mexican border is also rising. In 2015, truck crossings between U.S. and Mexico climbed 2.2 percent to 5,535,371, according to the U.S. Bureau of Transportation Statistics. In Laredo, the largest U.S. border crossing point for truck traffic, volume increased 3.5 percent to 2,015,773 trucks, 36 percent of last year's total.
More and more of that freight will be cross-docked and transloaded in Laredo, Ryley and Dewart said.
"I don't want to say it's hard to keep up with, but we're moving quickly to keep up with the growth we've had, particularly in the peak season," Ryley said of cross-docking at the Texas border. "We're working to pick up some additional space and the opportunity to grow capacity. It's complex, because cross-docking requires a tremendous amount of yard space."
Finding that space is another capacity problem, he said. "There's just not the amount of (industrial) space in Laredo there used to be. They're not building yet." The median sales price for industrial property in Laredo was up 23 percent year-over-year in March to about $65 per square foot, according to LoopNet, an online commercial real estate marketplace.
Cross-docking is a more complex operation than direct through service because it involves terminal and warehousing space, additional personnel and forklifts, Ryley said. That would tend to make it more costly than direct throughput — if enough trailers were available. "During the peak it is not going to be a question of price, but of being able to access equipment," he said.
In some ways, the market has come full circle, said Dewart.
"When I got into the NAFTA marketplace in 1995, the best thing since sliced bread was a through trailer," he said. "Up until the treaty was signed, U.S. equipment couldn't go into Mexico so everything was transloaded. Now we're out on the street selling the benefits of transload." One benefit, both Dewart and Ryley said, is a broader selection of U.S. and Mexican trucking companies to handle both legs of the trip.
Equipment management isn't just a problem at the border. Yusen Logistics Mexico is building a container yard and trailer yard at its Bajío Logistics Center, a 55,000-square-foot facility in the Amistad industrial park near Celaya, Mexico, to ensure it has a steady supply of both.
"We'll be handling a lot of what we call 'interior logistics' inside manufacturing plants, and that means just-in-time, just-in-sequence, milk-run business," Dewart said. "You've got to have the equipment and the ability to stage the equipment to not create bottlenecks in the plants themselves."
Celaya is about 400 miles from Manzanillo and the West Coast, north of Mexico City. "By putting our own container yard in the middle of the country, we won't be at the mercy of the shipping lines or truckers," Dewart said. "In our first phase, starting next month, we have contracted to have a minimum of 300 containers on site at all times," he said.
The yard could eventually handle up to 2,000 containers and a similar number of trailers, Dewart said.
Not all of those 40-foot containers will head back to Asia or to the U.S. As Mexico's manufacturing prowess grows, so will exports to other markets beside the U.S., Dewart said.
"Mexican goods are so competitive because of where they're being made, because of labor costs and exchange rates, that markets are opening up for them they didn't have before, including all of Central and South America," said Dewart. "We'll be filling 40-foot containers that arrived with parts from Asia and shipping Mexican goods to South America."
Contact William B. Cassidy at bill.cassidy@ihs.com and follow him on Twitter: @wbcassidy_joc