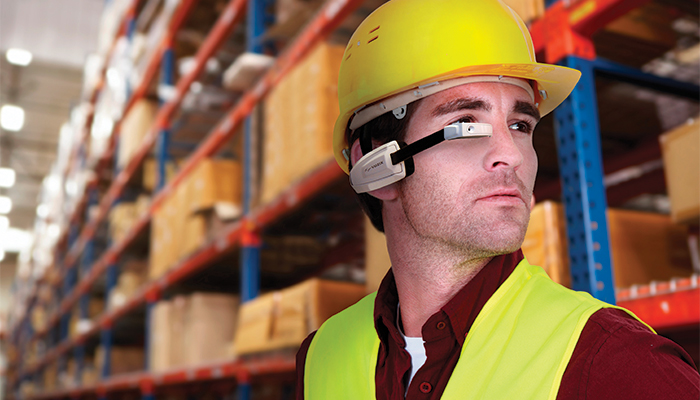 From Google Glass and Fitbit to GoPro and the Apple Watch, an ever-wider range of wearable devices have captured the attention of the world's consumers. Now that fascination is emerging in warehousing and distribution, where technology such as voice recognition is being packaged with smart glasses to provide video, scanning, and other capabilities to increase productivity, reduce mistakes, and lower costs across the supply chain.
The valuable data these commercial devices collect and share comprise "everything about how the product is picked, packed, and made," according to Patrick Van den Bossche, a partner with global management consulting firm A.T. Kearney.   
Like their counterparts in the consumer marketplace, supply chain wearables are worn as wrist-wear, eyewear, neckwear, and body wear. Brands such as Vuzix, Microsoft HoloLens, and Noonee are expected to gain traction in manufacturing and distribution, said Adrian Gonzalez, president of Adelante SCM. Thanks to the increased processing speed of their chips, the greater capacity of their batteries, and the growing precision of the sensor technologies they deploy, the devices will continue to become smaller, faster, easier to use, and more laden with features.
For the moment, however, the presence in the overall market for wearables is modest. Although wearable voice systems and scanners have been used for several years in warehousing, these enterprise and industrial wearables still comprise a small portion of the overall market for wearables, measured in unit volumes and revenue, according to a recent study by Tractica, a Boulder, Colorado-based research firm.
The report forecasts that worldwide shipments for enterprise and industrial wearables will increase from 2.3 million units in 2015 to 66.4 million units annually by 2021, a more than 30-fold increase in just six years. Over that period, a cumulative total of 171.9 million wearables are projected to be shipped for use in enterprise and industrial environments.  
"For a number of years now, there has been this constant evolution and march toward trying to automate parts of the distribution process," Gonzalez said. "At the one end of the extreme are the KiVa Amazon robots, and similar types of autonomous robots. Like anything else, some of these technologies are a good fit for certain kinds of distribution environments, and not so much for other."
As more retailers turn toward multichannel marketing, "a lot of the activity right now is in the e-commerce environment — trying to automate and provide more efficient picking and put-away processes for e-commerce," where sales growth is faster than in conventional brick and mortar shops, Gonzalez said.
Van den Bossche, a partner with A.T. Kearney, agrees that wearable devices are increasingly common "within the four walls of the warehouse or the four walls of a manufacturing plant. Wearables are used for a variety of goals: for efficiency in a warehouse, they help direct people to pick the right things, choose the right product at the right amount. And with some more sophisticated products, they even help them build the pallet once they start picking the material out of the racks."
With new generations growing up with FitBit, Google Glass, and other wearable devices, it's becoming increasingly easy to use and adapt to the technology, Van den Bossche added. "A lot of these applications have short learning curves," he said.