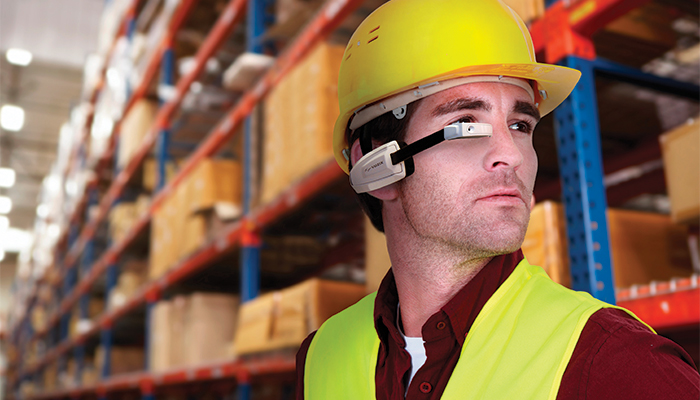 From Google Glass and Fitbit to GoPro and the Apple Watch, an ever-wider range of wearable devices have captured the attention of the world's consumers. Now that fascination is emerging in warehousing and distribution, where technology such as voice recognition is being packaged with smart glasses to provide video, scanning, and other capabilities to increase productivity, reduce mistakes, and lower costs across the supply chain.
The valuable data these commercial devices collect and share comprise "everything about how the product is picked, packed, and made," according to Patrick Van den Bossche, a partner with global management consulting firm A.T. Kearney.   
Like their counterparts in the consumer marketplace, supply chain wearables are worn as wrist-wear, eyewear, neckwear, and body wear. Brands such as Vuzix, Microsoft HoloLens, and Noonee are expected to gain traction in manufacturing and distribution, said Adrian Gonzalez, president of Adelante SCM. Thanks to the increased processing speed of their chips, the greater capacity of their batteries, and the growing precision of the sensor technologies they deploy, the devices will continue to become smaller, faster, easier to use, and more laden with features.
For the moment, however, the presence in the overall market for wearables is modest. Although wearable voice systems and scanners have been used for several years in warehousing, these enterprise and industrial wearables still comprise a small portion of the overall market for wearables, measured in unit volumes and revenue, according to a recent study by Tractica, a Boulder, Colorado-based research firm.
The report forecasts that worldwide shipments for enterprise and industrial wearables will increase from 2.3 million units in 2015 to 66.4 million units annually by 2021, a more than 30-fold increase in just six years. Over that period, a cumulative total of 171.9 million wearables are projected to be shipped for use in enterprise and industrial environments.  
"For a number of years now, there has been this constant evolution and march toward trying to automate parts of the distribution process," Gonzalez said. "At the one end of the extreme are the KiVa Amazon robots, and similar types of autonomous robots. Like anything else, some of these technologies are a good fit for certain kinds of distribution environments, and not so much for other."
As more retailers turn toward multichannel marketing, "a lot of the activity right now is in the e-commerce environment — trying to automate and provide more efficient picking and put-away processes for e-commerce," where sales growth is faster than in conventional brick and mortar shops, Gonzalez said.
Van den Bossche, a partner with A.T. Kearney, agrees that wearable devices are increasingly common "within the four walls of the warehouse or the four walls of a manufacturing plant. Wearables are used for a variety of goals: for efficiency in a warehouse, they help direct people to pick the right things, choose the right product at the right amount. And with some more sophisticated products, they even help them build the pallet once they start picking the material out of the racks."
With new generations growing up with FitBit, Google Glass, and other wearable devices, it's becoming increasingly easy to use and adapt to the technology, Van den Bossche added. "A lot of these applications have short learning curves," he said.
Gonzalez added that the more widely adopted segment of the supply chain wearables are small, light "ring scanners" used by workers equipped with wearable mobile computers. A split-second squeeze on the trigger verifies that the task has been performed accurately, and provides the real-time inventory information required for maintaining stocking levels and reducing out-of-stocks.
A currently less widespread — but more technically adventurous — segment involves equipping warehouse workers with hands-free augmented reality devices. Smart Glasses sold by Vuzix Corp. enable warehouse pickers to finish tasks more quickly and efficiently while reducing error rates, according to the Rochester, New York-based company. In the warehouse environment, it says, Vuzix Smart Glasses improve the process of manual order picking, managing flows of incoming and outgoing goods, sorting and packing goods, and keeping track of inventory.
According to Vuzix forecasts, the number of American workers using its enterprise-focused devices will outpace parallel growth in consumer sector wearables. The total number of Vuzix users will expand more than 30-fold from 400,000 workers in 2017 to 14.4 million in 2025.
Among wearables, a less mature but equally promising segment are wearable, mechatronic ergonomic devices, such as the Chairless Chair made by Switzerland-based Noonee. When fixed to a worker's haunches, it allows the worker to put his or her weight on the exo-skeleton, as if sitting on a chair, thus lessening the stress and strain of workers who stand for long periods in manufacturing plants and distribution centers.
Another way to view new devices is to consider their role within the burgeoning Internet of Things, the highly touted network of physical devices, vehicles, buildings, and other items that will be embedded with electronics, software, sensors, actuators, and network connections that enable all of these objects to collect and exchange data. Third-party logistics providers are playing a key role in making wearable devices into components of the IoT, according to Gonzalez. In a key move toward that goal, some 3PLs, such as Chattanooga, Tennessee-based Kenco, are using the Microsoft HoloLens as the first fully self-contained device to interact with high-definition holograms in their working environments.
"I am seeing 3PLs taking the lead role, maybe because their customers are pushing them to take a big role in investigating these technologies," Gonzalez said. "While a lot of manufacturers and retailers may not have the budget, the resources, and opportunity to test out (new wearable technologies by themselves), they may work with 3PLs to look into the use of a technology to see if there are any win-win benefits" it can provide.
Those kinds of productivity improvements for the 3PL also wind up lowering costs for 3PLs' customers, the manufacturers, and retailers.
DHL has been particularly aggressive in leveraging these kinds of technologies, whether Vuzix glasses or the robots, Gonzalez added. Although DHL has made its pilot tests public, some 3PLs don't want to talk about their programs because they may view them as cracking the code on some of these new technologies, thus losing some of their potential competitive advantage. 
DHL, for example, announced in 2015 that it had carried out a pilot project testing smart glasses and augmented reality in a warehouse in the Netherlands. In that project, Ricoh, the Japanese imaging and electronics company, and Ubimax, a German provider of wearable computing software, used "vision picking" technology in warehousing operations, guiding staff in the warehouse through graphics displayed on smart glasses, to expedite the picking process and reduce errors.
The pilot program proved that the augmented reality software offered value, providing a 25 percent boost to the efficiency of the picking process. "Vision picking enables hands-free order picking and greatly increases productivity. The technology significantly supports our staff and brings exciting value to our customers," Jan-Willem De Jong, business unit director for technology at DHL Supply Chain Benelux, said in a statement. "However, this is just the first step in our innovation journey, as we believe augmented reality will become relevant for even more supply chain areas."
Despite such progress, Gonzalez cautioned, "It is early stage in the sense that some of these technologies are not ready for prime time. And second, those (companies) that are making the investments — or at least investigating what the possibilities are and getting some early learning and possibly some early success — want to keep it under wraps, because if they do find a good path to ROI [return on investment] or to a competitive advantage, they want to make sure they have a head start there before publicizing it."
From the perspective of a 3PL or its supply chain partners, Gonzalez also warned that "the worst thing you can do is put in technology in search of a problem. What you want to do is identify the problem and the opportunity, and then see if any of these technologies can have some positive bearing on it."
Kristi Montgomery, vice president of Kenco Innovation Labs, provided this advice, "Define the gaps in your process today (relative to) where you need to go and look to see if IoT is the right solution. Make sure your problem is something IoT will solve. I've seen some colleagues actually lose their jobs over presenting the 'Wow!' factor and never getting to what this (technology) is going to deliver to the bottom line at the end of the day."
Outside the four walls of the warehouse or factory, Van den Bossche said there are applications trucking companies have experimented with, including "putting some sort of headwear on people's heads to track their fatigue, by tracking their brain waves and seeing if they are nodding their heads and nodding off. But those are more at an experimental stage now."
Although the same fundamental concepts of technology apply in the consumer and industrial markets, wearable devices must be made more rugged in order to survive in warehousing and logistics environments, Gonzalez said.
"There are some things that make it difficult to immediately take the consumer product and move it into an industrial environment, Van den Bossche added. "Things like battery life, for example. You have to be able to cover at least a full shift and ideally more than that. Some of these applications consume quite a bit of battery life."
Consumer products also typically "come with a lot of bells and whistles and features that are overkill for the industrial environment, and just make them more expensive, and make them more difficult to use sometimes," he said.
Converting technology developed for, say, the Apple Watch, into technology usable in the warehouse would involve enormous risk. Consider, for example, if something goes wrong with the warehouse product and it winds up killing someone who was counting on the device to provide an alert when he was walking into a cage with a robot, but that alert didn't work. "In an industrial environment, such a project needs to hold up to a higher level of scrutiny," Van den Bossche said. "And it comes with serious liabilities if it doesn't do that."
One of the most exciting — but potentially dangerous aspects — of supply chain wearables is the data quality they provide. "There is a tremendous amount of data generated by these wearables in terms of where the operators are moving through the plant," Van den Bossche explained. "If you analyze that data, you can probably figure out how to more efficiently allow your workforce to move around, and how and where to use the tools."
Until recently, managers would videotape movements of the workforce, and then try to figure out where the best place to store product was.
"Now, you just look at their physical footprint on the computer and map that out," he said. "That way, you know exactly where they are taking five or 10 steps too many. The good part: once you figure out how to analyze that data, you can really get more efficiencies out of this. The bad part: anybody who taps into that data knows exactly how to operate that plant."
Thus, Van den Bossche concluded, "Security is a big challenge, as it is with anything involved in the Internet of Things. Companies are a little hesitant about using Internet and wi-fi with respect to IoT."
What could go wrong with a data breach? In "a more benign version of a data breach," competitors could use a company's data to increase their competitiveness. But in a worst case scenario, "they could start sending false and damaging instructions" to your network, "which is not unheard of in the realm of industrial espionage," Van den Bossche said.
Despite such dangers, he remains optimistic about the benefits of leveraging the data from wearable devices to gain operational efficiencies and competitive advantages. "There is a potential" for data breaches, he said, "but it should not overshadow all the opportunities."   
Contact Alan M. Field at alanfield0@gmail.com.