Richard Armstrong | Jan 24, 2013 11:28AM EST
The International Monetary Fund expects GDP growth for the aging, post-industrial economies to be 1.6 percent in 2013. China, Brazil and other emerging economies are pegged at 5.6 percent growth. Old Europe's growth should be 0.3 percent and the U.S. is expected to expand 1.5 percent. Reflecting the weak economy, we estimate U.S. third-party logistics revenue should grow 4 to 6 percent. Globally, with Asia-Pacific leading the way, 3PL growth could exceed 10 percent.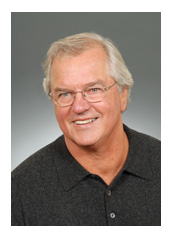 A few markets are particularly interesting. Mexico-U.S. cross-border traffic should increase, although slowing U.S. automobile sales could limit growth. The modern-oriented Middle East should grow particularly in transiting air and ocean freight. Growth within China and Southeast Asia creates a strong market for 3PLs. The continuing pattern is that developing markets will provide better profitability for 3PLs.
For a closer look, we divide the 3PL market into four functional areas: dedicated contract carriage, domestic transportation management, international transportation management and value-added warehousing and distribution.
Growth rates for dedicated contract carriage will be modest (3 to 5 percent) as trucking generally has a flat year, although a "real deal" by Washington politicians could make things move particularly in the second half of 2013. The emphasis on expanding DCC by providers of general truckload operations will continue.
On the international front, export-import volumes for air freight are negative, and ocean freight totals are barely above water. High-quality operators such as Expeditors International, Kuehne + Nagel and DHL should stay profitable, but net revenue growth could be limited. Growth in refrigerated products and pharmaceuticals are bright spots. Recent merger and acquisition activity has involved smaller international transportation management 3PLs, indicating an expansion from domestic transportation management M&A. Purchases have been strategic and reflect the prevailing interest in non-asset businesses.
Value-added warehousing is flat. Vacancy rates for warehousing run in the 9 to 10 percent range, with major markets such as Atlanta and Dallas solidly in double digits. Value-added warehousing and distribution growth in 2013 will be in the single digits (5 to 7 percent). Pressure will continue for 3PLs to take more risk, but they'll need to ensure the rewards justify them. Partnerships among value-added warehousing and distribution 3PLs, such as that between Bobcat and Menlo, should have continued success.
Value-added warehousing and distribution currently operates primarily on three-year contracts, is asset-based and has lower margins than other 3PL business segments. Profits are normally higher for closed-book contracts and vary by vertical industry. Our measures of attractive business in this segment start with earnings before interest, tax, depreciation and amortization of 11 to 12 or greater. High tech and computers, telecommunications and automotive are, on average, the most profitable verticals.
The most interesting part of current 3PL activity is the evolving domestic transportation management model. Major domestic transportation management 3PLs offer traditional freight brokerage, transportation systems management, intermodal (trailer or container on flatcar) management and blended solutions. For example, C.H. Robinson Worldwide, the largest domestic transportation management 3PL with more than 20 percent of all segment net revenue, runs an extensive North American branch office network that manages more than 30,000 shipments a day. At the same time, its Chicago-based Transportation Management Center manages entire transportation networks for a select group of customers. C.H. Robinson also is involved in international ocean transportation and provides a non-asset variant of DCC.
See all ARO Logistics-related content.
"Call center" operations such as Coyote Logistics and Echo Global Logistics, meanwhile, are pushing spot market freight brokering to new levels. These companies emphasize "hitting the phones" to find loads and systematically match them to carriers using specialized buy-sell brokerage models. They typically hire recent college graduates, give them intensive phone sales and industry training, and then assign them to teams. Salaries run $35,000 to $45,000 a year with large commission possibilities.
Transportation systems-based operations rely on high-quality transportation management systems with integrated Internet portals for managing transportation networks. On a daily basis, the 3PL optimizes all or a group of orders for a shipper's/customer's transportation network and tenders them to carriers. These services offer reduced transportation costs, greater supply chain visibility, reporting and business intelligence tools, and the scalability of 3PL logistics engineering expertise. 
Many of these operations have adapted Lean Six Sigma continuous-improvement management practices. Orders primarily are transferred from the customer to the 3PL via electronic data interchange, flat files or data entry. Most communications are electronic. Involvement by 3PL engineers can be limited to finalizing load plans and managing exceptions.
Managed transportation management system models offer optimization with end-to-end matching of loads and less-than-truckload consolidation into truckloads. LTL consolidation routinely saves
10 percent or more on shipment costs. More importantly, managed TMS approaches can provide enough visibility and business intelligence to allow for improved supply chain management and control.
Pricing models for DTM services can be varied and mixed but normally have the parts shown in Table 1.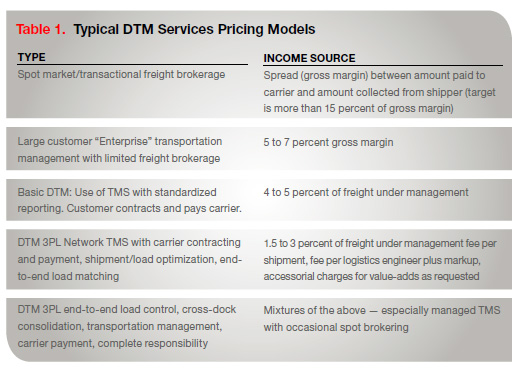 Irrespective of the model(s) used, the 3PL/freight broker provides carrier planning and management. The quality of the process increases from a minimum in spot market/transactional freight brokerage of confirming and tracking that each carrier has insurance, operating authority, does not have a Department of Transportation unsatisfactory rating or other problem and that it is a legitimate operation. 
For more advanced models, extensive background checks, contracts including service level agreements and key performance indicators, rate tariffs and other requirements must be met to protect involved parties. There have been a series of recent court cases in which 3PLs have had significant liability-related losses because of carrier/driver failures. As a consequence, carrier management processes have tightened.
Because DTM is very profitable and non-asset-based with significant returns on invested capital, there is significant investment interest. There has been a lot of recent interest in the top 40 DTM companies. The general limit for private equity investment interest is $20 million in net revenue with earnings before interest and tax exceeding $3 million.
Companies with $20 million or more in gross revenue — and usually with 15 to 25 employees — make up the second tier of DTM. As a rule of thumb, these companies are only valuable if gross margins (net revenue) are 15 percent or more. EBITs need to be $500,000 or greater. There are about 300 companies in this tier.
Two different acquisition patterns have emerged over the last two to three years. Market multiples for larger DTM acquisitions (net revenue exceeding $20 million) are running 7 ½ to 8 ½ times EBITDA (10 to 11 times EBIT).  Some companies are buying second-tier companies for 3 to 7.2 times EBITDA.
The latter (companies such as XPO Logistics and Echo) are emphasizing buying smaller freight brokerage operations for low economic value/earnings before interest, taxes, depreciation and adjustments multiples, according to Morgan Stanley. The Morgan Stanley Research group led by William Greene points out that Echo's purchases in 2011-12 had average multiples of 4.6 times EV/EBITDA (ranging from 3.0 to 10.2 times). 
XPO's purchases range from 3.4 to 7.2 multiples with an average of 5.3 times. Greene's position is that these inexpensive purchases are accretive and will be worth substantially more when Echo and XPO become major players. Skeptics (like me) believe it's difficult to "roll up" all the pieces of these multiple transactions into efficient, money-making competitors of C.H. Robinson, Hub Group and Landstar.
Venturing beyond DTM, C.H. Robinson made a major move to expand its international transportation management by acquiring Phoenix International. Phoenix was sold through a managed process where there were multiple bidders. The multiple was 13.2 times EV/EBITDA. Although the purchase price was high, Phoenix is a well-known, well-run forwarder with consistent double-digit growth. C.H. Robinson sold a successful subsidiary, T-Chek, to help fund the purchase.
The integration of these two companies should proceed rapidly with Stephane Rambaud of Phoenix being the chief operating officer. With the purchase, C.H. Robinson's containerized ocean business will approach 500,000 20-foot-equivalent units a year. A significant portion of business is in LCL consolidation/deconsolidation activities.
Investment interest in international transportation management companies also has expanded, with private equity and strategic buyers regularly approaching many smaller companies. OIA Global, for example, acquired International Transport Services in November. 
A larger acquisition involved APL Logistics' purchase of strategic partner Carmichael International Services, a sizable customs broker with 200 employees. The multiple was 11.2 times EBITDA. Carmichael will become a wholly owned subsidiary of APL Logistics.
Don't be surprised if 2013 is a year of more mergers, acquisitions and isolated financial crisis for 3PLs. The trick is to see them coming.  
Richard Armstrong is chairman and CEO of Armstrong & Associates, a Wisconsin-based logistics consultant and research firm. Contact him at dick@3plogistics.com.