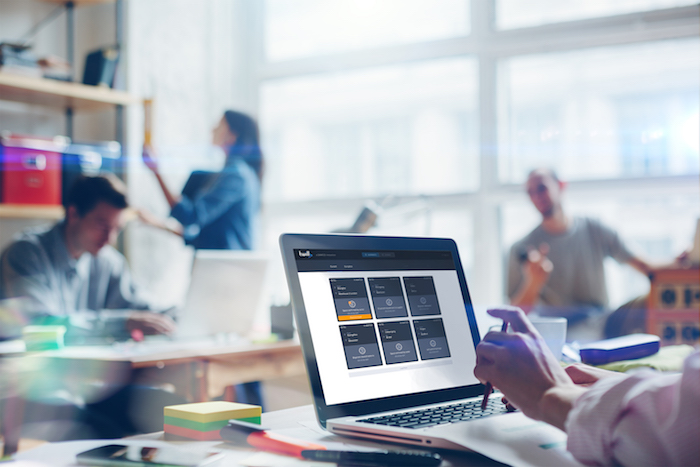 Damco, the freight forwarding and logistics arm of Maersk Group, plans to launch an online freight forwarding portal later this month, a response to shippers who'd like to see the largely manual world of freight forwarding modernized and in part to fend off competition from tech-driven forwarder startups.
The Twill online portal, billed as a "virtual freight forwarder," will go online Monday, but will only be available to UK shippers and then only those importing cargo from China. It's a limited launch, Twill's CEO Troels Stovring told JOC.com, but the startup plans to expand on the European continent and into Southeast Asia later this year.
Although similar in style to forwarding portals launched by big-name logistics companies like UPS and FedEx and startups like Haven and Flexport, Twill is different because of its association with Maersk through Damco. Although Maersk has said Damco is a tool to leverage the company's transport and logistics division, Stovring was adamant that Twill will remain an independent product of an independent arm of Maersk Group, offering freight forwarding services without prejudice or preference.  
Stovring even offered a critique of prior shipping line investment, arguing that technology like Twill has remained limited in effectiveness because investment remains limited to logistics providers like Damco and not the ocean carriers like Maersk Line, who have been reluctant to update technology and provide container-level visibility while navigating enormous financial headwinds.
"This needs to be as simple as ordering shoes on Amazon. It needs to be that simple when you order a container from across the globe," Stovring told JOC.com Tuesday. "Twill is not a live feed. We would like to have that, but it takes technology from the carriers."
Stovring's remarks echo those made by executives at other big names in the logistics field, including UPS and XPO Logistics, both of which have promised to continue investing in new technology even as they lament the ocean carriers they rely on for data are not keeping pace.
Twill, like the name suggests, is like a tightly woven fabric that consolidates different strands of the supply chain together. The online portal offers instant quotes, integrated document handling, milestone transparency for individual containers, and proactive exception management.
"The biggest hassle around shipping right now is actually the document handling, making sure you have the right document at the right time," Stovring said. "We're aiming to get all the documentation throughout the shipment on the platform."
Twill has been in a closed beta test phase with a select group of Damco customers who have not only been using the platform, but are also helping Stovring and his team improve their product.
"Previously, we relied on a lot of manual processes including emails back and forth with our team in China, but Twill allows us to see all information in one place and it is so simple to use," said Jo Southwell, logistics manager at Randa, the world's largest men's accessories company based in New York and one of Twill's earliest adopters.
"Twill cuts out the middleman," said Molly Mildren, product developer at UK party supply company Ginger Ray, another in the beta test group. "With just a couple of clicks our shipment can be confirmed direct with our supplier within 48 hours of placing the order online."
According to Stovring, Twill's success has been possible because it is a product of and was designed in close cooperation with Damco, which already has a sizable footprint in the industry.
"This is thanks to the existing relationship we had with Damco. They're tech savvy, they're looking for a good tech process, [and] they didn't know why there wasn't one already," Stovring said.
While Damco suffered from a string of financial losses up until last year, fueling speculation Maersk would sell the division, the logistics arm has since performed a strategic turnaround and those rumors firmly scotched. Damco was the only business in Maersk's recently formed transport and logistics division to improve its financial performance in 2016, profit up $31 million from $15 million the year prior.
Maersk Group CEO Soren Skou has said Damco will remain independent from Maersk Line operations and has called the logistics division a "strong independent brand." Announcing its latest financial performance, however, Maersk CFO Jakob Stausholm was explicit: Damco's main role is to find a way to develop a "value proposition" together with Maersk Line and leverage the whole of the transport and logistics division.
Stovring said that shouldn't be construed to mean a Damco product such as Twill will preference Maersk Line, other Maersk Group divisions, Maersk's 2M Alliance partner Mediterranean Shipping Co. (MSC), or Hyundai Merchant Marine (HMM), with whom Maersk and MSC have a special slot-sharing arrangement via the 2M Alliance. Stovring insisted that while the question is often raised by investors and journalists, Maersk will incorporate the same Chinese screen between Twill and Maersk operations as it has had with Damco.
"It's the same problem Damco has and Damco is a multicarrier platform," Stovring said. "We will always use the carrier that makes the most sense. Otherwise, we won't be credible with our customers."
Although Twill will only be available to the UK export market in its early days, Stovring has said expansion is "crucial."
"Our ambition is to, at least in 2017, have at least three Asian countries and three European countries on the platform," Stovring said. While he wouldn't name particular countries in Europe where Twill was looking to expand, Stovring did say that when it came to Asian markets, Vietnam and Indonesia were two of the most popular suggestions made by Twill's first customers. "Then we're probably looking at going to the US later on."
Expansion is slow. It has to be, Stovring said. "There's too much complexity for this to happen at a snap of the fingers. There's so many different parties involved moving a container from China to the UK."
Pacing its own growth will help Twill adapt and refine its product, but it could also be a disadvantage as well-heeled competitors riding the rising tide of investment capital begin to deploy their own logistics technology.
According to the Crunchbase database of venture capital investments, Haven, a startup with an automated trade technology platform of its own for quoting, booking, and managing shipments, has received a total of $14 million in capital, while freight forwarder and trade platform Flexport has received $94 million.
"If you start tracking the venture capital going into shipping, it's just exploding. There's so much money going into the industry, more than ever before," said Stovring. "And it's great because this is all customer driven. They've waited long enough. I think, from the customers' perspective, they're ready. They understand."
Contact Reynolds Hutchins at reynolds.hutchins@ihsmarkit.com and follow him on Twitter: @Hutchins_JOC.