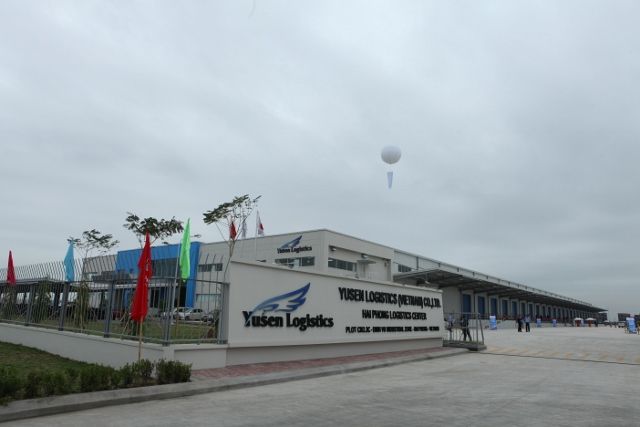 Yusen Logistics has opened a new warehouse in Vietnam's Hai Phong City to tap growing electronics and auto manufacturing  production in the country's northern region.
The 129,166-square-foot warehouse is located on a logistics campus on a 1,076,391-square-foot plot in Hai Phong's Dinh Vu Industrial Zone, which also includes a 256,934-square-foot empty container depot with storage capacity for 3,000 TEUs and a vehicle yard, according to the Japan-based international freight forwarder. Yusen Logistics (Vietnam)'s former Hai Phong Port offices were relocated to the campus, bringing together customs clearance, non-vessel operating common carriers and sales functions into a single location.
Ha Phong has recently seen infrastructure improvements and an increase in the number of Japanese corporations involved in electronics, electrical products, automobiles and chemicals, Yusen said. The Dinh Vu Industrial Zone is in proximity to the port of Hai Phong and the Lach Huyen port development.
"As we prepare for increased economic integration with ASEAN, the establishment of a global logistics network that exceeds national borders will become necessary," said Hiromitsu Kuramoto, Yusen Logistics' president, at the opening ceremony for the facility on Nov. 12. "It is our intention, through the expansion of our business, to contribute to the economic development of Hai Phong City."
"After Hanoi and Ho Chi Minh, we have chosen Hai Phong as our third logistics base," said Makoto Minoda, general director of Yusen Logistics (Vietnam).
In September, the third-party logistics provider CEVA Logistics also opened a new branch office in northern Vietnam to capitalize on local growth.
Vietnam, which has been traditionally known as an exporter of coffee and rice, wants to evolve into a top exporter of high-tech goods, particularly electronics, according to Voice of America. In recent years, the country has succeeded in attracting investment from names like Microsoft, Samsung and Intel, making Vietnam a major link in their global manufacturing networks.
"Vietnam is export-driven and there are still manufacturers moving down from China," Drewry director and maritime advisor Jason Chiang said in September at the Informa Liner Shipping conference in Singapore.
Vietnam's overall infrastructure quality was ranked No. 112 out of 144 worldwide economies in 2013, according to the World Economic Forum's Global Competitiveness Report 2014-2015. Its quality of roads was ranked the lowest, No. 104 out of 144 economies, while its railroad infrastructure scored the best, No. 52 out of 144 economies, according to the report. Its quality of air transport and port infrastructure scored as 87 and 88 out of 144 economies respectively.
Contact Grace M. Lavigne at glavigne@joc.com and follow her on Twitter: @Lavigne_JOC.