The 50 largest transportation and logistics companies worldwide grew more slowly in 2012 as the global economy sputtered, increasing revenue only 2.6 percent compared with a more robust 8.4 percent combined growth rate in 2011.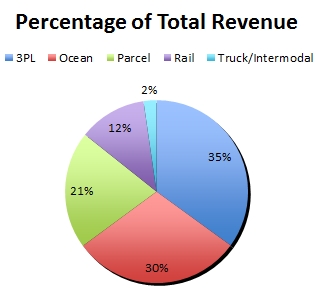 That slowdown reflected disappointing trends in international trade and uncertainty about the longevity of the economic recovery in the U.S. that have lifted only slightly, if at all, in 2013, challenging shippers with global supply chains.
The combined revenue of the world's largest parcel carriers, third-party logistics providers, ocean carriers and rail, intermodal and trucking operators rose to $670.4 billion from $653.4 billion in 2011, according to SJ Consulting Group.
Logistics companies — led by Germany's $55 billion DHL, the world's largest transportation and logistics provider — held the largest share of that combined revenue, $234.7 billion, or 35 percent of the total. They were followed by ocean carriers, led by $40.5 billion A.P. Moller-Maersk, which owns the world's largest container line — Maersk Line — and accounted for nearly 30 percent of Top 50 revenue.
The logistics sector also had the most companies on the list — 20 altogether — followed by the maritime industry, with 15 companies, the parcel industry with six operators, six railroads and three trucking and intermodal companies.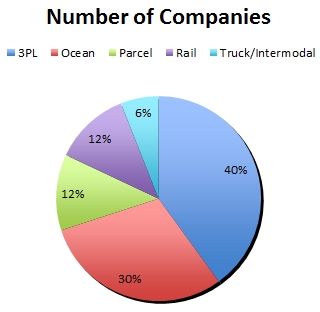 The 2012 list is the second annual ranking of the Top 50 Transportation and Logistics Companies by SJ Consulting Group and The Journal of Commerce. The list ranks companies from five continents by revenue and provides information on year-over-year growth. Many companies on the list cross modal boundaries. DHL, for example, is a parcel carrier but derives most of its revenue from logistics, according to Pittsburgh-based SJ Consulting. Likewise, UPS and FedEx, the second- and third-largest companies on the list, with $54.1 billion and $43.5 billion in revenue, respectively, are parcel giants that also have logistics and trucking operations.
An analysis of the 2012 list by revenue class shows the largest transportation operators getting bigger, with four companies shifting up to higher classes.
Four of the Top 50 had more than $30 billion in revenue in 2012, the same number as in 2011, but the combined revenue of those companies increased 2.7 percent to $193.1 billion. Six companies had $20 billion to $30 billion in revenue, compared with four last year, and their combined sales jumped 44.8 percent to $133.5 billion.
Eleven companies had revenue ranging from $10 billion to $20 billion — two fewer than in 2011, explaining a 19.8 percent reduction in sales for that group. However, 22 companies had revenue between $5 billion and $10 billion, two more than in 2011, contributing to a 9.9 percent increase in combined sales to $165.1 billion.
There were only seven companies with less than $5 billion among the Top 50 this year, down from nine in 2011, resulting in revenue for that class sliding from $41.2 billion to $32.9 billion last year. The Top 50's financial floor is steadily rising.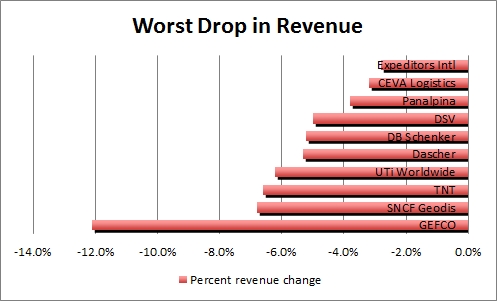 Although 3PLs were among the fastest growing companies on the list, their revenue as a group actually fell 0.6 percent to $234.7 billion last year, compared with $236 billion in 2011, when they increased revenue 13.6 percent on average.
"The European economy and the state of the euro were partly responsible for that" decline, said Michael Scheid, senior analyst at SJ Consulting. Of the 20 3PLs on the list, 12 are based in Europe, with Germany and France accounting for four each, Switzerland two and the Netherlands and Denmark one apiece. Foreign exchange rate fluctuations affected revenue, Scheid said. "The trade-down from air freight to ocean freight played a part in it, too," he added. Many of the European 3PLs are large air freight forwarders.
Outside logistics, combined revenue in the other categories increased, with ocean carriers on the Top 50 list ramping up revenue 5.8 percent to $200.7 billion, trucking companies on the list increasing sales 5.5 percent to $15.5 billion, railroads, 5 percent to $80.2 billion, and parcel carriers, 2 percent to $139.3 billion.
That made ocean carriers the fastest-growing group on the Top 50 list. In 2011, ocean carriers on the list barely increased revenue 1 percent. Five shipping lines among the Top 50 companies saw revenue drop in 2011, while sales at all 20 ocean carriers increased last year. China Shipping Container Lines, for example, increased revenue 18 percent in 2012 after a 14.8 percent decline in 2011.
Parcel companies, in contrast, grew 10 percent in 2011 as a group, but only 2 percent last year, partly because of flagging air freight exports from Asia. The freight railroads on the list — all North American companies — increased revenue 5 percent in 2012, compared with 13.5 percent in 2011, and the Top 50's three trucking concerns expanded 5.5 percent, compared with 11.2 percent.
The performance of the companies on the Top 50 list clearly reflects the deceleration of global trade in 2012. Growth in global trade fell to 2 percent last year from 5.2 percent in 2011, according to the World Trade Organization. Slower growth in developed industrial and consumer economies, accompanied by flagging output and high unemployment, reduced imports and lowered export growth worldwide, including developing economies, according to the WTO. Lower government spending and inventory investment also dampened trade and domestic economic growth. In the U.S., GDP growth dropped from 3.1 percent in the third quarter of 2012 to 0.4 percent in the fourth quarter, before increasing to 1.8 percent and 2.5 percent in the first and second quarters of 2013, according to U.S. Bureau of Economic Analysis data.
Even the fastest-growing transportation and logistics companies moved at a slower place last year. Growth rates among the Global Top 50 this year ranged from 23.2 percent at German 3PL Rhenus to 0.1 percent at U.S. Class I railroad CSX. That compares with revenue growth of 58 percent at Japanese 3PL Hitachi Transport and 1.5 percent at Japanese ocean carrier MOL in 2011, according to SJ Consulting data.
Acquisitions contributed to some of the accelerated growth rates, Scheid said. Rhenus, for example, acquired the French and German business of U.K.-based Wincanton in 2011, while C.H. Robinson Worldwide acquired Phoenix International in 2012.
Revenue declined at 15 of the Top 50 companies last year, compared with seven transportation and logistics operators in 2011. GEFCO, a $4.6 billion French 3PL with forwarding, warehousing and trucking operations, suffered the worst decline, 12.1 percent, after seeing business increase 18.5 percent in 2011.
Economic improvement in the first three quarters of 2013 hasn't been strong enough to raise expectations much for the Top 50 companies, Scheid said. "I wouldn't expect much more in terms of revenue growth," at least for 2013, he said.
Contact William B. Cassidy at wcassidy@joc.com and follow him at twitter.com/wbcassidy_joc.