JOC Staff | Sep 04, 2015 3:54PM EDT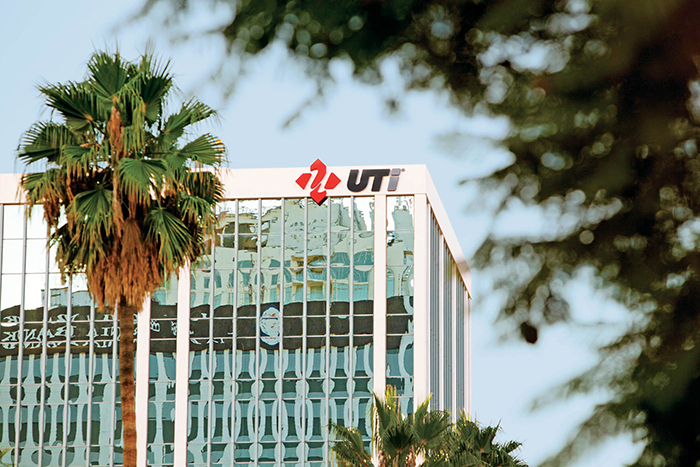 Logistics provider UTi Worldwide lowered its earnings forecast for its current fiscal year as the company reported deeper second quarter losses caused by declining ocean and air freight volume.
CEO Edward G. Feitzinger said the normal second quarter forwarding growth of about 5 percent in air freight kilos and 10 percent for ocean containers didn't materialize as industry revenues were "pretty much in a Q2 doldrum."
UTi said its forwarding volume was down year-over-year but stabilized month-to-month in the second quarter. Feitzinger said, however, that "normal seasonal volume growth did not occur in the second quarter due to the global macroeconomic slowdown."
"We do not expect macroeconomic headwinds to abate during the second half of the year, but we do anticipate that our second half volumes and net revenues will benefit from the new client wins we recorded in the first half of the year," he said.
UTi posted a net loss of $70.7 million in the quarter ended July 31, compared with a loss of $19.2 million in the company's fiscal second quarter a year ago. During the first half of the fiscal year, the net loss widened to $104 million from $65.6 million.
Revenue fell 16.5 percent year-over-year, to $913.9 million. Net revenues, which don't include direct transportation costs, fell 14 percent, to $338.5 million
The company said it now projects earnings before interest, taxes, depreciation and amortization to total $75 million to $100 million in its current fiscal year, compared with its previous projection of $125 million to $125 million.
Feitzinger said UTi expects volumes and net revenues after transportation costs to rise in the second quarter because of new contracts, and that UTi is seeing benefits from a restructuring last year.
The company's contract logistics and distribution units delivered "solid results" in the second quarter but weren't enough to offset declines in forwarding.
"We have narrowed the problem to a volume equation in our freight forwarding business," Feitzinger said. "Although we cannot control the macroeconomic environment, we believe that our forwarding sales efforts have reached an inflection point, and we should start to see the impact in our reported results in the second half of the year."