JOC Staff | Nov 06, 2015 1:04PM EST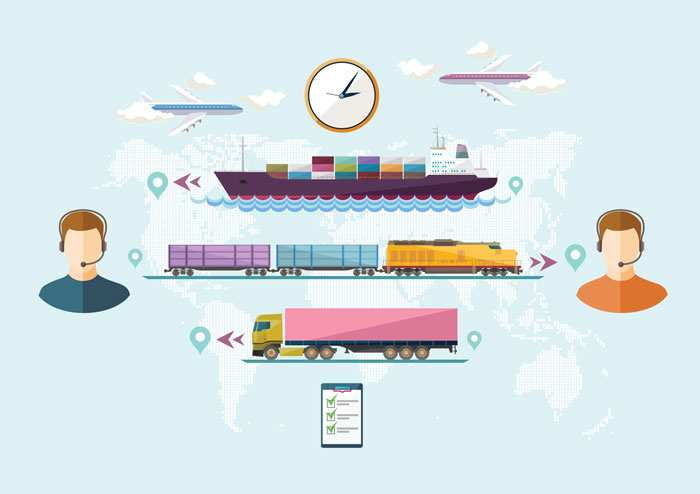 UPS assumed the top spot on the JOC-SJ Consulting Group list of Top 50 Global Transportation Providers in terms of 2014 revenue, pushing Deutsche Post DHL to the No. 2 position. Of the Top 50, 13 companies are located in North America, 19 in Europe, 16 in the Asia-Pacific region, and one each in India and Australia. The Top 10 companies on the list — four of which are in the United States — include four railroads, one shipping line and five logistics providers. Only two of the Top 10 transportation service providers saw revenue decline in 2014. 
No. 1 UPS
The largest global transportation service provider in 2014 was UPS, which registered a revenue increase of 5 percent to $58.23 billion on a year-over-year basis. The company recently expanded its premium Worldwide Express service and is in the middle of bolstering its presence in a number of smaller cities in China as it hopes to position itself for continued growth in e-commerce demand.
No. 2 DHL
Revenue at DHL increased 3.3 percent to $56.03 billion in 2014 on a year-over-year basis. The company spent most of this year embroiled in a fight with its unionized employees over efforts to establish lower-cost business lines that did not use unionized labor in a bid to remain competitive in the e-commerce market. The dispute was resolved after the company made concessions to the union on pay and layoffs. DHL Parcel plans to expand its service portfolio in Europe by establishing its own parcel network in Austria by 2016 to meet e-commerce demand.
No. 3 FedEx
The third-largest global transportation service provider is FedEx, which increased revenue 4.3 percent year-over-year to $46.76 billion in 2014. The company recently received the green light from EU regulators to acquire TNT Express for $5 billion. The acquisition will make FedEx the second-largest transport provider in Europe in terms of market share, ahead of UPS but behind DHL.
No. 4 China Railway Corp.
The national rail operator for China, China Railway Corp.'s revenue fell 3.4 percent in 2014 on a year-over-year basis to $40.42 billion. The state-owned company used to be its own government ministry, the Ministry of Railways, complete with a police force and court system. Government reforms in 2013 have shrunk the railway and placed it under the auspices of the Ministry of Transport. 
No. 5 Maersk Group
The parent company of the world's largest container line, Maersk Line, the Maersk Group's revenue increased 2.1 percent year-over-year in 2014 to $37.74 billion. Container shipping rates that can't seem to hit bottom are taking their toll on the group, which recently cut its profit forecast by $600 million citing the difficult environment container lines face in terms of overcapacity and slack demand. Maersk has announced plans to reduce its land-based staff by at least 4,000 people by year-end 2017 and postponed a decision on an option for eight 14,000-TEU ships, to make the organization "leaner and simpler," in the words of Soren Skou, Maersk Line CEO.
No. 6 Russian Railways
Revenue at Russian Railways, also known as RZD, fell 12.8 percent year-over-year to $37.36 billion in 2014. The state-owned monopoly is playing a critical role in China's aspirations to re-establish the silk road via its Belt and Road strategy as RZD is a critical link for cargo moving via rail from China to Europe. Under new leadership, the company is overhauling its business to reduce both costs and transit times. 
No. 7 DB Schenker
Germany's 3PL DB Schenker grew revenue 0.6 percent year-over-year to $26.33 billion in 2014, when it was also the world's third-largest global logistics company. The company is capitalizing on China's Belt and Road strategy by offering regular China-Europe rail services that provide a third way between sluggish sea shipping and expensive express air freight.
No. 8 Union Pacific Railroad
Union Pacific Railroad, a western U.S. Class 1 railroad, registered revenue growth of 9.2 percent in 2014 year-over-year to $23.99 billion. Because most of its network is in the western U.S., Union Pacific was particularly hard hit by the labor strife on the West Coast as shippers diverted cargo to the East Coast and built up inventories. As a result, the railroad's international intermodal volume fell 9 percent in the third quarter of 2015. 
No. 9 Kuehne + Nagel
Kuehne + Nagle, a Switzerland-based third-party logistics provider that is also the world's second-largest logistics company, grew revenue 3.2 percent to $23.3 billion year-over-year in 2014. The company expanded its presence in the U.S. marketplace in June with the acquisition of ReTrans. While ReTrans will help the company grow in North America, Kuehne + Nagle is also working to establish landside operations in South America.
No. 10 BNSF Railway
Western U.S. Class 1 railroad BNSF's revenue grew 5.4 percent year-over-year to $22.71 billion in 2014. To boost its network fluidity, the company recently began an initiative to reduce free time at its terminals and increase storage costs. The company has also invested $3.5 billion across its network since 2013 in a bid to increase productivity and reliability. It's primary competitor, Union Pacific, is also among the Top 10 Global Transport Providers.