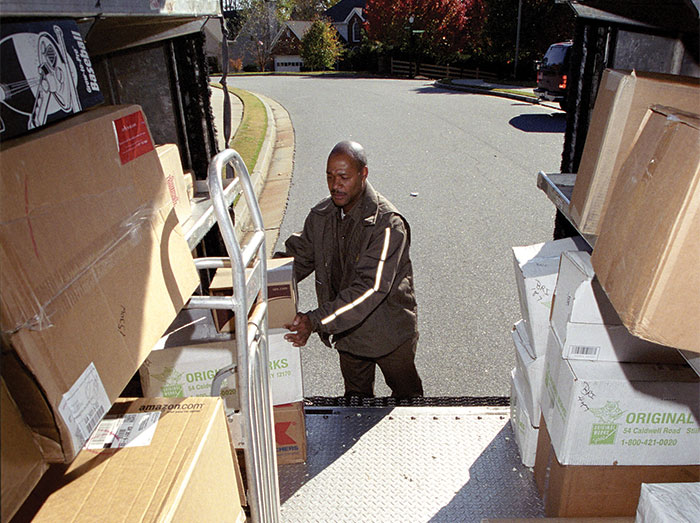 The United States' largest transportation operator is now the world's largest transportation and logistics company. UPS moved to the top spot on the JOC-SJ Consulting Group list of the Top 50 Global Transportation Service Providers, shouldering its way past former leader Deutsche Post DHL of Germany, which now stands in second place, ranked by revenue.
UPS ended 2014 with $58.2 billion in revenue, up 5 percent from 2013 and about $2.2 billion more than DHL.
Combined, the 50 largest transportation and logistics companies worldwide increased revenue 2 percent in 2014 to $759.2 billion. In comparison, the entire U.S. trucking industry generated $700.4 billion in revenue in 2014, according to the American Trucking Associations.
The 2 percent gain by the 50 largest transportation service providers in 2014 marked a turnaround after the group's combined revenue slipped 0.1 percent in 2013. Their growth, however, was stronger in 2012, at 2.6 percent, and 2011, at 8.4 percent.
A healthier U.S. economy played a major role in pulling the Top 50 group out of the doldrums last year. Thirty-six of the Top 50 increased revenue in 2014, compared with 29 in 2013. Still, only five companies boosted revenue by double-digit percentages, down from six last year. Currency fluctuations continued to affect the list last year, and will probably do so even more next year, thanks to the strength of the U.S. dollar against other currencies.
U.S. real gross domestic product increased 4.6 and 4.3 percent in the second and third quarters of 2014, fueling a 2.4 percent increase in GDP in 2014. That helped push global GDP up 3.4 percent last year, according to the International Monetary Fund, after increasing 3.3 percent in 2013. Stronger growth among advanced economies, particularly the U.S., fueled faster growth, despite a slowdown in emerging and developing economies.
The global economy slipped again in 2015, however. The IMF expects global GDP to rise 3.1 percent this year, and to climb 3.6 percent in 2016. At this point, however, it's difficult to identify a catalyst for faster growth. The U.S. recovery has slowed in 2015, with U.S. real GDP climbing 1.5 percent in the third quarter, compared with a 4.3 percent GDP expansion a year earlier. The current slowdown in the U.S. and worldwide this year should be evident in next year's rankings.
This year's list is the fourth annual ranking of the Top 50 Global Transportation Service Providers by SJ Consulting and JOC.com. The list ranks companies from five continents by revenue. Three companies joined the Top 50 list this year: China Railway, No. 4; Russia Railways, No. 6; and Indian Railways, No. 13, as SJ Consulting Group expanded its global rail coverage. Evergreen Group and Agility dropped off this year's list.
Globally, European and Asian companies dominate the Top 50. Europe claimed the largest number of companies, 19, with Germany contributing six and France, five. Eleven of the European businesses are 3PLs, the largest concentration of large logistics companies globally, and five are ocean carriers. Two European parcel companies made the list. The 19 European companies had combined revenue of $314.4 billion, up 0.7 percent year-over-year.
Sixteen of the Top 50 are from the Asia-Pacific, with seven companies based in Japan and six in China, up one from last year. South Korea is home to two companies, both shipping lines. Singapore contributed one company. Nine of those 16 transport and logistics operators are ocean shipping lines, three are 3PLs and three are parcel companies. The Asian companies had combined revenue of $190.5 billion, down 0.6 percent year-over-year.
Thirteen North American companies made the rankings, 11 from the U.S. and two from Canada. In general, those companies — six railroads, three trucking companies, two parcel companies and two 3PLs — are much more surface transport-oriented than their European and Asian counterparts. However, they also include two of the world's largest transport operators, UPS and FedEx. Union Pacific Railroad and BNSF Railway are ranked eighth and 10th on the list, respectively.
The North American companies among the Top 50 had combined revenue of $228.5 billion last year, a 5.9 percent increase from 2013, the biggest gain of any region. They accounted for 30 percent of the Top 50's total revenue last year, while European companies accounted for 41 percent and Asia-Pacific transportation and logistics companies accounted for 25 percent. The remaining 4 percent of revenue came from Indian Railways, an $18 billion railroad, and Australia's $7.8 billion Toll Holdings, acquired in May by Japan Post for $5.1 billion.
Acquisitions such as the Japan Post-Toll Holdings deal are reshaping the global logistics business and the Top 50 list. XPO Logistics this year acquired France's Norbert Dentressangle, No. 42 in the rankings, and 47th-ranked U.S. trucking and logistics operator Con-way. FedEx is pursuing a $4.9 billion bid for Netherlands-based parcel and logistics operator TNT Express.
In Europe, Kuehne + Nagel recently purchased U.S.-based intermodal logistics company ReTrans. In 2014, Norbert Dentressangle acquired U.S. 3PL Jacobson.
These acquisitions reflect greater integration of international supply chains and a desire by the world's largest
logistics and transportation operators to build a more global footprint to secure business.
Companies on the list increasingly are crossing modal lines as well as international boundaries. DHL, for example, is listed as a logistics company, though it also has parcel and trucking operations. Parcel giants UPS and FedEx also have logistics and trucking operations.
Those modal lines will become even more blurred in next year's list, as companies such as XPO and UPS blend forwarding and brokerage with asset and non-asset freight services.
The 3PLs, led by DHL, held the largest share of Top 50 combined revenue — $222.7 billion, or 30 percent of the total, compared with $216.4 billion for the same companies in 2013. That's a 2.9 percent increase, according to SJ Consulting data. The 3PLs also remained the largest group on the Top 50 list, with 17 companies, two less than the previous year.
They were followed by 14 ocean carriers, led by $37.7 billion Maersk Group, parent of the world's largest container shipping operator, Maersk Line. The ocean shipping group accounted for 25 percent of Top 50 revenue in 2013. Those 14 ocean carriers combined had $189.5 billion in revenue last year, up 0.9 percent year-over-year after dropping 2.8 percent the previous year.
The Global Top 50 list included seven parcel operators, including UPS and FedEx. The seven companies increased combined revenue 4 percent to $146.3 billion, after a 0.2 percent increase in 2013. The parcel operators had 19.3 percent of Top 50 total revenue. UPS and FedEx combined represented 72 percent of the parcel subgroup's total revenue.
Six North American railroads with $88 billion in revenue made the Top 50 list, along with China Railway, Russian Railways and Indian Railways, which had combined revenue of $95.8 billion. Revenue for the global rail group was flat at $183.8 billion, but the North American rails boosted combined revenue by 6.7 percent. Revenue at fourth-ranked China Rail fell 3.4 percent to $40.4 billion, while Russian Railways' revenue fell 12.8 percent to $37.4 billion. Indian Railways raised revenue 8 percent to $18 billion.
The number of trucking companies among the Top 50 remained constant at three: J.B. Hunt Transport Services, Con-way and YRC Worldwide. As a group, the trio increased revenue 7 percent last year, up from a 2.8 percent increase in 2013, to $17 billion. All three dropped in the rankings, however, as other companies with larger revenue bases grew more quickly.
Breaking down the Top 50 companies by revenue class, 26 companies had $5 billion to $10 billion in total sales, with no company having less than $5 billion in revenue. Last year, five companies on the list had less than $5 billion in revenue.
Companies in this revenue class increased their combined revenue — $181.8 billion — by 2.5 percent from a year ago. However, they included the fastest-growing Top 50 company, Chinese parcel carrier, S.F. Express, which increased revenue 35.6 percent last year. With $6.4 billion in revenue, S.F. Express is 41st on this year's list, up from 48th last year.
Twelve Top 50 companies had $10 billion to $20 billion in annual revenue. Their combined revenue rose 2.9 percent to $161.1 billion. Although the number of companies in the two top revenue classes — more than $30 billion and between $20 billion and $30 billion — remained static, two companies moved into the $10 billion to $20 billion class, and two others moved up to the $5 billion to $10 billion class. Canadian National Railway was the fastest-growing company in this revenue class, with a 10.6 percent growth rate.
The six companies in the $20 billion to $30 billion revenue class had a 3.8 percent growth rate and $139.8 billion in combined revenue. Union Pacific was the fastest-growing company in the revenue class, increasing revenue 9.2 percent from the previous year.
The next three revenue classes each include two companies. Maersk and Russian Railways were both in the $30 billion to $40 billion revenue group. Maersk increased revenue 2.1 percent, but Russian Railways' revenue in U.S. dollars dropped 12.8 percent, pulling it down from the $40 billion revenue class.
FedEx and China Railway were in the $40 billion to $50 billion bracket, with combined revenue rising 0.6 percent. FedEx, however, increased revenue 4.3 percent while China Railway's revenue dropped. The top revenue class, $50 billion or more, includes only UPS and DHL. Combined, their revenue as a Top 50 class rose 4.2 percent, to $114.3 billion.
The relatively slow growth rates of the Top 50 overall, with 18 expanding at a rate less than 5 percent, and 14 seeing revenue decline, is one reason mergers and acquisitions are likely to continue. Buying the competition is still one of the fastest routes to growth. 
Contact William B. Cassidy at bill.cassidy@ihs.com and follow him on Twitter: @wbcassidy_joc.