Plunging truckload rates proved a dead weight on profits at C.H. Robinson Worldwide in the third quarter, pulling down the logistics provider's net income 7.5 percent year-over-year to $129 million. Quarterly truckload net revenue dropped 10.4 percent from a year ago, falling to $309 million. Total revenue at the largest US freight broker and fourth-largest global logistics company dropped 1.9 percent to $3.36 billion.
C.H. Robinson continued to make gains, however, in the less-than-truckload brokerage market, increasing net LTL revenue 2.4 percent to $96.4 million as LTL volumes rose 4.5 percent. Year-to-date, the company's LTL net revenue is up 6.1 percent to $287.5 million, and LTL freight is C.H. Robinson's largest source of revenue, after truckload. Ocean freight is third. 
The 7.5 percent drop in net profit was the first for C.H. Robinson since the weather-wracked first quarter of 2014. The third quarter saw the second consecutive drop in truckload revenue, which fell 1.4 percent year-over-year in the second quarter. Sequentially, C.H. Robinson's net truckload revenue declined 6.3 percent from the second quarter to the latest reporting period.
Truckload revenue dropped 10.4 percent despite a 7.5 increase in truckload volume, a clear sign that significant cuts in truckload rates, rather than soft demand, were the anchor tied to the 3PL's earnings. Truckload carriers have reported extreme pressure on pricing since early 2016, with one measure of truckload linehaul rates turning negative in March and still declining.
The Cass Truckload Linehaul Index dropped year-over-year for seven consecutive months through September and the end of the third quarter. The results are evident in weaker earnings of carriers such as Swift Transportation, J.B. Hunt Transport Services, Werner Enterprises, and now C.H. Robinson, which gets 55 percent of net revenue from truckload brokerage.
"We expected a challenging pricing environment in 2016 as shippers focus on reducing their transportation costs," C.H. Robinson CEO and Chairman John Wiehoff said in a statement Tuesday. The average truckload per mile rate charged by the 3PL, excluding the cost of fuel and fuel surcharges, fell 5.5 percent in the third quarter from a year ago, the company said.
"Price reductions from shippers were greater than price concessions from underlying carriers," John Larkin, a managing director at Stifel, said in a note to investors. "The company continues to make slow and steady progress in its efforts to diversify away from its historical concentration in the truckload brokerage business," he said, referring to recent acquisitions overseas.
C.H. Robinson also is expanding its logistics management business. The company's TMC division recently signed a global logistics management deal with Microsoft. Logistics services revenue increased 31 percent in the third quarter to $26.8 million, driven by growth in managed services, the company said. Year-to-date, logistics service revenue is up 26.5 percent.
The 5.5 percent decline in the average truckload rate at C.H. Robinson was better than the 7.5 percent drop in the second quarter this year, which followed a 5 percent decline in the first quarter. The question for C.H. Robinson and its truckload carrier partners is when or whether rising volumes will absorb the excess truck capacity that dots the transportation landscape.
A comparison of the annualized change in C.H. Robinson's average truckload rates and volumes over the past two years clearly shows the big pivot in the truckload freight market. In the third quarter of 2014, when U.S. gross domestic product rose 5 percent, C.H. Robinson's truckload rates rose 10 percent on a 1 percent increase in North American truckload volume.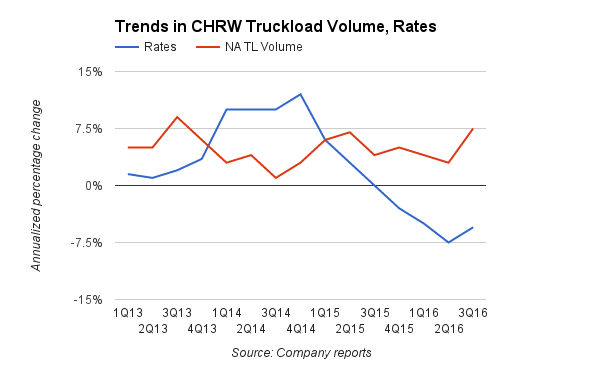 The 3PL's average truckload rate rose by double-digits throughout 2014, when a hotter US economy quickly snapped up available truckload capacity, pushing up transportation rates. Those rate hikes peaked for C.H. Robinson at 12 percent on average in the fourth quarter of 2014, and the 3PL's pricing slipped into negative territory in the fourth quarter of 2015.
Over the past year, a combination of high US inventories, weak consumer demand, lower fuel prices and surcharges and excess truckload capacity have transferred significant pricing power to shippers who are trying to claw back some of the hefty truckload rate increases they accepted in 2014. Those efforts will pressure brokers as well as truckload carrier margins.
The effect of lower truckload costs rippled across modes, pulling down C.H. Robinson's intermodal net revenue 24.5 percent year-over-year to $7.7 million. "Intermodal opportunities were negatively impacted by the alternative lower cost truck market," the company said. Air and ocean freight forwarding revenues dropped 1.7 and 3.1 percent from a year ago, respectively.
C.H. Robinson tied the drop in ocean forwarding revenue to $56.5 million on the higher cost of capacity and "pressured margins on fixed price business" following the Hanjin Shipping bankruptcy. Wiehoff last month called the bankruptcy a "wake-up call" for shippers. "This reminds people of the sorts of disruption that can happen in a global supply chain," he said.