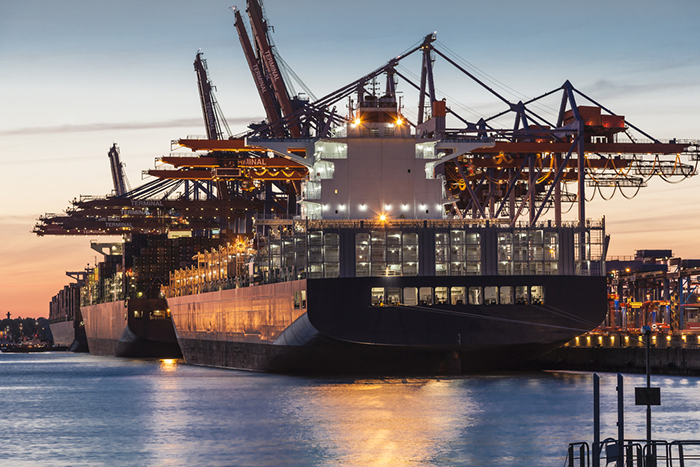 LONG BEACH — Maintaining reliable port and transportation services is by far the most important factor in retaining overseas customers, agricultural exporters meeting in Long Beach said Thursday.
The past 18 months have been especially trying times for agricultural exporters. West Coast labor disruptions, port congestion on the West Coast and East Coast and trucking and equipment shortages have compromised the ability of agricultural exporter to meet shipping deadlines. The result is a loss of some markets to exporters from other countries.
El Toro Export, a shipper of hay in El Centro, California, competes for markets with animal feed exporters in Canada, Australia, Pakistan, Spain and Egypt. During last year's West Coast labor disruptions, El Toro was unable to meet a shipping deadline for a customer in Japan, and that business shifted immediately to producers in Spain.
Shipping lines pointed the finger at terminal operators, who blamed labor for work slowdowns, but Adam Lyerly, export sales manager at El Toro, would have none of it. "I don't want to hear about your issues. We want results. We want performance. That's what we're paying you for," Lyerly told the annual conference of the Agriculture Transportation Coalition.
"Cows eat the same amount, every day," Lyerly said. That makes El Toro a consistent shipper and, therefore, a steady customer of ocean carriers and marine terminals. "We are the customer. We should be taken care of. We want reliability — our customers demand it from us," he said.
Agricultural exporters are willing to pay a reasonable fee for measures that ensure the reliable handling of their containers. This development is playing out at the Port of Oakland, where the port's largest terminal operator, SSA Marine, is instituting a $30 per container fee, on all loaded containers shipped day or night, in order to support four night gates each week.
When Outer Harbor Terminal earlier this year pulled out of Oakland, about 90 percent of its business shifted to SSA's Oakland International Container Terminal, straining the ability of OICT to handle the cargo surge in the normal five weekday shifts. Exporters and importers oftentimes resist port-related fees, but John Edwards, manager of global logistics at G3 Enterprises (Gallo), said he supports OCIT's pilot project to keep its gates open for four weeknight shifts each week.
"Capacity has to open up," Edwards said. "I get it. There's a cost involved. I'm willing to support it," he said.
When West Coast port reliability disintegrated during the West Coast labor dispute and ensuing port congestion in late 2014 through early 2015, Johnsonville Sausage, a Wisconsin shipper with most of its facilities located in the Midwest, shifted much of its West Coast routing to the East Coast. Although its shipments were handled efficiently, the shift to Norfolk resulted in unreliable deliveries, adding as many as 40 days to the transit times, said Melissa Reichwald, export logistics specialist. "It was the longest transit time I'll ever experience," she said. Johnsonville has since returned to its West Coast routing, she said.
Truck delays at marine terminals are the bane of many agricultural shippers because they reduce the number of trips drivers can make each day before their hours-of-service limitations kick in. Edwards said drivers at G3 Enterprises used to average two round trips at Oakland each day, but due to delays at the terminal gates or within the terminals, drivers now average 1.2 per day.
Gold Dust Potato Processors in Klamath Falls, Oregon, faces an even more daunting task in achieving sufficient trucker trips now that all liner services at the Port of Portland have been suspended due to labor problems. The potato exporter now trucks its shipments a longer distance to Seattle-Tacoma, said Lexi Crawford, business manager.
Drivers used to get three turns per day when the potatoes were shipped through Portland, but now the longer trips to Seattle-Tacoma, port delays and congestion on roadways in the Seattle area have the company looking for possible alternatives, although a viable option has yet to surface.
"My fear is that when the surge comes, there will not be enough trucks," Crawford said. "This issue is a people issue," she said.
Contact Bill Mongelluzzo at bill.mongelluzzo@ihs.com and follow him on Twitter:@billmongelluzzo.