You have to wonder if parents these days are buying toys for their children, or for themselves. Toys classified as vintage and classic are all the rage this year, according to the Toy Industry Association.
"They're the toys that the parents and grandparents enjoyed," said Stacy Leistner, vice president of strategic communications.
Classic toys are the board games, checkers games and puzzles that have been around for years. Vintage toys are new products, but they have the look and feel of products from the early- to mid-20th century. Those types of toys are hot items this year. 
Toys based on pop culture and reality television programs also are doing well. Little Chef products are patterned after cooking utensils featured on The Food Network. The products allow children to cook alongside their parents. Pint-sized star products have their genesis on shows such as "Dancing With the Stars" and "Project Runway."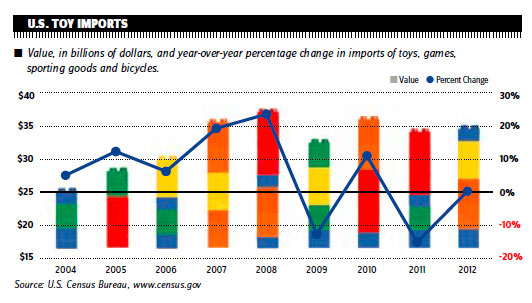 These types of toys generally are licensed, and licensed toys make up more than 25 percent of the market, Leistner said.
Other popular toys have a digital component, and there are always the popular construction-themed toys such as Lego blocks. "Construction toys are blowing off the charts," Leistner said.
Overall, growth in the value of toy imports, including sporting goods and bicycles, flattened last year compared to 2011 after slumping 15 percent the year before, according to data from the U.S. Census Bureau's Foreign Trade Division. Through March of this year, imports are up 2.3 percent by value.
As it has for most of the last decade, the sourcing of toys occurs mostly in China, although some production is moving to inland China in search of lower-cost labor. Toy companies also are diversifying their sourcing to other countries, with Vietnam growing in importance.
Creative importers can find good deals in shipping their goods, said Dave Akers, managing director of the Toy Shippers Association. First, freight rates negotiated by beneficial cargo owners are competitive, despite carrier attempts to negotiate increases from last year's low BCO rates. "Carriers got a little of what they wanted, but not much," he said.
Read more about the JOC's Top 100 U.S. importers
Shipping capacity is abundant, and if industry projections for a 5 to 7 percent increase in capacity in the Pacific this year are accurate, carriers' ability to impose general rate increases and peak-season surcharges will be compromised as the year progresses.
Carriers are quoting higher rates for intermodal-through shipments to inland destinations, but importers can work around those rates by transloading their cargo into 53-foot domestic equipment on the West Coast for inland shipment, Akers said.
Freight rates to the Pacific Northwest are normally higher than to Los Angeles-Long Beach. Carriers deploy their biggest ships on their Pacific Southwest services, so the surplus capacity forces rates down in the Southern California gateway.
This year, however, carriers need empty marine containers in the Pacific Northwest for agricultural exports, so importers willing to transload from marine containers to domestic equipment are seeing rates about $100 per 40-foot container lower than in Los Angeles-Long Beach, according to industry sources.
With carriers divesting themselves of chassis, cargo interests are paying per-diem rates to truckers, who must lease the equipment and therefore charge for it, Akers said. Some importers are asking carriers to quote rates for delivering their containers directly to their facilities. In these so-called store-door moves, carriers often absorb the chassis charges.
Importers favoring all-water services from Asia to the East Coast have more options this year. Maersk Line and the G6 vessel-sharing alliance have increased the number of services they offer to the East Coast via the Suez Canal. Carriers are pushing the Suez services because they can operate vessels with capacities of 8,000 20-foot-equivalent containers, or larger, through the canal. Those vessels won't be able to transit the Panama Canal until its decade-long expansion project is complete in 2015.
The new, large, fuel-efficient vessels lower carrier operating costs by several hundred dollars per 40-foot container compared to the 4,800-TEU ships that transit the Panama Canal. Because of longer steaming distances from China and stops made by vessels at ports in the Middle East and the Mediterranean, however, transit times can be a day to more than a week longer than through the Panama Canal.
Some shippers therefore demand a discount to ship via the slower Suez services. "There will be no rush to use the Suez route unless there is some advantage to do so," Akers said.  
Contact Bill Mongelluzzo at bmongelluzzo@joc.com and follow him at twitter.com/billmongelluzzo.