Raymond Wisniewski, President and Chief Operating Officer | Jan 31, 2013 11:36AM EST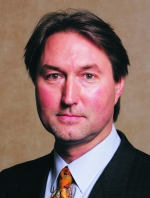 I find it hard to put my finger on which way the economy is going. The statistics say the recession is behind us, but it doesn't feel that way. Perhaps it's talk of the fiscal cliff or how the troubles in Europe or the Middle East can quickly be felt here. For reasons too numerous to list in this article, U.S. consumer spending habits have changed.
This change in consumer spending has triggered a change in the retail supply chain. Inventories are tighter than they've ever been, and the basic buying plan has shifted closer to need. This has caused purchase order windows to shrink, requiring carriers to move more freight in a smaller period. With only slight exaggeration, a carrier must transport everything the consumer buys in one week instead of one month.
The strain this new method of buying puts on a logistics company is daunting. Dispatchers must be scheduling experts, matching the crammed availability of freight to his drivers' available hours of service. Dock managers have quickly learned during surge periods that weekends and holidays are non-events for them and their teams. Parking spaces at terminals disappear as the flood of inbound trailers and containers cover the property. Employee burnout becomes an issue, and you must continually think of ways to keep morale high.
The slower times present there own challenges. Most importantly, how do you maintain your experienced work force while maintaining a healthy P&L?
I am careful not to complain about any of this, but in the world of logistics the only thing that doesn't change is change itself. As a carrier, you must be resilient and open to your customer's evolving needs. If you're not, someone else will be.
Visit National Retail Systems online.