The United States in 2013 may resume its role as the economic engine for the rest of the world, but to do so will require deep compromise from Republicans and Democrats to avoid the fiscal cliff that, left unchecked, could send the economy and trade over the edge.
But with much of Europe mired in recession and with Asian economies growing at their slowest rate in years, it's looking like another year of slow growth for U.S. containerized imports and exports. Journalist of Commerce economist Mario Moreno projects growth in U.S. containerized imports in 2013 will be a modest 2.2 percent, to 17.8 million 20-foot-equivalent units, while exports should increase 2.9 percent, to a record 12.4 million TEUs.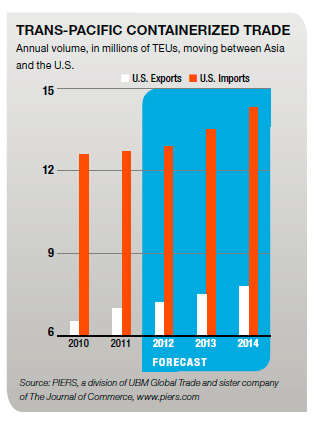 These projections reflect the global outlook for a "muted and uneven recovery" the Organization for Economic Cooperation and Development forecast in November. The OECD expects the European Union to remain in recession well into 2013, but projects U.S. GDP will increase 2 percent at the low end and 3.5 percent at the high end this year.
Growth also should accelerate in China, with the GDP expanding 8.5 percent in 2013, up from 7.5 percent in 2012. China is the largest overseas trading partner of the U.S.
Conditions could be better, however, if Congress and the Obama administration agree on a sustainable formula to address the nation's budget deficit problems. In a positive outlook, the Federal Reserve late last year projected GDP in 2013 could increase 2.5 to 3 percent under the right conditions.
Shipping industry executives interpret this data as indicating the days are gone when container traffic would increase at 2 ½ times the growth in GDP. Gene Seroka, APL's president of the Americas, told the annual Footwear Distributors and Retailers conference in October that container trade growth of 1.4 times the increase in GDP may become the new norm.
For shipping lines, the strategy appears to be to deploy capacity in a measured way in trade lanes that are growing, and to exert strong discipline in those that are stagnant. This model could involve painful layups of costly vessels if the cargo isn't there to fill them.
Brian Conrad, executive administrator of the Transpacific Stabilization Agreement, told the footwear conference that global vessel capacity would increase as much as 10 percent this year, which, of course, is greater than the projected growth in container volume.
Conrad, however, noted the effective capacity would be somewhat less than the listed capacity because of scrapping of vessels, slow-steaming, vessel layups and a return of some leased ships to vessel owners.
Investors are demanding more discipline from ocean carriers, and the industry plans to respond by right-sizing its fleet to meet cargo demands, Conrad said. Carriers were able to accomplish this in 2012 in the eastbound trans-Pacific, the largest U.S. trade lane. 
Conrad noted that 2011 ended on an especially sour note in the eastbound Pacific, with freight rates hitting near-record lows that November. Carriers, however, implemented a half-dozen general rate increases and surcharges during the course of 2012, and freight rates on the spot market reached $2,880 per 40-foot container in August.
Most carriers reported decent profits in the third quarter. Modestly declining freight rates in the final quarter, as normally occurs after the peak season ends, may have been sufficient to keep carriers in the black.
Carriers' goal in 2013 is to return to solid profitability, but they will accomplish this only if they start out of the gate with compensatory freight rates in their service contracts with beneficial cargo owners, Conrad said.
Carriers plan to do this by increasing freight rates in service contracts negotiated with the "early signers" who begin their contract year in November, December or January, as opposed to the traditional May 1 start date that many retailers adhere to.
A second strategy announced by the TSA in November was to merge that organization and the Westbound Transpacific Stabilization Agreement into a single carrier discussion group. If approved by the Federal Maritime Commission, carriers in the trans-Pacific will, for the first time, begin addressing issues in the trade from a round-trip perspective.
See all ARO Maritime-related content.
Freight rates in the eastbound Pacific, which involves imports of higher-priced merchandise from Asia, are always higher than in the westbound Pacific, a trade marked by exports of low-value commodities to Asia. When imports are strong and eastbound rates are relatively high, carriers have had a tendency to allow westbound rates to slip to dangerously low levels.
Carriers now are determined to develop compensatory round-trip pricing. Creation of a single, two-directional discussion group in the Pacific could assist lines in attaining that goal.
Freight rates in the westbound trans-Pacific collapsed last summer. Ed Zaninelli, vice president of trans-Pacific westbound at Orient Overseas Container Line, said conditions were among the worst he's ever experienced, considering how much carrier costs have increased.
A major reason westbound freight rates are under pressure is that the contagion in Europe has spread to other countries. For example, China's manufacturing exports to Europe dropped dramatically, and manufacturers in China responded by reducing imports of raw materials and scrap paper and metal from the U.S.
The severe drought that gripped the U.S. Midwest and plains states last summer resulted in a drop in agricultural exports. Corn and soybean crops were hit especially hard. In 2013, exports such as beef and pork face pressure because of declining herds.
The long-term outlook, however, looks strong for U.S. agricultural exports, whether they're for human or animal consumption. William Wilson, a North Dakota State economist, told a Journal of Commerce Webcast in September that prospects for agricultural exports are bullish for at least the next eight to 10 years. Asia's growing middle class provides unlimited opportunities for U.S. exporters of high-quality food products, and growing demand for meat in that region bodes well for exports of quality animal feed.
The negotiation of free trade agreements between the U.S. and trading partners in Asia also could be beneficial to the export and import markets over the long term. Past agreements with Canada, Mexico and Chile have produced steady growth in bilateral trade. The U.S.-South Korea FTA signed in 2012 likewise should produce dividends as companies in both countries adjust their supply chains to take advantage of new opportunities.
Efforts are under way to develop a Trans-Pacific Partnership that would involve nine countries, including the U.S., in a broad free trade area that would reduce tariffs and non-tariff barriers to trade over time. Negotiations among the nations continue on a regular basis.
With so many uncertainties in the global economy as 2013 begins, economists expect trade to grow in fits and starts during the first half of the year. However, if the U.S. makes progress in resolving its fiscal woes, Europe begins to pull out of recession and stimulus measures in China are successful, economists believe the second half of the year will see a recovery, with even stronger prospects for growth in 2014. 
Contact Bill Mongelluzzo at bmongelluzzo@joc.com and follow him at twitter.com/billmongelluzzo.