JOC Staff | Mar 02, 2015 3:33PM EST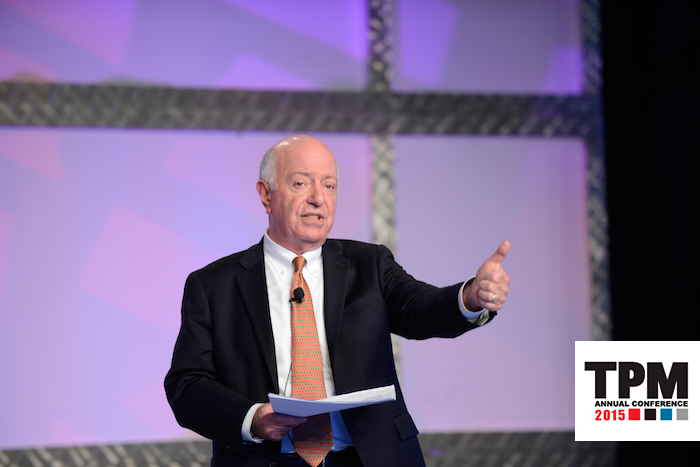 LONG BEACH, California — Global economic growth will accelerate next year driven by lower energy prices, a resurgent U.S. consumer as a global driver of growth, and stimulus measures being imposed by multiple central banks, IHS Chief Economist Nariman Behravesh told the 2015 TPM conference in Long Beach on Monday.
Growth will accelerate to 3 percent this year from 2.7 percent in 2014, he said, helped by energy prices that may slump to as low as $30 per barrel this year from over $60 currently which translates into a de-facto tax cut for American consumers. He attributed the recent run-up in oil prices to countries taking advantage of the low prices to stockpile inventory as opposed to more positive underlying fundamentals.
"The structural oversupply situation is not going to go away," Behravesh told roughly 2,000 TPM attendees, predicting an average price in the low $40s this year to the low $60s next year and prices below $100 for the next 7 to 8 years. The benefit to U.S. consumers in terms of lower gasoline prices translates into the equivalent of a $10 billion for every 10 cent drop in the price of fuel.  "There has been 70-80 cent drop, so that means a $70-$80 billion tax cut," he said. "And consumers in the U.S. are actually spending this money, which is good news."
"The consumers are the big beneficiaries but any industry like transportation that uses a lot of soil is a big beneficiary," he said.
Lower energy prices, along with a stronger U.S. jobs picture, and much-reduced U.S. household debt, has put the U.S. consumer – which accounts for 70 percent of the U.S. economy - back into the driver's seat for the global economy.
"The U.S. consumer plays a huge role in the global economy and global trade," he said. "All of these means that the most powerful engine of growth in the global economy is firing on all cylinders right now."
To the extent there are drags on growth in the U.S., it is capital spending, particularly in the energy sector and exports. But the effect will be limited. Capital spending in the energy sector may drop 25-30 percent this year but overall it accounts for only 0.8 percent of the U.S. economy. Exports only account 13 percent of the U.S. economy (versus 50 percent in Germany by comparison) and growth is being restrained by the higher U.S. dollar and slowing growth overseas.
"If the dollar continues to rise, we could see export growth diminishing," he said.
He said Europe is "starting to look a little perkier," with growth expected to mildly accelerate this year, having not been hurt significantly by the crisis in Ukraine or the threat of Greece leaving the Eurozone. Europe is benefiting from lower oil prices, more aggressive stimulus by the European Central Bank and a weakening euro which is making exports more competitive. "The euro is weakening so export growth out of Europe is strong, he said.
He is more concerned about China, which he said has seen its ratio of debt to GDP double to 250 percent over the past seven years. "No country anywhere anytime has ever seen that happen without something bad happening.," he said. In the U.S. and Thailand it was a "full blown financial crisis. In China a protracted period of slow growth is a much more likely scenario than a full-blown financial crisis.
"What you have (in China) is the legacy of this huge debt bubble; all those apartment buildings where the lights have never been turned on. Much more damaging from a global perspective was that a lot of this debt was used to finance excess industrial capacity- steel, chemicals, automotive," he said.  "China has 96 automotive companies, so you know what is coming next, it's consolidation, where output is and jobs are going to go down."
He said China's growth last year at 7.4 percent was the slowest since 1990, and "this year they will be lucky to get 6.5, and China will not see 7 percent again for a long time," he said.