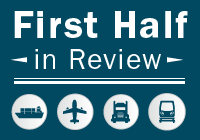 The number of containers moving through major North American ports was up over 4 percent in the first half of 2014, port statistics show.
Now that numbers published by the ports are all out — Metro Vancouver lagged in its release date, finally releasing its first-half number yesterday — a clearer picture of the changing landscape in North America can be seen. Ports on the East Coast outperformed their West Coast competitors in the first half, with East Coast throughput volume growing 5.1 percent to 9.1 million and West Coast ports seeing volumes grow 3.7 versus the first half of 2013. The East Coast snatched up 0.3 percent more of total North America throughput volume as a result.
North American ports handled 20.9 million TEUs in the first half of 2014, 4.1 percent higher than 2013 first-half totals. U.S. ports were responsible for about 85.5 percent of that total, while Canadian ports accounted for 12.3 percent and Mexico's Lazaro Cardenas handled about 2.2 percent. Mexico lost market share, which was effectively split amongst the U.S. and Canada. The U.S. increased its market share about 0.5 percentage point in 2014, as Canada lost 0.2 percentage point — a figure that could have been higher if it weren't for diversions from Mexico — and Mexico lost 0.5 percentage point.
On the West Coast
While the Port of Los Angeles continued its strong growth, major declines in volume at Seattle, Portland and Mexico's Lazaro Cardenas held West Coast ports back. Combined container throughput volume for nine North American West Coast ports — Seattle, Portland, Long Beach, Oakland, Los Angeles, Vancouver, Tacoma, Lazaro Cardenas and Prince Rupert — rose by 3.7 percent.
 The largest year-over-year growth percentage was shown by the Port of Tacoma, where throughput volumes rose 10.1 percent from the first half of 2013. The port handed 784,390 TEUs from January to June. Port of Seattle temporarily closed one of its largest terminals, Terminal 5, for an upgrade to handle bigger vessels, and Tacoma has attracted carriers from Seattle. Seattle's volumes continued to drop in July, down 26 percent from July 2013.
The Port of Portland, which has experienced longshore labor trouble in the form of a dispute over reefer jobs, handled 83,923 TEUs in the first half, 6.1 percent lower than in 2013.
Los Angeles' first-half volume was up 9.2 percent to 3.96 million TEUs, while growth at Long Beach slowed to 2.5 percent in the first half with a total of 3.3 million TEUs. Volume in Oakland was up 2.1 percent to just over 1 million TEUs from January through June, the first time the port has broken the million-TEU mark in its first half.
In the first half, market shares of West Coast throughput also shifted some. Los Angeles gained 1.7 percentage points on its first half 2013 market share, handling 33.5 percent of all throughput volume on the West Coast. Long Beach, on the other hand, lost some ground, falling from 28.3 percent in the first half of 2013 to 27.9 percent in 2013. Tacoma also gained some ground — about 0.4 percentage point more — with a 6.6 percent market share.
Both western Canadian ports reported strong growth in the first half, as Metro Vancouver jumped 4.7 percent to 1.4 million TEUs from January through June, and Prince Rupert Port moved 281,074 TEUs, 6.5 percent more than the same period in 2013.
In Mexico, Lazaro Cardenas, a gateway port for Mexico City, reported throughput of 463,376 TEUs, 13.1 percent lower than the first half of 2013. The Mexican government took over operations in November in order to crack down on the city's rampant drug trade. This was the first half reported since the move, but it's not clear how the takeover affected volumes. Mexico saw 1 percent GDP growth in the second quarter, and officials are sticking to a forecast of 2.7 percent growth for the year.
East Coast wins business
As often is the case, the team with smaller losses tends to win the game. In the first half of 2014, major East Coast ports showed just that.
Total East Coast container throughput rose to 9.1 million TEUs in the first half of 2014, 5.1 percent higher than in the first half of 2013. Nine of the 11 major ports on the East Coast of North America saw growth in volumes. The first half runs from January through June, and the gap could widen in the second half if diversion traffic continues to cause East Coast port volumes to grow.
Leading the pack were the ports of Boston and Charleston. Boston's throughput grew by 10.8 percent in the first half to 101,194 TEUs, and Charleston reported handling 872,457 TEUs, 10.6 percent higher than its 2013 first half total.
The East Coast's largest port, NY-NJ, had volume of 2.7 million TEUs in the first half, 4.1 percent higher year over year. Virginia hit 1.1 million TEUs, 7.8 percent up on its first half total in 2013. Savannah's volume was up to nearly 1.6 million TEUs, 6.9 percent higher than January through June of 2013.
Canada's Port of Montreal and the U.S. ports of Baltimore, Jacksonville and Port Everglades all saw growth in the first half, as well. Baltimore's throughput rose 6.2 percent to 364,335 TEUs; Port Everglades' total volume jumped 7.5 percent to 517,270 TEUs, and Jacksonville rose 0.2 percent to 446,970 TEUs. Montreal's container volume through the first half rose 2.7 percent to 668,657 TEUs, after showing zero growth in the first half of 2013.
Two ports saw their volumes decline. At PortMiami, the decline was small, with volumes dropping 0.6 percent year-over-year to 442,271 TEUs. In Canada, however, Halifax experienced an 8.1 percent year-over-year drop in throughput to 206,125 TEUs.
Halifax has, however, continued with projects aimed at enabling it to handle larger ships. The port completed a $35 million expansion project at its Pier C Halterm Container Terminal, which included two super-post-Panamax cranes at $10 million each. The port is also slated to start its $70 million expansion of its multipurpose Richmond Terminal in just a few weeks.
Contact Corianne Egan at cegan@joc.com and follow her on Twitter: @CEgan_JOC.