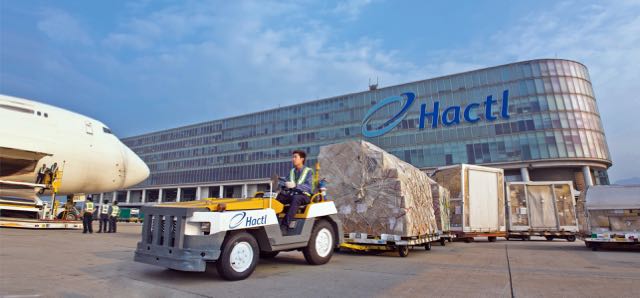 Hong Kong's largest air cargo terminal has teamed up with a Pearl River Delta ocean shipping and logistics heavyweight to increase its regional reach and drive up air freight business through the airport.

Hactl Development Holdings entered into a Memorandam of Understanding with Chu Kong Shipping Enterprises (Group) Co., a Hong Kong-listed company with extensive port and logistics operations in the PRD.

Xiong Gebing, chairman and managing director of Chu Kong Shipping, said the MOU would enable the terminal operator to work more closely with Hactl.

"This new agreement will see us diversify and develop our group's logistics activities, while helping to underpin the status of Hong Kong International Airport as the world's largest air cargo hub," he said.

Chu Kong Shipping's diverse operations include the management of the largest high-speed passenger ferry fleet in Hong Kong. But more importantly, it is also one of the largest inland terminal and logistics operators in the PRD, with bases covering 20 cities, including Zhaoqing, Qingyuan, Foshan, Guangzhou and Jiangmen.

Chu Kong Shipping also manages and operates several bulk cargo berths in the Hong Kong Public Cargo Working Areas, and owns a private wharf in Tuen Mun. Through its subsidiaries, Chu Kong Shipping has more than 20 cargo terminals in the PRD.

The objective of the MoU is to explore the joint development of logistics links and infrastructure in and around Hong Kong International Airport and the PRD in support of the air cargo sector. The cooperation aims to leverage Chu Kong Shipping's logistics network and Hactl's air cargo terminal expertise.

Chu Kong Shipping and Hactl will conduct a feasibility study focusing on opportunities within Hactl's existing air cargo business at Hong Kong airport and at the terminal operator's logistics business in the city and the PRD.

Hactl chairman Mark Whitehead said he was excited by the many potential opportunities to expand their respective activities and geographic coverage. "We are open to all forms of cooperation with CKS related to air cargo operations in the PRD region, and the collaboration could involve Hactl, Hacis, HDHL or all three companies," he said.

No wonder Whitehead is excited. Hactl has been vigorously trying to expand its mainland China footprint as it slowly claws back the huge amount of capacity it lost when Cathay Pacific moved out and into its own terminal next-door. Cathay Pacific sold its 40 percent stake in Hactl to the company and in 2013 began transferring its cargo in stages to the new terminal run by wholly owned subsidiary Cathay Pacific Services Limited, effectively adding another 2.6 million tons in capacity to the airport.

Even so, Hactl remains Hong Kong's largest cargo terminal with a design capacity of 3.5 million tons a year, a customer list of more than 100 scheduled passenger and all-cargo airlines and is served by more than 1,000 forwarders.

In another initiative aimed at securing more business, the logistics arm of Hong Kong air cargo terminal, Hacis, in December opened a depot in the PRD city of Nansha that will target China's fast growing e-commerce shipments.

Hacis Nansha depot, in southern Guangzhou, is the seventh inland cargo depot to be opened by Hong Kong Air Cargo Industry Services as part of its SuperLink China Direct service.

The depot will provide express road feeder service for both general cargo and cross-border e-commerce cargo, supporting both business-to-business and business-to-consumer business models, with simplified customs declaration and clearance. Air cargo arriving in Hong Kong will be trucked in bond to Nansha in three hours.

Contact Greg Knowler at greg.knowler@ihs.com and follow him on Twitter: @greg_knowler.