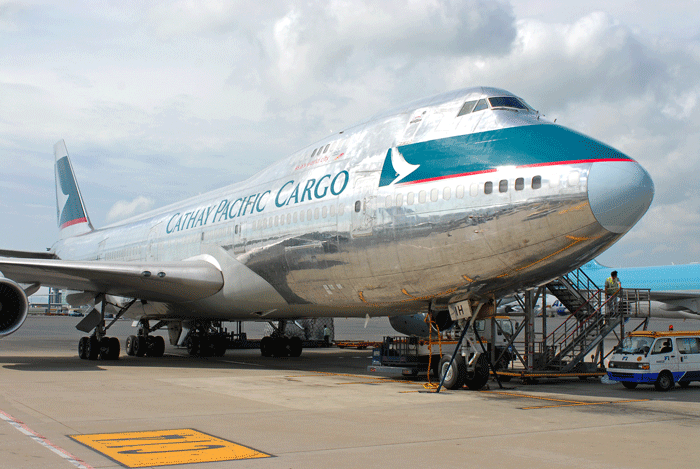 HONG KONG — Cathay Pacific will launch a new freighter service to Cambodia's capital of Phnom Penh later this month, strengthening its Asia-Pacific network on the back of industry data that shows airlines in the region growing by almost 6 percent in September compared to the same month last year.
The scheduled service will begin on Nov. 23 and takes to 45 the destinations served by all-cargo aircraft from the carrier's Hong Kong hub. It will operate twice a week on a Hong Kong-Singapore-Penang-Phnom Penh-Hong Kong routing.
The International Air Transport Association (IATA) said Asia-Pacific carriers reported growth of 5.7 percent in September, compared to the same month last year as the region benefits from a rebound in trade activity after a slowdown in the first quarter. The release of the iPhone 6 also increased freight shipments from China. Capacity grew by 5.6 percent during the month.
"The solid 5.7 percent growth for Asia-Pacific airlines is a particularly positive sign given their 40 percent market share," said Tony Tyler, IATA's director general and CEO.
While many airlines are parking freighters and paring down their cargo divisions, Cathay Pacific has been steadily growing its cargo network. Last month the world's largest cargo airline launched a freighter service to Calgary in the Canadian state of Alberta, a large oil and gas centre. The state's trade with Asia is valued at $3 billion a year. Much of the exports from Alberta are food products, especially meat.
The airline also increased frequencies to Columbus, Ohio, in October and will add more flights to Mexico in November.
The North American market has shown robust growth this year and is a key destination for Asian carriers. Cathay Pacific cargo director James Woodrow said recently that the U.S. economy was critical to the growth of the air cargo industry. "The more the U.S. and global economy accelerates, the faster our load factors will grow," he said.
By adding Cambodia to its Southeast Asia routing, Cathay Pacific links the fast developing country to the Hong Kong transhipment hub, giving shippers greater flexibility in moving goods between the emerging economy and the world.
Woodrow said the carrier was strengthening its extensive network in Asia by deploying the scheduled freighter services to Cambodia for the first time. 
"This new service to Phnom Penh will boost the flow of garments and other manufactured products out of Cambodia, taking advantage of our world-class facilities in Hong Kong to connect to our comprehensive cargo network," he said in a statement.
Strong growth out of Hong Kong and China in September saw Cathay Pacific and Dragonair continuing to post double-digit growth as cargo and mail throughput rose 14.5 percent compared to the same month last year.
The high growth was helped by the launch of what the airline called "new consumer IT products" in a statement. Apple's service providers cannot disclose details of shipments, but Cathay Pacific operates six freighters a week between Zhengzhou and Hong Kong that connect into the carrier's global network. Two-thirds of the world's iPhones are produced at Foxconn's factories in the Henan Province city, and they are all transported by air freight.
In September, the airlines carried 147,307 tons of cargo and mail, and even as capacity, measured in available cargo/mail ton kilometres, grew 10.8 percent, the Hong Kong-based carrier increased its load factors by almost 3 percent.
This growth follows a robust August, where 146,955 tons of cargo and mail were recorded, an increase of 19.7 percent compared to August 2013. 
The year-to-date figures at Cathay and Dragonair were also strong, with the airlines carrying 1.24 million tons of cargo from January through September, up 11.7 percent year-over-year.
Records have been tumbling at terminals in Asia's major transhipment hubs of Hong Kong and Shanghai. Shanghai Pudong Int'l Airport Cargo Terminal Co., Ltd. (PACTL) saw September volumes again breaking company records, rising a stunning 20.31 percent compared to the same month last year.
The 134,322 tons of freight handled last month helped push up the figures for the last three quarters that recorded an impressive 16.55 percent year-over-year growth to 1.07 million tons. It was also the best result for the first nine-month of any year.
The Sino-German joint venture managed to expand its client base during the year and boost its market share. A good 47.5 percent of the air cargo handled at Shanghai Pudong International Airport in the first eight months of 2014 was processed by PACTL, signifying a 2.6 percent increase in the market share of the cargo terminal compared with the previous year.
The year-to-date percentage growth at Hong Kong Air Cargo Terminals Limited (HACTL), 20.8 percent owned by Hutchison Port Holdings, managed to just edge into double-digits. HACTL handled 1.32 million tons of air freight from January through September, up 10.1 percent year-over-year.
Contact Greg Knowler at gknowler@joc.com and follow him on Twitter: @greg_knowler.