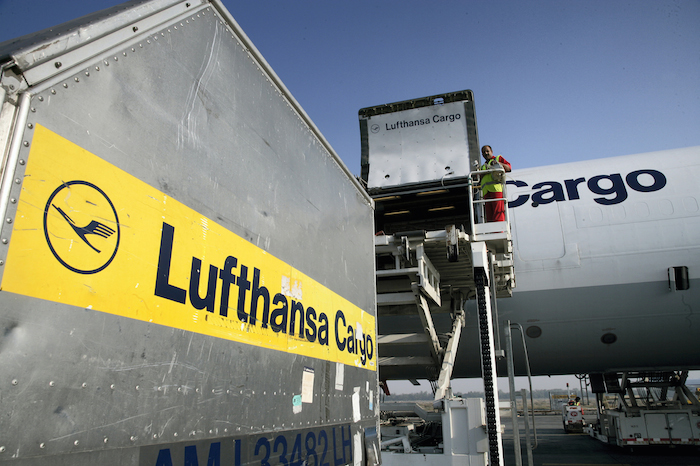 Lufthansa Cargo's slim operating profit of 6 million euros ($7.6 million) in the third quarter, 20 percent higher than a year ago, maintained the carrier's status as one of the few profitable scheduled air freight operators.
Revenue climbed 3.9 percent to 606 million euros in the three months through September despite a 1.9 percent decline in traffic to 418,000 metric tons that was partly tied to several strikes by the German carrier's pilots.
Lufthansa's all cargo unit earned 40 million euros before interest, tax, depreciation and amortization against a 6 million-euro loss last time.
The carrier, which operates 16 MD-11 freighters and four 777Fs, said it anticipates a seasonal upswing in demand in the fourth quarter will increase freight volumes. It also expects the full-year profit to exceed the 77 million euros it made in 2013.
Lufthansa Cargo's sustained profitability in a flat market, which it attributes to strict management of its freighter capacity, contrasts with the rising losses at its closest European rival, Air France-KLM. The Franco-Dutch carrier posted higher revenue of 623 million euros in the third quarter, but it made an operating loss of 102 million euros.
Operating profit in the first nine months rose to 51 million euros from 45 million euros in the same period in 2013 on revenue down 1.9 percent at 1.77 billion euros. Freight volume shrank 3.2 percent to 1.23 million metric tons, but the load factor was down just 0.2 percentage points to 69.1 percent, a high for the industry.
Two older MD-11 freighters have been decommissioned, one has been retired and a fourth will leave the fleet by the end of the year as part of a partial fleet renewal that has seen the arrival of four 777Fs.
The joint venture with All Nippon Airways on Europe-Japan routes, the first of its kind in the air freight industry, according to Lufthansa Cargo, will launch its first flight on Dec. 1.
The parent Lufthansa group cut its earnings guidance for 2015 for the second time this year even as third-quarter operating profit rose to 735 million euros from 589 million euros on revenue 1.9 percent higher at 8.46 billion euros.
Citing a sluggish global economy and increased competition, Lufthansa said it now expects its 2015 operating profit to be " significantly above" the 1 billion euro forecast for 2014, compared with a previous forecast of 2 billion euros.
Contact Bruce Barnard at brucebarnard47@hotmail.com.