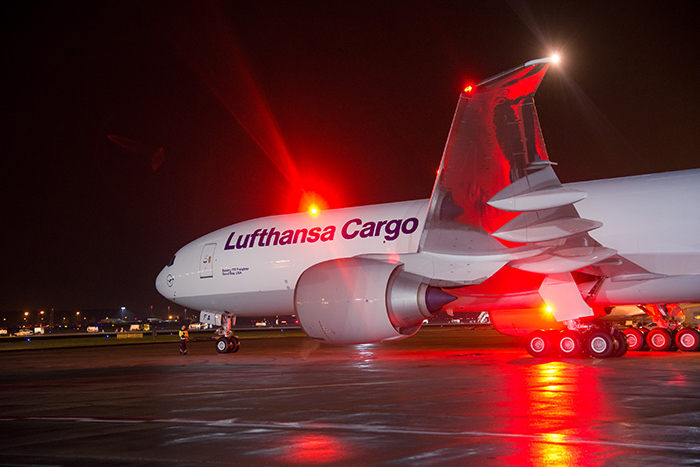 LONDON – Lufthansa Cargo is heading for its first annual loss in six years after Europe's largest freight airline sank into the red for the second consecutive quarter.
The German carrier's earnings before interest and tax declined to a negative 22 million euros ($110 million) in July-September from a positive 24 million euros a year earlier.
The latest loss follows a second-quarter deficit of 68 million euros, wiping out a 52 million euros profit in the first three months of the year, and leaving a nine month loss of 38 million euros against a 69 million euros profit last time.
Revenue shrank 8.3 percent in the third quarter to 556 million euros from 606 million euros as freight volume dipped 4.3 percent to 400,000 tonnes (441,000 tons) from 418,000 tonnes.
The load factor declined by 4.7 percentage points to 62.4 percent.
Nine month revenue stalled at 1.763 billion euros and volume slipped by 0.9 percent to 1.21 million tonnes.
Global airfreight demand picked up in the first quarter but lost momentum in the following two quarters, Lufthansa said.
"Competition on global airfreight markets remains intense," with airlines in the Middle East and Turkey boosting their capacities due to their many additional passenger aircraft.
Lufthansa said it will trim its fleet in response to the "still difficult market conditions."  The number of active MD-11s will be reduced from 14 to 12 alongside its fleet of five new Boeing 777 freighters, the last of which was delivered in February.
The carrier said its partnership with All Nippon Airways between Japan and Europe struck in December 2014 "has already proved its worth after just a few months."
Lufthansa Cargo was one of the few consistently profitable European freight airlines during the global market downturn, amassing earnings of 841 million euros in the past five years.
The parent Lufthansa group raised its 2015 profit target after third quarter EBIT rose nearly 45 percent to 1.2 billion euros on strong passenger demand and low oil prices.
The carrier now expects an adjusted EBIT of 1.75 billion-1.95 billion euros against a previous forecast of over 1.5 billion euros.
But Lufthansa CEO Carsten Spohr warned prices remain under pressure and further cost savings were need. "We cannot expect to fly for too long with a tailwind of low oil prices. So we must continue to work hard on the competitiveness of our cost structures."
The carrier has already identified 1 billion euros of savings for 2016, Spohr said.
Contact Bruce Barnard at brucebarnard47@hotmail.com.