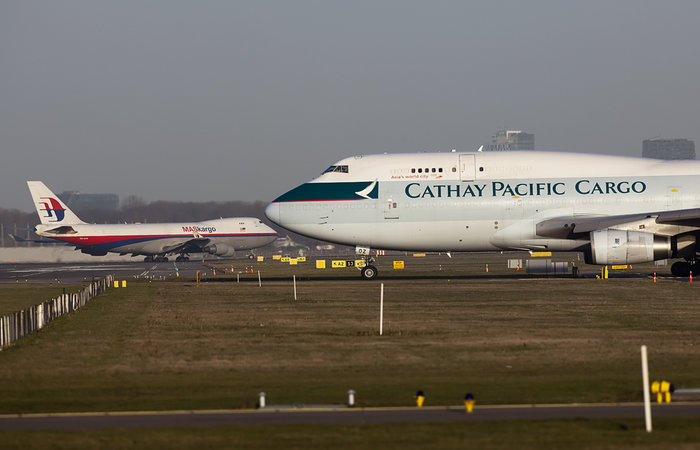 HONG KONG — Cathay Pacific and sister airline Dragonair reported a slight strengthening of cargo traffic in May, but it was not enough to stay ahead of the new capacity that came online during the month.

Cargo capacity grew by 11.1 percent in May compared to the same month last year, while revenue ton kilometres flown increased by 9.5 percent, Cathay Pacific announced in a statement.

The two airlines carried 147,034 tons of cargo and mail last month, an increase of 6.2 percent compared to May last year. The cargo and mail load factor fell by 0.9 percentage points to 62.1 percent.

A robust start to the year saw the cargo revenue per flown ton outpacing available freight capacity as the carrier saw volumes soaring into double digits, but a weak March and April has pulled back the figures.

Growth in cargo tonnage and capacity for the first five months of the year have now equalised at 9.6 percent, although revenue per ton kilometre is at 12.2 percent for the year.

Mark Sutch, Cathay Pacific general manager cargo sales and marketing, said demand into and out of the Indian subcontinent was one of the bright spots in the cargo network during May, while the mainland China business continued to face pressure from intense competition.

Fast developing manufacturing centres in cities such as Chongqing, Chengdu and Zhengzhou have become battlegrounds for global air cargo carriers, but stiff competition has eroded yields and diluted tonnage.

Still, Cathay Pacific has a strong presence in inland China. For example, the carrier operates six freighters a week between Zhengzhou and Hong Kong that connect into the global network. Two-thirds of the world's iPhones are produced at Foxconn's factories in the Henan Province city, and they are all transported by air freight.

"Our cargo business got off to a slow start in May due to the long public holiday in mainland China at the beginning of the month. Demand picked up steadily as factories reopened but the month's tonnage growth could not keep pace with the increase in capacity," he said.

Such said there was less benefit from the congestion in seaports on the West Coast of the U.S. than in previous months, but it is interesting that so long after the dispute was resolved, trans-Pacific volumes are still being affected.

If any airline should know, it is Cathay Pacific, which has a robust trans-Pacific cargo network of belly hold space and freighters, and the recovering U.S. economy is a significant source of revenue for the Hong Kong-based carrier.

The carrier has shown a steady increase in cargo volume since March fell to a marginal 1.5 percent year-over-year growth. April figures improved to 5.2 percent and 6.2 percent growth in May, but the increases are way short of the 28 percent growth recorded in February.

Contact Greg Knowler at greg.knowler@ihs.com and follow him on Twitter: @greg_knowler.