Ian Putzger | Jan 21, 2013 1:32PM EST
Air cargo carrier executives would like to think 2013 will be better than last year, but they see little or no cause for such assumptions, at least for the first quarter.
"For us, there is no reason to believe that there will be significant change one way or another," said Achim Martinka, vice president for the Americas at Lufthansa Cargo.
"Air freight continues to be something of a beleaguered industry," said Bill Gottlieb, president of Montreal-based David Kirsch Forwarders. "I don't see a recovery unless Apple launches a new product every few months."
Notwithstanding brief surges in demand, as with the launch of the iPhone 5 or Apple's new iPad, the need for air cargo has been subdued, a trend compounded by shippers' efforts to shift as much traffic as possible to cheaper modes of transportation. Air freight capacity, however, grew in 2012 — despite cuts in freighter activities and some aircraft being parked — as new, larger freighter aircraft came on line and passenger airlines deployed more widebody planes with significant bellyhold capacity.
See all ARO Air Cargo-related content.
Competition between the airlines has been fierce, driving down rates. Desperate to fill their cargo holds, airlines have been falling over each other with special rate offers, which is undermining long-term contracts. "There is a lot of silly pricing going on," said Lise-Marie Turpin, vice president of cargo at Air Canada.
Confronted with a steady stream of rate specials knowing that capacity is readily available, forwarders have increasingly eschewed block space agreements and opted to embrace spot rates.
"There is so much spot rating out there," said Jeff Cullen, CEO for the Americas at forwarder Bellville Rodair International, whose twin bases are in Canada and England. "On certain strategic trade lanes, we keep contracts in place, but, overall, the market is too volatile to lock in rates."
Neel Shah, president of JS Aviation Consulting, believes the roller coaster of the past three years has undermined the relationship between airlines and forwarders, moving from a strategic toward an ad hoc alignment. The market is too volatile to warrant longer-term rate and volume agreements, he said, adding the two sides need to work closer together and strike a compromise sustainable for both sides.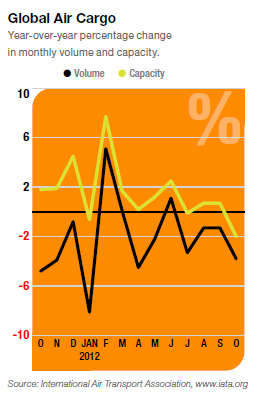 For now, rates aren't sustainable for the carriers, according to Heiner Murmann, CEO for the Americas at DB Schenker. "Unless we see robust growth, air freight will be challenged," he said, pointing to shippers' efforts to shift traffic from air to ocean transportation and the supply-demand imbalance.
Freighter operators, in particular, are feeling the squeeze. Several all-cargo carriers have shut down since the fall of 2011, including Cargoitalia and Jade, and others are struggling. Cargolux, traditionally a model of profitability, is conducting a review of its business model to identify ways to return to the black.
Passenger airlines that operate freighters also are finding their cargo planes a burden. Nick Rhodes, director and general manager of cargo at Cathay Pacific, said it's almost impossible to make a business case for buying freighters that a sensible airline board would deem a good return on investment.
Exacerbating freighter airlines' plight is the arrival of large numbers of widebody passenger aircraft with significantly larger freight capacity than the older models they're replacing.
Airlines have trimmed their freighter schedules in an effort to stem the yield decline and improve their load factors, but there's still too much capacity in the market, and further cuts may come. "In the first half of 2013, the gloomy market situation will continue," said Titus Diu, chief operating officer of Air China Cargo. "We are thinking of consolidating our freighter operation because of the high cost, especially on flights to the U.S."
Lufthansa usually boosts its trans-Atlantic freighter schedule during the winter but has refrained from doing so this time. Nevertheless, Martinka thinks there may be additions to the network ahead. In the past year, the airline added freighter flights to Detroit and Montevideo, Uruguay. Both have performed in line with expectations, Martinka said, adding Lufthansa keeps looking for new destinations.
Cathay also added new destinations last year. Rhodes sees this trend continuing as the geographical base of production becomes more diverse. As costs in China's coastal provinces rise, manufacturing of some goods is migrating to China's interior and to other areas in Asia. Textile and garment production is rising in India, Indonesia and Bangladesh, and others are coming up, such as Cambodia and Myanmar, Rhodes said.
This development will strengthen the hubs in the region, he predicted. "You will not fly from these places direct to the U.S., at least not to 10 destinations, which means you go through a hub," he said.
The shift to new production areas reinforces the need for air freight, because it takes time to set up new supply chains and smooth out initial production glitches, noted Dirk Steiger, principal of Frankfurt-based consulting firm Aviainform. He also sees growth in Africa and Latin America. However, the volumes in these emerging markets are relatively small, so they won't make a large difference in the global air cargo picture, Steiger cautioned.
Electronics, historically a major engine of air cargo growth, aren't expected to bring much momentum in 2013. "There will be new smartphones and products like these, but only the first wave of these will go by air, the rest will go by ocean vessel," Steiger predicted. "The days of planeloads full of flat-screen TVs are over."
Automotive cargo, another traditional driver of air cargo, also has been subdued, with much of these volumes migrating to ocean carriers. Overall, growth will be modest, definitely well below the 5 to 6 percent bracket of annual growth that Boeing and Airbus have identified in their 20-year forecasts, Steiger said.
There are pockets of growth well in excess of that figure. "We are seeing growth in the luxury market, some well into double-digits," Cullen said. The fashion and retail segments have performed well for Bellville Rodair, he added.
Shah is bullish on perishables. Middle classes in emerging economies are growing, and showing an increasing appetite for fresh produce. Asian consumers are especially keen on fresh fruit and vegetables from halfway around the world, and many of these cargoes can only be transported by air freight, he said.
Airlines have been honing their product line-ups, particularly at the premium end, where growing volumes of pharmaceutical traffic promise rich pickings at high margins. As long as the supply-demand imbalance exists, they will be unwilling to invest in expansion. Rather, their emphasis will be on keeping their costs in check. "Cost management is a top priority," Martinka said. "Do you have to fly five times a week, or will four times do?" 
Contact Ian Putzger at alkaputz@rogers.com.