Top 50 Trucking Companies
Top 50 Trucking Companies
Strong domestic economic growth and the tightest trucking market on record translated into double-digit percentage gains for the top 50 US truckload and less-than-truckload (LTL) operators in 2018.
JOC.com's annual Top 50 Trucking Companies, Top 25 Truckload Carriers and Top 25 LTL Carriers rankings are assembled by SJ Consulting Group using company financial reports and SJ Consulting Group estimates and analyzed by JOC editors. Revenue figures are expressed in millions of US dollars. Truckload revenue figures may include less than 10 percent for LTL and other services, and LTL revenue may include less than 10 percent for truckload and other services.
Key Top Trucking ranking stories:
News & Analysis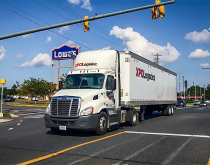 XPO is adding new facilities and technology to its less-than-truckload network, reducing reliance on third parties.
Commentary
It is shocking that the less-than-truckload (LTL) sector continues to operate with legacy business practices from the reg