Top 25 Truckload Companies
Top 25 Truckload Companies
In 2017, the 25 largest truckload carriers in the US increased their combined revenue 5.4 percent to nearly $28 billion, as freight demand quickened in the second half of the year. Revenue increased at 20 of the Top 25 Truckload Carriers last year, compared with 10 in 2016, a sign truckload carriers pulled out of the economic mire that slowed them in 2015 and 2016.
Acquisitions helped power growth among the largest truckload carriers, boosting revenue significantly at heavy-haul specialist Daseke and dry van carrier CRST International. If 2018 continues as strong as it began, and they can find and hire qualified truck drivers, the largest truckload carriers are likely to pull even with their faster-growing LTL counterparts.
Key stories in TL:
News & Analysis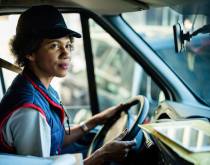 For-hire trucking employment soared past seasonal expectations in April, underscoring strong demand despite declining spot market pricing.
Commentary
The electronic logging device means big data analysis is possible across the trucking/logistics sphere — and that opens up a world of opportunities for improved efficiency, fleet optimization, and more.
More Commentary