JOC Staff | Jan 14, 2013 3:41PM EST
U.S. domestic intermodal rates continued this week to show little movement, as the market after declining in the late fall seeks clarity on the strength of volumes headed further into the New Year.
"Rates dropped and now are in a holding pattern until the market has a better idea as to what the volumes are and what direction the economy is headed," said Rick LaGore, executive vice president of IDS.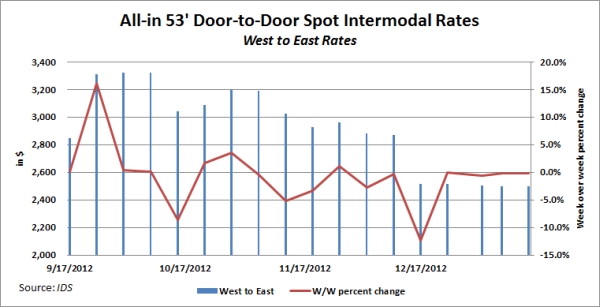 Atlanta to New Jersey was unchanged at $1,625 per all-in 53' door to door move, Atlanta to Los Angeles was unchanged at $1,965, and Atlanta to Seattle was unchanged at $2,800, according to IDS data sourced from railroads. Chicago to Atlanta was $1,255 this week, down from $1,260 last week, while Chicago to Dallas was flat versus last week at $2,365, and Chicago to Denver was flat at $2,595.
Dallas to Atlanta was flat at $1,550, Dallas to Chicago was flat at $970, Dallas to New Jersey was flat at $2,455 and Dallas to Los Angeles was flat at $1,070.
Los Angeles to all destinations tracked by IDS was flat, with LA to Atlanta at $3,135, to Chicago at $2,345, to Dallas at $2,425, to Houston at $2,560, to Miami at $4,275 and to New Jersey at $3,455.
An average of west-to-east lanes was $2,500 versus $2,501 last week, while an east-to-west lane average was $1,778 versus $1,779 last week. A north-to-south average was $1,989 versus $1,991 last week, and a south-to-north average was $1,749 versus $1,750 last week, so all the averages were basically unchanged.