Port News
Port news and updates from around the globe covering critical international ports such as Los Angeles, Long Beach, New York-New Jersey, Rotterdam, Antwerp, Jawaharlal Nehru, Santos, and Tokyo. From traffic congestion, port strikes, and port labor negotiations to pending government regulations and equipment upgrades, JOC.com covers every angle of the port industry.
How will leading ports deploy the expansion of port rail and berth projects to harness growing demand for e-commerce shipments with the help of intermodal rail? What other new opportunities and challenges lie ahead for ports as a result of the build-out of warehousing and other industrial real estate? How will port managers deploy the power of advanced technologies – such as blockchain and the Internet of Things -- to reduce congestion and boost port productivity?
View Our Latest Port Rankings:
News & Analysis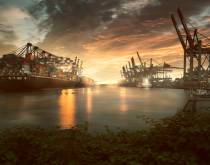 Europe's third-largest port could not convert a solid rebound in second half volume into full-year growth in container throughput.