Seaboard Marine Wins Sixth Consecutive JEA Award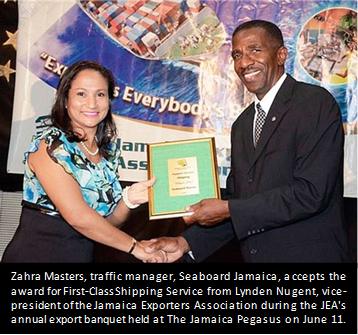 The Jamaica Exporters Association (JEA), a non-government members association established in 1966, promotes and supports the growth and development of Jamaica's export sector. Each year the JEA hosts an event where it recognizes businesses proactively seizing opportunities in the export sector. The following article was published in the Jamaica Gleaner recognizing Seaboard Marine for a sixth consecutive year:

Seaboard Marine (Seaboard Jamaica) has won its sixth consecutive award for First-Class Shipping Service from the Jamaica Exporters Association (JEA). The shipping company won the award in the Support Service Shipping category during the JEA's Export Awards Banquet held at the Jamaica Pegasus on June 11.

Seaboard Jamaica was established in October 1999 to fully represent Seaboard Marine which in 2013 is celebrating 30 years of direct, regular shipping services between the United States and the Caribbean Basin, Central and South America.

Corah Ann Robertson-Sylvester, chief executive officer of Seaboard Jamaica, said, "we are thrilled that our customers for the sixth consecutive year have chosen Seaboard Jamaica for this distinguished award. The export team, led by Zahra Masters (Marlene Hall, Collett Jarrett and Simone Baker) continues to go the extra mile for our customers. We thank the exporters for their continued support and pledge to continue to give the highest quality of service."