Maersk Line
Maersk Line is the world's largest container ship operator. Maersk Line is a unit of the A.P. Moller-Maersk Group, based in Copenhagen, Denmark, and with offices around the world. The group was founded as a shipping company in 1904.
A.P. Moller-Maersk's container shipping subsidiaries — Maersk Line, Safmarine, MCC-Transport, Seago Line and Mercosul Line — operate nearly 600 vessels with a total capacity of more than 2.6 million TEUs (20-foot-equivalent units). Maersk operates the largest container ships in the world to date, with delivery of its 18,270-TEU Triple E vessels beginning this year with the Mærsk Mc-Kinney Møller.
Maersk Line and Mediterranean Shipping Co. form 2M Alliance
In the wake of the rejection of the P3 Network, Maersk Line and Mediterranean Shipping Co. announced the 10-year 2M Alliance vessel-sharing agreement, dubbed "2M", on the Asia-Europe, trans-Pacific and trans-Atlantic trades.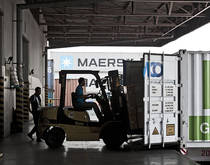 Maersk has taken the next step in its pursuit to become a supply chain integrator akin to UPS or FedEx.