APL
Founded in 1848 as American President Lines, APL is now a wholly owned division of Singapore-based NOL Group, and a division of CMA CGM, the French shipping giant. Yet APL continues to maintain its own brand, offering transcontinental cargo shipping across Asia, North and South America, Europe, the Middle East, the Indian subcontinent, and Australia through more than 120 weekly services calling ports in over 70 countries worldwide. The world's seventh-largest container shipping company, with about 150 vessels, operating in over 140 ports worldwide.  
APL continues to build out its own innovative services, such as service that delivers containers from China to the US West Coast, and then on to interior rail hubs. In the past, many of those interchanges between western and eastern railroads have experienced congestion.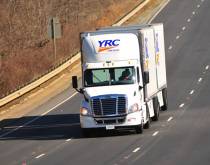 The US government's $700 million loan to YRC Worldwide guarantees LTL stability in an uncertain economy.