APL
APL is the world's seventh-largest container shipping company founded in 1848 with approximately 150 vessels, operating in over 140 ports worldwide. The company employs more than 13,000 individuals.
APL, which is a wholly owned subsidiary of Singapore-based NOL Group, is now a part of CMA CGM following CMA CGM's 2016 acquisition of NOL. CMA CGM said that it will continue to maintain and develop the APL brand.
Press Releases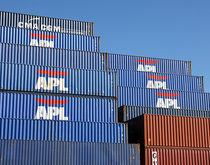 APL was No. 13 on the trans-Atlantic trade in the first three quarters.