JOC Staff | Oct 24, 2012 5:13PM EDT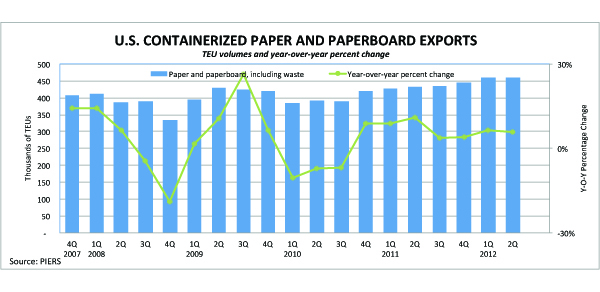 Exports of paper and paperboard products slipped 0.1 percent sequentially to 459,316 20-foot-equivalent units in the second quarter. However, volume was up 5.7 percent year-over-year, according to data from PIERS, a JOC sister company. The lion's share of shipments went to China, which imported 59.1 percent of the total U.S. export volume.
U.S. wood pulp shipments in the second quarter fell 4.8 percent from the first quarter to 102,600 TEUs. Year-over-year, the export volume increased 13.2 percent. Again, the biggest market for U.S. exports was China, with a 31.6 percent share of the total wood pulp export volume. The No. 2 buyer of U.S. wood pulp was Japan, with 7.5 percent of the export volume.
Logs and lumber shipments in containers in the second quarter grew 1.3 percent from the prior three-month period, but was down 4.3 percent year-over-year. China holds a 42.4 percent share of the U.S. export market.