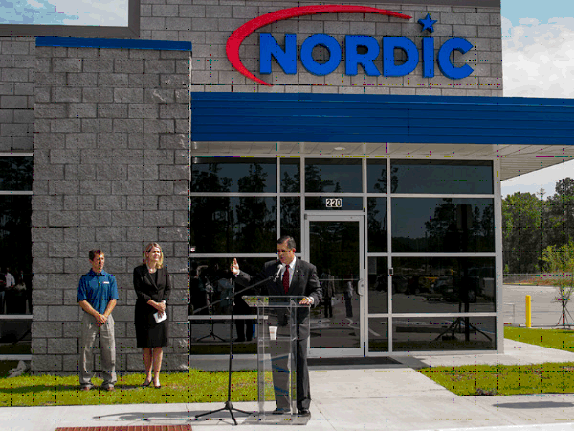 Savannah, Ga. – June 4, 2013 – After just over a month in operation, Nordic Cold Storage has moved tens of millions of pounds of refrigerated cargo through the Georgia Ports Authority's Garden City Terminal. 
Nordic welcomed state officials and the media to a tour Tuesday of its state-of-the-art storage and blast facility, located just minutes from the Port of Savannah, the fourth busiest port in the U.S. 
"Nordic's presence here extends the Port of Savannah's ability to support Georgia's vital agricultural industry, in particular, our poultry producers," said GPA Executive Director Curtis Foltz. 
The site has over 200,000 square-feet of convertible temperature-controlled storage space and is capable of blasting more than 10 million pounds of product, ranging from fresh poultry to produce, per week. This $30 million facility currently employs 100 workers, however Nordic plans to expand the facility by the end of the year. 
"In just five weeks, we have already received 30 million pounds of product and made outbound shipments totaling 20 million pounds," said Ross Maple, Nordic's Director of Business Strategy. 
Foltz said the GPA is also increasing its refrigerated cargo capacity to stay ahead of demand. 
"The GPA is installing an additional 20 refrigerated container racks at the Garden City Terminal," said Foltz. "This adds 480 chilled cargo slots, for a total capacity of more than 2,600 containers a week." 
The refrigerated containers are powered by 600 chassis plug-ins and 2,016 container rack slots. The Port of Savannah is the only port in the nation to use reefer racks on this scale. 
"In the last seven years, refrigerated exports through the Port of Savannah have increased 130 percent," Foltz said. "And the combination of public and private investment ensures we are prepared for future growth in this valuable cargo segment." 
Last year alone the GPA saw a 3.9% increase in refrigerated cargo exports, totaling nearly 108,000 TEUs, or twenty-foot equivalent container units. More than 80 cold storage facilities around the state rely on the Port of Savannah, with a combined storage capacity greater than 16 million square feet. 
"Our Savannah facility is a reflection of Nordic's commitment to meet the temperature-controlled supply chain requirements that our customers want today and will need tomorrow," said Don Schoenl, President and Chief Executive Officer of Nordic. "Our facility is located at I-95 and Jimmy DeLoach Parkway, only six miles from the Port of Savannah, and provides our customers convenient access to the port and interstate highways." 
Maple said the project was made possible through the support and pro-business attitude of Nordic's partners at the Georgia Department of Economic Development, the Savannah Economic Development Authority, the Georgia Ports Authority, Georgia Power, Georgia Quick Start, and the City of Pooler. 
"Nordic understands the importance of being close to its customers and to port infrastructure," said Gretchen Corbin, Deputy Commissioner for Global Commerce at the Georgia Department of Economic Development. "The Port of Savannah handles 38 percent of U.S. poultry exports, much of which is produced by Georgia growers. Nordic's entry into this region will only strengthen the state's position in the marketplace." 
GPA Board Chairman Robert Jepson said Savannah's refrigerated volume and market share show the extent to which commerce has chosen Georgia as the gateway to global trade. 
"The Georgia Ports Authority's economic impact extends well beyond state lines. Efficient access to world markets through Georgia's deepwater ports means our customers are poised for progress," Jepson said. 
About Nordic Logistics and Warehousing, LLC 
Nordic is the second largest cold storage operator in the Southeast and the eighth largest in the North America. Based in Atlanta, Nordic specializes in providing cold storage and distribution services to major food producers, distributors, retailers and other blue chip customers. The company operates 14 facilities in Alabama, Georgia, Mississippi, North Carolina and South Carolina, which together comprise more than 70 million cubic feet of temperature-controlled storage space.