Antarctica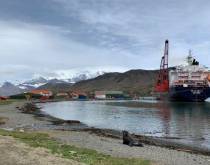 Stringent environmental regulations require biosecure conditions before ships and cargo can call South Georgia and the Antarctic.

Everything transported to an Antarctica research station by Trans Global Projects required extensive care and, due to the threat of intrusion by non-native plants and animals, extensive biosecurity and decontamination processes.

Shipowners operating in the Arctic and the Antarctic caught a glimpse of the first set of international regulations on the trade today, the first full draft of laws aimed at reeling in the shipping's Wild West.