Breakbulk
Not every shipment of breakbulk cargo involves a complex mega-project or thousands of freight tons. In such cases, a shipment can often shift modes seamlessly. Steel, for example, flows from breakbulk to bulk carriers to, for some forms of steel, roll-on/roll-off (ro-ro) and container transport. It depends on markets, prices, and demand.
Breakbulk/project cargo remains a dynamic market. Chronic overcapacity and fierce competition are driving carriers to jockey for position when it comes to carrying breakbulk and project cargo; not just from other multi-purpose breakbulk and project cargo carriers but from roll-on/roll-off (ro-ro), container carriers, and bulk carriers.
For years, containerization has been attracting a significant share of traditional breakbulk cargo. Containerization offers shippers strict schedules, predictable routes and prices, and  commoditized handling; vastly simplify shipping compared with the complexities and unpredictability of breakbulk and project cargo.
While the shift of commodities such as cotton and coffee from breakbulk into containers has largely run its course, other breakbulk and project cargos continue to move on multipurpose vessels. Many of these movements are becoming more complex, and require additional planning, expertise and equipment.
News & Analysis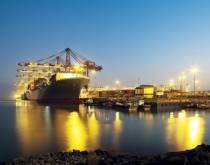 India's port development efforts include reinvigorating dozens of minor coastal harbors in order to enhance their freight handling capability.