Breakbulk
Breakbulk and its glamorous subset, project cargo, remain a dynamic shipping segment, and the multipurpose and heavylift (MPV/HL) carriers that serve it are just beginning to recover from chronic overcapacity and a decade of doldrums.
Breakbulk cargo has been defined as 'whatever is left over' after the bulk and container ships are full. While the shift of commodities such as cotton and coffee from breakbulk into containers has largely run its course, other breakbulk and project cargos continue to move on MPV/HL vessels. Not every shipment of breakbulk cargo involves a complex mega-project or thousands of freight tons that require full charters and heavy-lift capacity. Many of these movements are very complex, and require additional planning, expertise and equipment. Project cargo shippers often work closely with carriers' engineering teams to create transport plans.Simple breakbulk cargoes can often shift shipping modes fairly seamlessly. Steel, for example, flows from breakbulk to bulk carriers to, for some forms of steel, roll-on/roll-off (ro-ro) and container transport. The preferred mode will depend on volumes, prices, schedules and demand. Container and ro-ro services offers shippers fixed schedules, predictable routes and prices, and more commoditized handling, simplifying the equation – but only when it makes sense for the cargo.
News & Analysis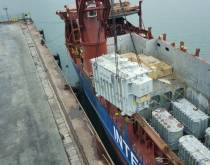 US-based MPV operator Intermarine is expanding into Asia and Europe via a partnership with Thailand's WeShip.