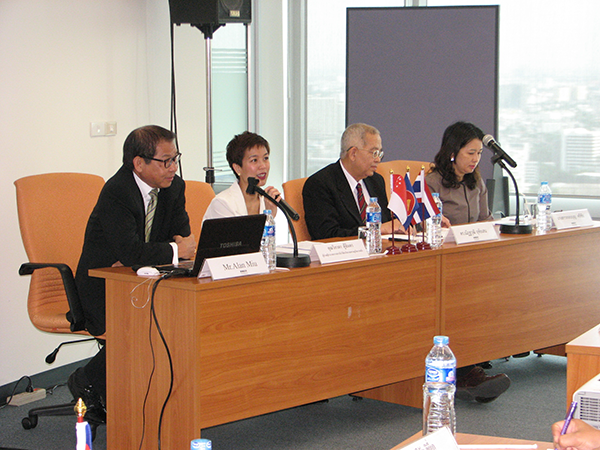 Alan Miu, Managing Director of TNT Express Worldwide (Thailand) Co., Ltd., the leading international provider of integrated express services, recently appeared as a distinguished speaker at the training program "AEC insights for MOF's Executive", with the objective of sharing knowledge and best practice with Ministry of Finance staff, at Windsor Suites Hotel Bangkok.

The objective of the program is to enhance Ministry of Finance staffs' capacity to formulate and implement economic and fiscal policies that correspond to the needs of private sector and eventually should also help promote Thailand's national competitiveness in the global context. It also aims to promote a better understanding of the MOF's roles in preparing Thailand for the AEC among its stakeholder agencies.

TNT's appearance as key knowledge provider reaffirms TNT's commitment to the development of Thailand as the leading transportation hub in ASEAN, and further demonstrates TNT's focus on continual operational improvements for the forthcoming AEC integration.
About TNT Express
TNT Express is one of the world's largest express delivery companies. On a daily basis, TNT Express delivers close to one million consignments ranging from documents and parcels to palletized freight. The company operates road and air transportation networks in Europe, the Middle East and Africa, Asia-Pacific and the Americas. TNT Express made €7.3 billion in revenue in 2012.  For more information, please visit TNT's website at:http://www.tnt.com/corporate