American Airlines Cargo Carries Colombian Gold Treasures To London For Major, New British Museum Exhibition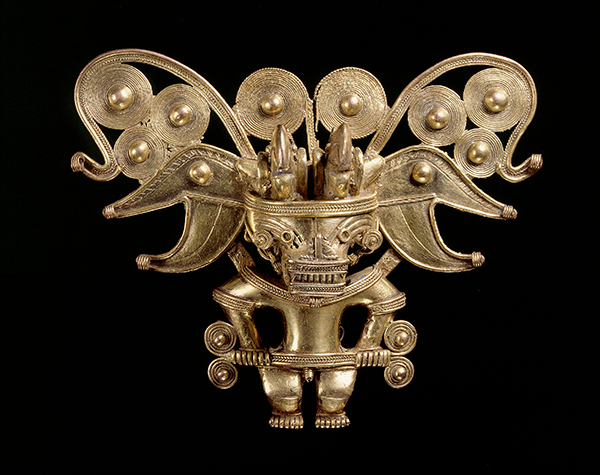 Anthropomorphic bat pectoral, Tairona, gold alloy, AD900-1600. © Museo del Oro – Banco de la República, Colombia
FORT WORTH, Texas – American Airlines Cargo today announced it has delivered more than 200 pieces of gold and ancient artifacts to London for one of the British Museum's major upcoming fall exhibitions – Beyond El Dorado: Power and Gold in Ancient Colombia.
American worked closely with specialist art movement logistics company Momart to safely handle and transport the precious cargo from Bogotá, Colombia to London. Bespoke packing cases with the latest monitoring technology were specially created to ensure the objects arrived at the museum in perfect condition. On-board couriers hand carried gold pieces which needed to be maintained upright, and special artwork cases protected the other pieces during transport.
"This was a highly complex single cargo movement, and our cargo specialists in Bogotá, Miami and London executed a textbook operation," said Tristan Koch, American's Managing Director of Cargo Sales and Marketing – EMEA. "We are delighted to have played a part in their safe arrival."
The gold and artifacts are owned by the Museo del Oro in Bogotá and are being loaned to the British Museum for the exhibition which runs Oct. 17 through March 23. The exhibition examines the myth of El Dorado and explores the rich and diverse cultures of Colombia before the 16th century arrival of the Spanish.
American Airlines is a dedicated supporter of the arts around the world. American has an extensive network of flights for passengers and cargo linking London to the United States and onward to Latin America. The airline is a co-sponsor and partner of the exhibition.
About American Airlines Cargo
American Airlines Cargo, a division of American Airlines, Inc., provides one of the largest cargo networks in the world with cargo terminals and interline connections across the globe. American provides more than 100 million pounds of weekly cargo capacity to major cities in the United States, Europe, Canada, Mexico, the Caribbean, Latin America and Asia. American's fleet of nearly 900 aircraft fly more than 3,500 daily flights worldwide from hubs in Chicago, Dallas/Fort Worth, Los Angeles, Miami and New York. American flies to nearly 100 international locations, including important markets such as London, Madrid Sao Paulo and Tokyo.
About Beyond El Dorado: Power and Gold in Ancient Columbia
Beyond El Dorado: Power and Gold in Ancient Columbia, presented by the British Museum in London, explores the rich and diverse cultures of Columbia before the arrival of the Spanish in the 16th century. It features more than 300 astonishing objects made from gold and other precious materials. The exhibition, sponsored by Bank Julius Baer and American Airlines, runs Oct. 17 through March 23.