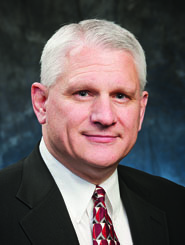 The economy has a big impact on the transportation industry, and our industry is typically a leading indicator of economic trends. Over the past few years, consumers and businesses have reduced their purchasing, resulting in underutilization of equipment, drivers, tractors and trailers. This has driven pricing down pretty significantly, with shippers reaping the benefits of high capacity and low rates.
Government regulations are another factor impacting the industry. Any regulation that affects production and distribution in a market segment, from food to imports, also affects transportation and logistics.
Because of the uncertain economy and increased government regulation, there has been a significant amount of consolidation in the industry. Today, the balance between shippers' needs and carrier capacity is fairly even.
The economy has been bumping along with slow growth, but an uptick of any significance will result in increased demand. When that occurs, we believe we're going to see a severe tightening in transportation capacity. The driver pool is aging, and some drivers have left the business because of consolidations. As a result, those companies with a stable driver pool and capacity will be positioned for growth, and will be able to achieve that growth in a very positive pricing environment.
The key question is: When is the U.S. economy going to come back? We're not confident it will start to happen in 2014 and are concerned that the slow-growth economy may have become the new normal for consumers. We are hopeful the U.S. can simply maintain 2013 levels in GDP, inflation, consumer confidence and other indicators, and that we will begin to see improvement in late 2014 and beyond.
Mark A. DiBlasi is President and CEO of Roadrunner Transportation Systems.