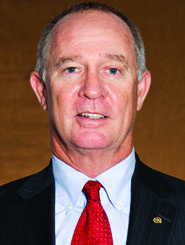 If 2013 was overshadowed by worries about the economy, 2014 looks to be the year the trucking industry stops rebuilding capacity lost in the recession of 2008 and starts substantive growth. But, it will take help from Washington.
In 2012, the trucking industry moved 68.5 percent of all domestic shipments, and by 2024, that share is projected to increase to 70.8 percent. Data from the American Trucking Associations indicates truckload volumes will grow by 3.2 percent annually through 2018, while the less-than-truckload segment will grow by 3.5 percent annually during this time frame.
Today, the trucking industry operates at or near capacity. Over the next 18 months, carriers will expand their fleets just to meet increasing freight demands, but there is a better way to accomplish this.
Generally speaking, carriers' capital expenditures over the past five years were limited to outlays necessary to replace failing equipment. Merely replacing equipment with identical equipment puts a bandage on the issue; it is not a long-term solution.
Allowing LTL carriers to pull double 33-foot-long trailers will reduce the number of trucks on the road, thereby reducing fleet fuel consumption and roadway congestion. This modest increase in trailer size, but with no increase in the weight limit, will improve highway safety, maintenance, and lower fuel use because of better technology and industry innovation.
To ensure trucking's positive trajectory continues, we need policies that don't stifle the industry's ability to meet demand. Battles over the budget, health care and political nominations distract us from the real conversations.
We're optimistic the dialogue in Washington will shift the focus on how to upgrade the nation's infrastructure, but Congress must take action in 2014. We look forward to working with our colleagues in Washington on initiatives that ensure a vibrant and successful trucking industry and expanding our vital economy. 
David S. Congdon is President & CEO of Old Dominion Freight Line.