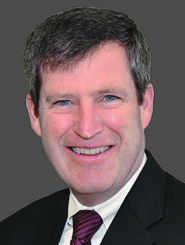 For several years, the trucking industry and its customers have been back on their heels as an onslaught of regulatory actions sapped the industry of productivity while doing little if anything to improve highway safety.
New hours of service rules took about 3 percent of effective capacity off the road, requiring the eventual addition of 100,000 new and inexperienced truck drivers while also flooding the highways in morning rush hour with drivers coming off their mandated 34-hour restart.
Compliance Safety and Accountability branded half of all the carriers the Federal Motor Carrier Safety Administration can measure with a Golden Triangle, the modern day trucking equivalent of The Scarlet Letter. This is costing safe carriers business and has created a quagmire for shippers in risk management and a potential field day for trial lawyers.
Sleep apnea guidance threatened to impose $1 billion of cost on the trucking industry without the formality of rule-making or the application of common sense or hard science. Thankfully, in 2013, the Rebel Alliance (American Trucking Associations) began fighting back against the Galactic Empire (FMCSA) and Darth Vader (you know who). In 2014, I expect to see broader success reigning in over-burdensome and ill-thought-out regulation of our industry.
On Oct. 15, 2013, President Obama signed bipartisan legislation (a one-page law) requiring the FMCSA to utilize formal rule-making procedures if it wishes to regulate sleep apnea, rather than issuing "guidance." The House held hearings on HOS in November and has proposed legislation to roll back the HOS rules until after the results of a GAO study are known.
We await the results in early 2014 of both GAO and IG studies of CSA/SMS which are likely to confirm numerous studies showing the many flaws in this system. CSA has morphed from its worthy original purpose as a tool to allow the FMCSA to prioritize its enforcement resources, into a de facto Safety Fitness Determination that denies carriers due process and unfairly denies them access to freight. Ultimately, legislation may be required in this area also. Congress hears the voices of the hundreds of thousands of small businesses and millions of truck drivers that make up the trucking industry.
Over-burdensome regulation is harming our economy. The Senate's nuclear option will allow President Obama to pack the U.S. Court of Appeals for the District of Columbia Circuit with three new liberal judges. This is the court that reviews executive actions, which means three-judge panels in the future will likely be more favorable to regulatory overreach. Legislative action in 2014 favorable to our industry is vital to maintaining our world-class supply chain effectiveness, efficiency and safety.
Thomas K. Sanderson is CEO of Transplace.