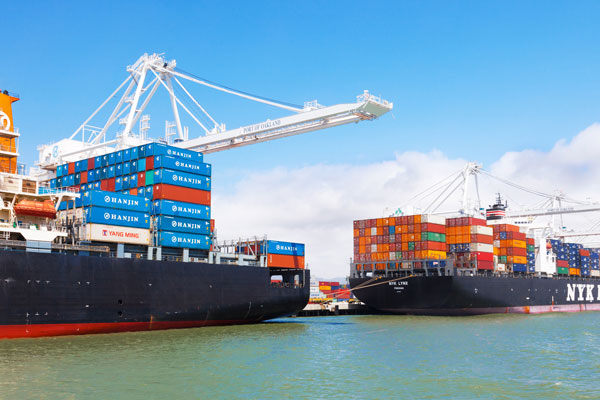 More than a decade since the September 11 attacks and six years after the financial crisis, people are coming to the realization that the U.S. and the global economy are resilient. Security is institutionalized and risk management is de rigeur. Now everyone is looking for one thing: how to get growth. For government and business, growth will solve a lot of lingering problems by reducing deficits and generating revenue.
There is no doubt the private sector works on a shorter timeline than the government, and those cycles are getting shorter because markets are more competitive than ever. 
Companies engaged in global trade got a boost when trade negotiators adopted the World Trade Organization's Trade Facilitation Agreement. Trade facilitation represents real money for importers and exporters because the agreement holds the promise of lowering transaction costs. This agreement could provide much-needed substructure for the Transatlantic Trade and Investment Partnership and the Trans-Pacific Partnership so that these free trade agreements deliver the promised economic growth.
With a new trade team coming in for the Obama administration in the form of Homeland Security Secretary Jeh Johnson and Customs Commissioner nominee R. Gil Kerlikowske, the message from the U.S. trade community should be, "Let's get back to business." This team will have to overcome skepticism among the trade community that a former Defense Department lawyer and midsize city police chief have the operational experience to put the U.S. back into the leadership position on global trade. Specifically, we're interested in how Mr. Kerlikowske will set the priorities for Customs and Border Protection and how he communicates these priorities to rank-and-file CBP personnel. This will be a great challenge as senior Customs personnel continue to retire and little money is allocated for training.
What does "getting back to business" mean? Using resources (for the government and business) wisely to ensure that they are directed toward areas of noncompliance. For security, that means focusing on high-risk cargo rather than chasing data and penalizing companies for data infractions. On trade compliance issues, we seek greater efficiencies through account-based risk management systems so agencies reduce their inquiries sent to companies.
As the United States signs more free trade agreements, we expect Customs to harmonize its enforcement of these duty preference programs in the spirit for which they were enacted: to reduce the costs of trade rather than serve as the basis for customs penalties. We expect the continued development of the Centers of Excellence and Expertise to contribute to efficient trade compliance and customs administration. In the context of product safety, we want Customs to engage other government agencies to leverage risk-management programs and existing data submissions to develop safety programs that will reduce held shipments. 
Although this wish list may seem obvious and a bit hackneyed, it's the culture of Customs within the Department of Homeland Security that needs to be adjusted. For example, we know Customs is looking at the export supply chain as part of its mutual recognition agreement with the European Union to target high-risk export shipments. For security, it's the Bureau of Industry and Security and the Directorate of Defense Trade Controls of the State Department that have the technical expertise to assess high-risk cargo through the export control licensing process.
Our hope is that Customs "sticks to its bailiwick" and doesn't take on additional trade operations. Rather, we prefer Customs act as a "regulatory quarterback" to solve problems for companies.
We are also mindful of CBP's dilemma that trade liberalization will result in reduced Customs duties. How Customs will be funded in the future raises some fundamental questions — is it appropriate to fund a law enforcement agency through user fees? On this issue, we need to make the case to Congress that Customs continues to be an agency of the federal government charged with the mission to carry out the constitutional enumerated power of regulating trade with foreign countries. Therefore, Customs needs to be appropriately funded from federal taxes.
Finally, there is the completion of the Automated Commercial Environment and the International Trade Data System. The trade community has developed a healthy skepticism of Customs' ability to complete large information technology systems. We hope President Obama signs an executive order directing other government agencies to complete the ITDS with certain milestones. We are facing a critical juncture to deliver functioning systems that can handle increased trade volumes, which were growing about 15 percent a year prior to the financial crisis.
The American Association of Exporters and Importers is not sitting by passively. We have committees monitoring Customs' progress on the release of ACE deployments and providing cost-benefit data to the White House as a base line to measure the impact of the ITDS. Confidence and support for Customs will plummet if we don't achieve a good outcome with these data systems.
We will find out the answers to many of these questions in 2014.
Marianne Rowden is president and CEO of the American Association of Exporters and Importers in Washington. Contact her at mrowden@aaei.org.