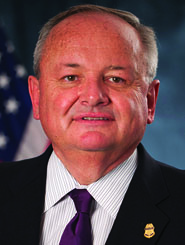 Exports will remain key to America's economic competitiveness, as underscored in President Obama's National Export Initiative. As an agency, U.S. Customs and Border Protection has looked at how we transform trade on the import side — with the bottom-line goal of reducing transaction costs, barriers to trade, and costs for industry and government. The next logical step is for us to look at exports.
By recognizing that our exports are other countries' imports and vice versa, we take a truly global view of the international supply chain. A recent export survey conducted by Customs' trade advisory committee indicated there is a tremendous need and opportunity for the U.S. to make an impact in this area. In 2012, the U.S. exported more than $1.5 trillion in goods. Exports create jobs and promote economic growth.
But as the survey revealed, our industry partners reported lost sales because of U.S. export requirements. Paperwork and licensing procedures were among the main causes for shipment delays. We must make it easier for industry to achieve compliance with U.S. export requirements. Our export requirements need to be coordinated across the U.S. government, so that they are clear, consistent, transparent and predictable. 
To that end, we are leveraging our One U.S. Government at the Border initiative, which is designed to harmonize cargo operations at the border through a unified interagency approach. Across the government, we have launched the creation of an electronic "single window" that will enable industry to submit export information to all appropriate government agencies simultaneously.
Customs is supporting this effort by rebuilding the agency's existing export processing system. In 2014, we will begin our initial rollout of the upgraded system, allowing us to process exports more efficiently. This will expedite cargo and lower the cost of moving compliant merchandise beyond our shores, enabling U.S. exporters to better compete in the global marketplace.
Thomas S. Winkowski is Acting Commissioner at the U.S. Customs and Border Protection.