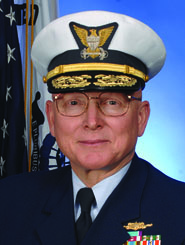 The U.S. Coast Guard protects people on the sea, protects the U.S. against threats delivered from the sea, and protects the sea itself. We are responsible for the safety, security and stewardship of our nation's waters.
We have the ability to respond to an array of threats that could disrupt regional and global security, the economies of partner nations, access to resources and international trade. Along with our dedicated and highly trained personnel, modern, capable assets are vital to the execution of our spectrum of missions, and in 2014 we will continue to focus upon our recapitalization efforts. 
Another area of focus for our service is improving the safety and security of U.S. ports and our maritime industry. We stand ready to deploy personnel and resources to areas affected by large-scale pollution incidents. However, the very best response is the one we never need to launch. Prevention of marine casualties is an area of equal focus for us, and we are committed to our partnerships to promote safety among the rapidly growing offshore oil and gas industry. Supporting advanced safety standards, we recently published industry guidance on dynamic positioning, novel oil production facilities, fire fighting and life saving, and proposed rules for safety and environmental management systems, offshore cranes and explosion prevention.
Low domestic natural gas prices and stricter air emissions standards have prompted vessel operators to propose conversion to liquefied natural gas as fuel. We are working closely with international organizations and industry to develop standards for the design, construction and operation of LNG-fueled vessels. As supply chain hurdles are addressed and new shoreside and floating infrastructure is constructed, we will use existing regulations as a guide to develop LNG bunkering and personnel training standards.
As the maritime industry grows, adapts and pushes into deeper waters, we will continue to promote its safe and secure operations.  
Admiral Robert J. Papp, Jr. is a Commandant in the U.S. Coast Guard.