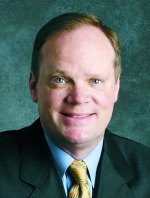 With debates over fiscal policy, the national debt, taxes and government spending getting all the headlines in Washington, one issue not getting much attention is energy ‑ or rather, a comprehensive national energy policy that recognizes how America's energy future has changed, and what that can mean for our economy.
It wasn't long ago that our energy future looked bleak. Reliance on imported oil was increasing. Domestic production was declining. Fast forward to today. An energy revolution is under way in America. Thanks to technology, we have the means to develop vast reserves of oil and natural gas that were previously unavailable. Studies now project the U.S. will surpass Saudi Arabia as the largest producer of energy by 2017, and within two decades be energy self-sufficient.
A growth economy can solve many ills. A long-term energy plan that emphasizes developing reliable domestic resources can be a major driver of a growth economy. It gives the nation an energy roadmap so business and industry can understand what the energy rules are, and have confidence to make investments and create jobs. With more inexpensive, reliable domestic energy, our nation becomes more secure, manufacturing more competitive and consumers more confident. This same dynamic of stable prices and reliable, long-term supply, particularly with respect to natural gas, is just the incentive for transportation companies to increase investment in natural gas-powered equipment as a long-term solution. 
All of this argues for Washington to engage in serious, reasoned debate on a national energy policy, and a good starting place has been suggested by the U.S. Chamber of Commerce. They've proposed a plan with 5 key recommendations:
Maximize America's own energy resources
Make new and clean energy technologies more affordable.
Eliminate regulatory barriers derailing energy projects
Do not put America's existing energy resources out of business
Encourage free and fair trade of energy resources and technologies globally
What do we have to gain? A sustainable economic recovery, a job-creating engine spurred by investment in energy, manufacturing and new business, and the economic and security benefits from less reliance on imported oil. It's time to focus on a comprehensive national energy policy to drive economic growth today and for our childrens' futures.